Edited this morning to add: I just found out that today is the last Show Us Your Books. Many thanks to Steph and Jana for an amazing 8 years of one of the last great blog link parties out there. It's the end of an era and I'm sad to see it go but happy it lasted so long. I'll keep writing about books but you know how consistent I am when not being held accountable. 😉
Look, Ma! I'm reading! Thanks to the 2022 version of Covid-19 I spent a lot of time in May flattened with no desire to do anything that couldn't be accomplished from my sofa or hammock. Enter … reading! SIX entire books.
Onto the books! I use the Goodreads rating system, which is:
One star: did not like it
Two stars: it was ok
Three stars: liked it
Four stars: really liked it
Five stars: it was amazing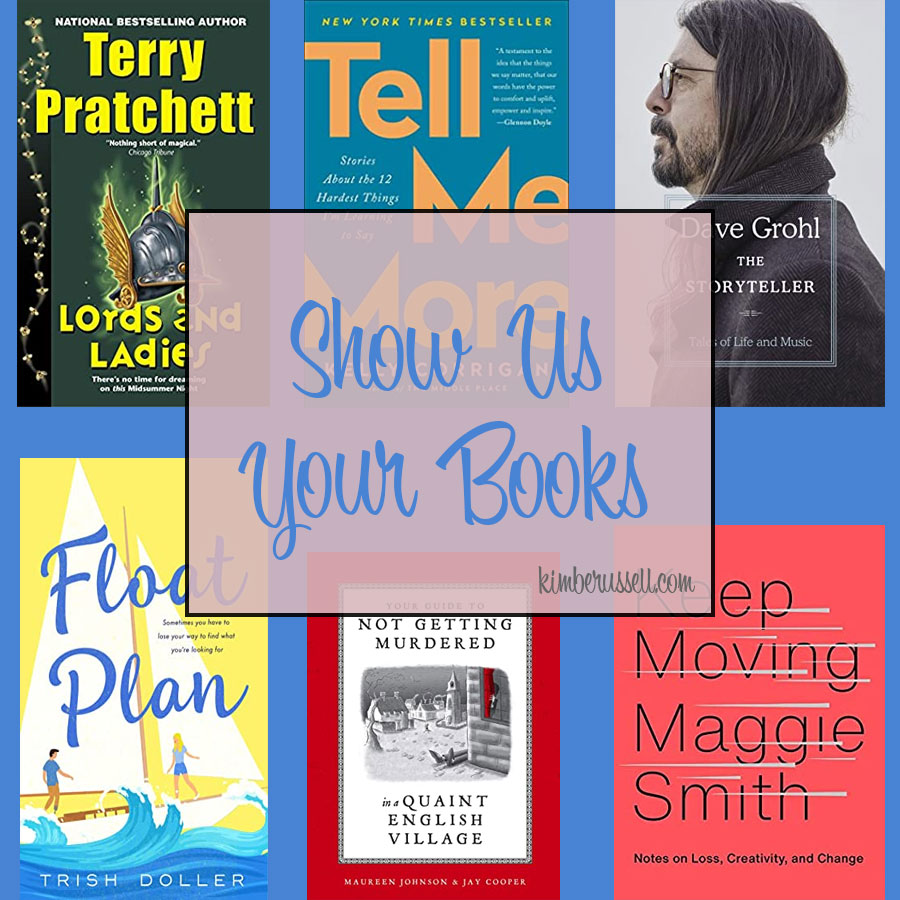 Lords and Ladies – Terry Pratchett
This is book 14 in the bajillion books of Pratchett's Discworld series. I started reading the novels in 2016, savoring a few a year so I don't burn out on them. This is a Witch book and the Witches along with Death are my favorite characters. (I have a soft spot for The Luggage, too.) In this edition, Magrat prepares to give up witchery to marry King Verence II while Elves try to invade Lancre, and Granny Weatherwax saves the day by being herself. I am always impressed when Pratchett manages to bring so many disparate characters from previous books into the same place at the same time. I laughed, I choked up, five stars for a comforting escape read.
Float Plan – Trish Dollar
Crushed by the suicide of her fiancé Ben, Anna decides to solo the sailing trip that they had planned to take together. But she's not very experienced and after a bad night she hires Keane, a hunky Irish sailor, to help out. This is a very adult book, not for the wink-wink reasons (although there are wink-wink scenes) but because it's about two imperfect people grieving a previous incarnation of their life. They heal and grow together without many of the childish scenes and misunderstandings we usually see in chick-lit books. It's a great book to kick off the summer. Content warning for suicide, obviously. Four stars.
Tell Me More: Stories About the Twelve Hardest Things I'm Trying to Say: Kelly Corrigan
This memoir is about loss, life, love, parenting, and how hard it is to keep the plates spinning sometimes. The stories are grouped by phrases like, "I'm sorry" and "No" and "I love you." For me it was middle-aged-white-lady catnip. Three stars.
Keep Moving: Notes on Loss, Creativity, and Change – Maggie Smith
Another middle-aged-white-lady memoir, but this is one is centered around the end of Smith's marriage and the change that came from it.. It's comprised of stories and inspirational quotes about keeping moving. Ironically, I spent my time reading this book while completely stationary. Three stars – I read this on a Kindle but the layout is probably much better in print.
Your Guide to Not Getting Murdered in a Quaint English Village – Maureen Johnson
It's a cute, humorous, short book about the perils of staying alive in a fictional small English village. I love Maureen Johnson on Twitter, but this book is just ok. It is probably more pleasing in print than on Kindle. The illustrations remind me of Edward Gorey. Two stars. Which mean it's ok!
The Storyteller: Tales of Life and Music – Dave Grohl
In his own words, Dave Grohl writes about his journey from a suburban stoner kid to one of rock music's biggest names. And he does it with a lot of heart and emotion. In a day where you hear a lot of "I deserve this!" it's refreshing to read about how a famous musician grappled with "why do they want ME for this?" and "holy shit is this really happening?" through his career. It's not a comprehensive autobiography, because I suspect there are personal things he wants to keep to himself. I never realized how quickly Nirvana came and went. I checked this out simply because it was available from the library, and let this be a lesson to all of us to branch out from the TBR once in a while! Five stars and I've started listening to the Foo Fighters.
Currently reading: Grit by Angela Duckworth. I'm 30% in and the loan ends today so I don't think I'll have the grit to finish it before then.
All of my book lists and reviews are on Goodreads.

This a part of the Show us Your Books linkup from Jana Says and Life According to Steph. If you want to read more bloggers gush about the books they've read this month, click the button below and have fun!

Other SUYB posts:
2021:
January | February | March | April | May | June | July | August | September | October
2020:
February | March | Spring/Summer | September | October | November | Year-end review
2019
January | February | March |April | June | July | August | December
2018
January | February | March | April | May | June | July | August | September | October | November | December
---
---
Need some more email in your life? If you're a regular reader but forget to check in, you can subscribe to a once-a-week email with links to the week's posts! Click here to sign up!