Oh hey, I'm late to the books party. I was in warm, gorgeous (and gnat-filled) Savannah for a work conference and WHOOSH. Gone went the blog. Thank heavens I actually smartened up and wrote a lot of this as I reviewed each book, like so many on the linkup do. I am a SHINING example of a kid who was Talented and Gifted and ended up a completely average adult.
On to the books! I use the Goodreads reviewing system, which is:
Onto the books! I use the Goodreads rating system, which is:
One star: did not like it
Two stars: it was ok
Three stars: liked it
Four stars: really liked it
Five stars: it was amazing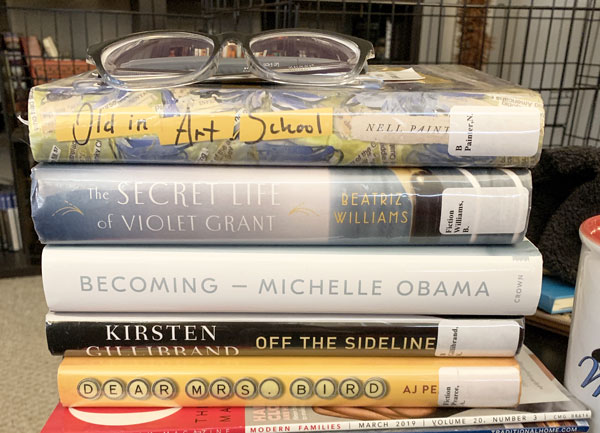 Over the last few years, I've been striving to read more works by women and women of color. I'm not trying to exclude books by men, but some months it just works out that way.
Old in Art School: A Memoir of Starting over — Nell Irvin Painter
Celebrated Princeton History professor Nell Painter retires in her 60s and decides to go to art school! It's about as difficult as you can imagine, with professors who kept trying to tear her down and say she'd never be a 'real artist,' poor treatment because of her race, and classmates who practically shun her because they're not comfortable with her age. The age thing is something I experience now at 46 — I can't imagine how much worse it will be in 20 more years.
Nell, like all of us, is far from perfect. She's willing to enter the art school world on the ground floor but expects the art school world to respect her past career. She disparages her classmates' artwork, ages, body sizes, and fashion. Everything that's slung at her, she slings at other people. Either she can't see what she's doing, or she gives no craps about it.
Complicating matters is the decline of her parents. As an only surviving child, it was 100% Nell's burden to make sure her parents were taken care of. And as we all know, there is never a good time for a medical issue to crop up in the family.
Three stars! I enjoyed the memoir parts, but I really became bogged down by the art history parts, because I've never been interested in art history. She also LOVES New Jersey, and I'm proud to share a state with her.
The Secret Life of Violet Grant — Beatriz Williams
A lovely book with 2 stories told in parallel: Vivian Schuyler trying to become a magazine writer in 1964 and her great-aunt Violet Schuyler Grant trying to become a physicist in 1911. Hold on, let me get this out of the way…
Had to.

This is a story of love and independence and passion and murder and whoa hey, war and espionage? That came right out of nowhere, but I loved it all. I had to reread the final few chapters just to make sure I got the espionage part down.
Four stars, with a trigger warning for sexual assholiness and what today we call rape but back in the 19-teens would be called men being men and women being loose. Consider Walter Grant canceled.
Off the Sidelines: Raise Your Voice, Change the World — Kirsten Gillibrand
Saw this on display at the library, and thought maybe it won't be a bad idea to read up on some of the candidates that aren't getting attention because the media is in love with men-who-lost-their-Senate-races-yet-think-they-were-born-to-run-for-president.
This book was written long before she entered the 2020 fray, but is probably a part of her long-range plan to enter the race. Gillibrand comes from a strong local-politics matriarchy back in New York. She's part of the private-school-and-Dartmouth part swath of middle class. She was raised Catholic which informs her desire to help and give back, but she's very pro-choice. She used to have an A-rating with the NRA, but has shifted her views on gun control. (Being friends with Gabby Giffords helps.)
I enjoyed this book because she often touches on the human side of the campaign and political grind. She talks candidly about how hard it is to have young children and hold her Senate job. (Some of those senators are assholes.) She has a chapter about fluctuating weight. She touches on her difficult relationship with her father without flogging us with it.
Three stars. I wish her well and wouldn't mind if she won.
Dear Mrs. Bird — A.J. Pearce
In WWII era London, Emmy Lake applies for a job at a publisher, thinking it will put her on the path to her dream job as a Lady War Correspondent. After an interview where Emmy fails to ask what, exactly, the job is, she takes the job and finds herself instead a typist for Henrietta Bird, an "agony aunt" at Woman's Friend magazine. Mrs. Bird has VERY outdated and strict standards for what kind of questions she answers, and insists that Emmy throw out letters that don't reach those standards. But the letterwriters are women Emmy's age who are in very modern circumstances. What is Emmy to do but answer them herself, but as Mrs. Bird?
At the same time, she is trying to navigate a very sad and sticky situation with her best friend Bunty. I love that nickname.
I think what struck me the most is how regular life continued on as best it could while London was being bombed. People brought gas masks to work, couples still went to dinner, young people still went to shows. Four stars.
The Library Book — Susan Orlean
This is the kind of non-fiction book that I EAT UP. I know the phrase "this book is a love letter to…" is vastly overused. HOWEVER, this book is a love letter to libraries and the people who love them.
The main topic is the fire that burned the Los Angeles Central Library in 1986. It completely destroyed over 400,000 books and the smoke and water damaged 700,000 more I was a teen in 1986, but had never heard of the fire because the Chernobyl nuclear disaster happened at the same time which stole most of the news coverage. Not knowing if nuclear winds were going to destroy Europe makes for a big story.
Orlean is an amazing writer, and weaves into her book the history of the Los Angeles Public library and its librarians (including the amazing Mary Jones), the services that libraries provide, her warm memories of the library visits of her childhood, the AIDS crisis, and how libraries are adapting to the future.

Five stars, it's a must-read if you love libraries and I know many of you do.
Currently reading: Invisible Women: Data Bias in a World Designed for Men by Caroline Criado Perez.
All of my book lists and reviews are on Goodreads.

This a part of the Show us Your Books linkup from Jana Says and Life According to Steph. If you want to read more bloggers gush about the books they've read this month, click the button below and have fun!

Other SUYB posts:
2021:
January | February | March | April | May | June | July | August | September | October
2020:
February | March | Spring/Summer | September | October | November | Year-end review
2019
January | February | March |April | June | July | August | December
2018
January | February | March | April | May | June | July | August | September | October | November | December