Happy birthday, Mom!
I'm back on the reading train, because I'm back to reading on the train. I spend 26 minutes on a train and 10 minutes on a shuttle, twice a workday. Last year I was so mentally exhausted from the Big!Work!Project! that I'm sure you're ALL sick of hearing about that I would just sink into Instagram or a taxing round of 2048. This year I resolved to not take my phone out while I'm on the train. The shuttle gets bumpy and that makes reading difficult for me.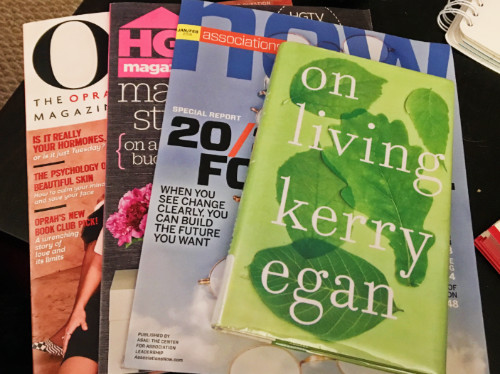 My reading goal this year is 50 books and I'm at 8! Go me go!
As always, I use the Goodreads scale, which is:
One star: did not like it
Two stars: it was ok
Three stars: liked it
Four stars: really liked it
Five stars: it was amazing
On Living — Kerry Egan
Egan is a hospice chaplain, and these are some of her patients stories juxtaposed with stories from her own life. I have a special interest in hospice. I'm a huge supporter and actually trained to be a volunteer. Once I passed training and was certified, I chickened out and never followed up. Egan is much less cowardly than I am. I appreciated the stories and lessons. Life is beautiful and then you leave it. Four stars because I'm interested in the subject.
The Identicals — Elin Hilderbrand
I needed a beachy read, and this one sort of delivered. It's the story of 39-year-old twins who live on Martha's Vineyard and Nantucket, and of course they are both very different and of course there are family misunderstandings that cause strife. I didn't even see a beach until about halfway through the book. Every minor character has a huge backstory. And babies and motherhood fix everything. I keep reading Hilderbrand's books because they keep coming up as good beach reads.; however, I think I keep picking the wrong ones because they don't ring my bell like they should. I liked The Island, and I abandoned A Summer Affair. There is a dog in the story. If you're like me , you'll want to know if the dog lives. I spoil it at the bottom of this post. This would have been 2.5 stars, but because Goodreads only allows full star ratings, it's a three.
Hallelujah Anyway — Anne Lamott
I ADORE Lamott's writing, and I'm a complete sucker for her words. This book is more of her usual musings on religion and mercy. The most interesting part of the essays was her sort-of-apology for the anti-trans statements she tweeted about Caitlin Jenner. Don't get me wrong, Caitlin Jenner is a dirtbag, but one can easily make the case for that without slamming transsexuals. Lamott's son Sam made her apologize, which makes me thinks she did raise a good kid after all. Three stars. Would have been two, but it's Anne Lamott.
Letterman: The Last Giant of Late Night — Jason Zinoman
I've always been a David Letterman fan, and I liked this book because while it was no-holds barred (his acerbic personality, the affairs, etc) it was written by a fan, and crafted with love. I didn't learn anything new, but it was like spending time with an old friend from years ago, when you couldn't buy a Late Night shirt on eBay or NBC.com – you had to go to New York or know someone who was going. Four stars.
If you are a fan of Dave, check out his Netflix show titled "My Next Guest Needs No Introduction." It's a once-a-month, hour-long interview with a powerhouse. Last month's was with Barack Obama. This month is George Clooney.
The Brand New Catastrophe – Mike Scalise
Scalise was 24 when a brain tumor burst in his head, a result of acromegaly. Acromegaly is a disorder when a tumor grows on one's pituitary gland. Like Andre the Giant. Mike lives and this is the story of how he lives with this life-changing development, and how he continues to live years after it becomes old news, and then no news. His support system is his girlfriend Loren and his slightly-selfish family including a mother who was used to grabbing the family's medical attention for years. Everyone evolves through the book. Three stars.
2am at the Cat's Pajamas — Marie-Helene Bertino
Another book that I purchased expressly to read through the holiday season but forgot about it until January. The main cast consists of a plucky (attitudinal) 9 year old girl, her sensitive (self-pitying) teacher, and the owner of a jazz club called the Cat's Pajamas, all in beautiful Philadelphia. Most of the action takes place on Christmas Eve Eve. There's a supporting cast of at least a dozen people, all with their own issues. It's a grittier Love, Actually and while there was some sparkly magical moments, it wasn't enough to buoy me up past the awkward bleakness that was the other 75% of the book. There is a dog, spoiler at the bottom. Two stars, which isn't
as awful a rating as it looks on the surface.
I'm currently reading Will Schwalbe's Books for Living, because it's been a while since I've read a book about books.
All of my book lists and reviews are on Goodreads.
This a part of the Show us Your Books linkup from Jana Says and Life According to Steph. If you want to read more bloggers gush about the books they've read this month, click the button below and have fun!
Previously:
January
DOG SPOILERS BELOW:

Both dogs live. In The Identicals, the dog even 'narrates' the epilogue!