Due to December craziness, I missed that month's Show Us Your Books roundup and you know what? I actually missed writing up the summary. Go figure! My Goodreads goal for 2017 was 50 books…I only read 41. Womp womp. As the deadline drew closer I actually fretted as if it were a real assignment. Ya know what? It wasn't. And missing the goal was not worth the shame I was assigning to it.
My 2018 goal? 50 books. Let's go!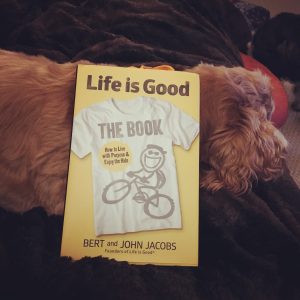 As always, I use the Goodreads scale, which is:
One star: did not like it
Two stars: it was ok
Three stars: liked it
Four stars: really liked it
Five stars: it was amazing
Little Fires Everywhere – Celeste Ng
Oh oof. This was a beautiful book about mothers and daughters but STAY WITH ME it's not a "oh I'm a mama bear look my heart is walking around outside my body" book. It's about mothers and daughters who have good intentions but make mistakes. You can see the wheels turning as Elena, Lexie, Izzy, Mia, Pearl, Bebe, and Linda struggle with what's right and wrong. I felt their hearts break. Five stars, and I added Everything I Never Told You to my TBR.
Mort (Discworld, #4) – Terry Pratchett
A while ago I decided to read the Discworld series in order and I haven't regretted it. Every book is like slipping into a familiar pair of pajamas. This one is about Death (he's a guy…kind of) and his apprentice, Mort. Death kind of has an identity crisis and Mort's left to do the job without a lot of oversight. Hijinks ensue. Four stars and I'm continuing with the series.
Life Is Good: The Book – Bert and John Jacobs
I've been wearing Life is Good merch since 1995 or so. I'm a sucker for positive messages and 10% of the proceeds go to charities that help kids in need. WM bought me this book for Christmas. It goes into how the company was founded, and the principles (superpowers) that they adhere to when conducting and building their business. It was a quick read because there's a lot of artwork and photos. Three stars and a happy smile.
The Fortune Cafe (A Tangerine Street Romance #1) – Julie Wright, Melanie Jacobson, and Heather B. Moore
I was yearning for a light read, and I think this book was a dollar. It's a collection of three short romance stories centered around a magical Chinese restaurant in a beach town. It's established in the first story that the first fortune you receive from the Fortune Cafe's fortune cookie comes true. Each story was penned by a different author. All of our heroines have strongly present (for better or worse) mothers and love interests who REALLY overstep their boundaries but in a Hallmark movie "Let me fix things" way. I preferred the first and third stories. Three stars, but I probably won't be continuing the Tangerine Street series unless the future books are a buck or I can get them from the library.
Naked Statistics – Charles Wheelan
I took a lot of notes while reading this book. It's a very approachable look at basic statistics. P-values, means, medians, blah blah blah. If you need appear intelligent when discussing data but got a C in college stats (shifty eyes), you should read this book. Three stars, no nudity.
Console Wars – Blake J. Harris. Still. This is the book I pick up when I have nothing else available. I'm just copying and pasting this month to month.
All of my book lists and reviews are on Goodreads.
This a part of the Show us Your Books linkup from Jana Says and Life According to Steph. If you want to read more bloggers gush about the books they've read this month, click the button below and have fun!