Once upon a time we had a lovely half-bathroom downstairs. And then we got a puppy! We decided that when we went to work we'd have him stay in the bathroom, because it was larger than a crate and he'd have room to run around.
It worked out really well … until one day it didn't. Murphy started howling as soon as I'd put him in there. And while we were gone, he dug into the drywall and clawed into the door trim trying to get out. Something happened in that bathroom that upset him. We don't know what, but the bathroom was no longer an option. It wasn't healthy for the bathroom but much more importantly, it wasn't healthy for Murph.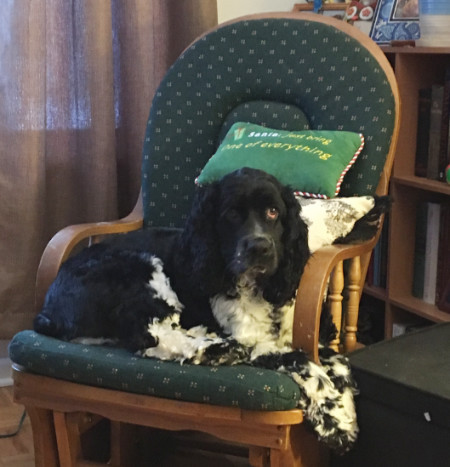 Turns out, Murphy is a crate-loving dog. We borrowed a larger crate for downstairs, filled it with a blanket and toys and Murphy happily trots inside every day when I get my coat. (Ollie, our best boy, is still free to roam the house.) He dozes in it on his own while we watch TV at night. I thought crate-loving dogs were a myth like the runner's high or children who give to charities without parental prompting. I was wrong!
This left us with a happier pup but still a damaged bathroom. WM patched the drywall and filled in the gouged wood. We took the gate down. And then it was time to paint. Our house is decorated in a very subtle Disney theme. We have a lot of stuff hanging around from our various visits. Which is how we ended up with an Adventureland themed bathroom!
WM painted the walls with the leftover Whispering Wheat paint from the office. He painted the trim a deep green. I wasn't 100% on board with that color at first but it really grew on me. We replaced the plain white blinds with a wooden shade. So far so good.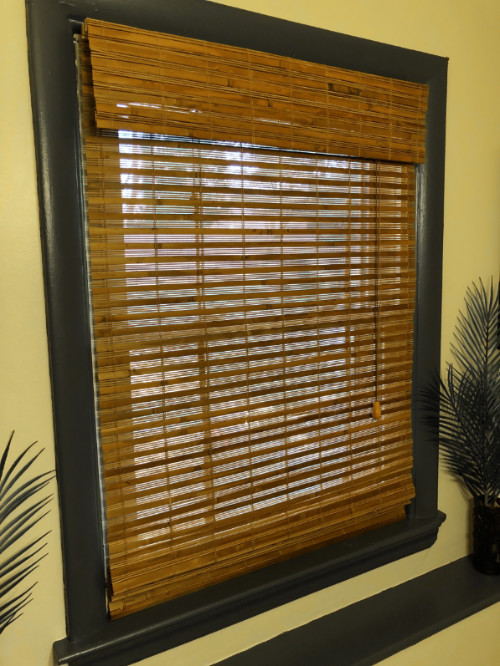 And then we went a little nuts. We found some attraction posters to frame. We bought bamboo shelves from Amazon (KIM PRIME!) and put some of our Magic Kingdom souvenirs on it.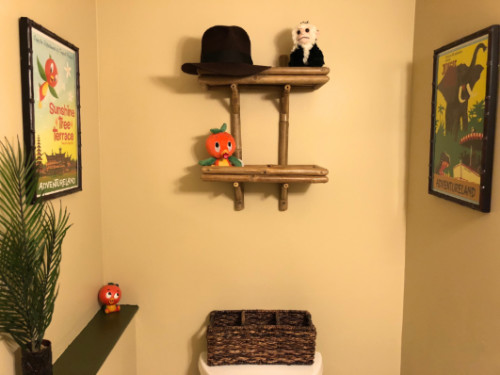 AND THEN WE HUNG A FAKE PARROT FROM THE CEILING to pay homage to the Enchanted Tiki Room.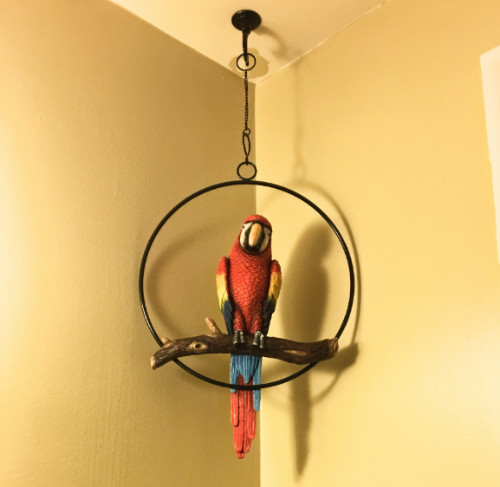 There's one more thing we're waiting to do (we are waiting for the perfect thing on eBay) and then we're done.
Make two things: we need a new door, an essential for a bathroom. Murphy locked it one day and WM needed to drill into it to get it open. (This was not the mysterious event.)
Puppies aren't always easy, but they're always worth it.