It feels so nice to write 2021. Even if things are … more of the same. I'm starting to say, "hey self, stop doomscrolling on your phone at nights and maybe read some of these books? Hm?"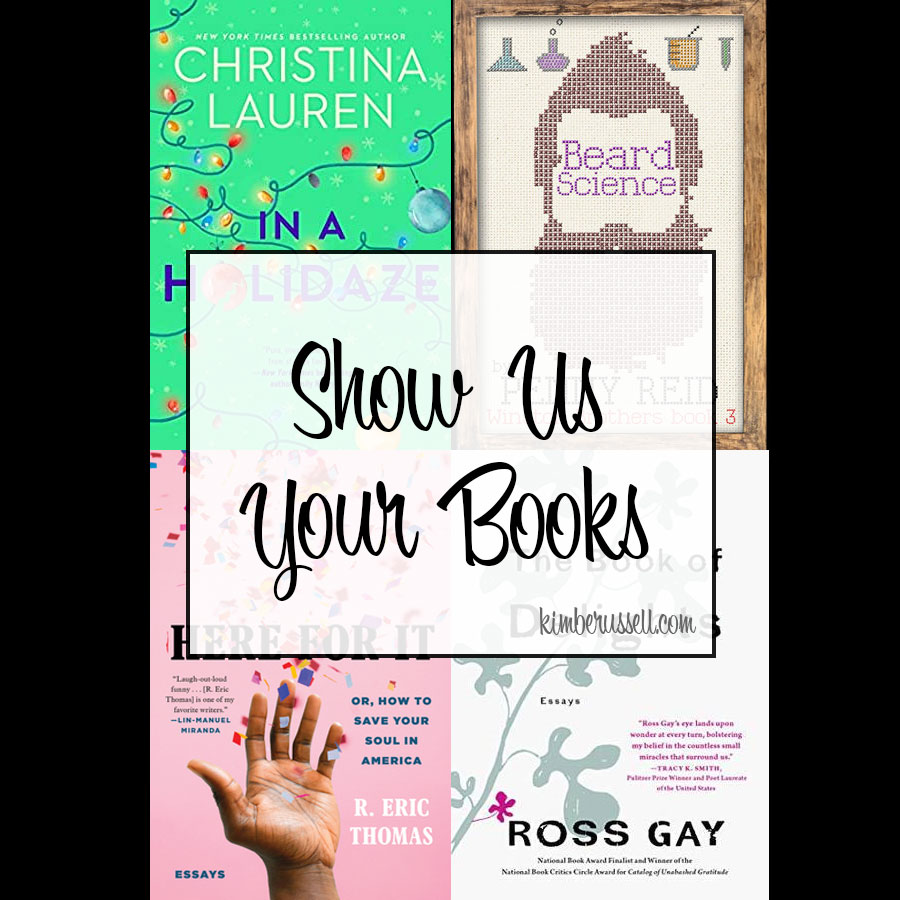 Onto the books! I use the Goodreads rating system, which is:
One star: did not like it
Two stars: it was ok
Three stars: liked it
Four stars: really liked it
Five stars: it was amazing
I read four books since I last recapped. Two were part of my 2020 total.
Here for It; Or, How to Save Your Soul in America: Essays – R. Eric Thomas.
Thomas wrote a fantastic and hilarious collection of essays about being an outsider. Working-class Black sent to an affluent mostly-white school and ultimately an Ivy League University; a gay man growing up in a conservative church and family. It may seem like a tough read, and there are portions that are little gutpunches, but it's a really funny collection. Thomas bounces from Baltimore to New York to Philadelphia and back again, growing and changing in spite of himself.
Four stars and I loved the Philadelphia references.

Beard Science (Winston Brothers #3) – Penny Reid
Lord help me I keep coming back to this series. This is Cletus's story of how he falls for the Banana Cake Queen, Jennifer. The romance is hot and there's the HEA (Happily Ever After), but whatever, can we talk about the drama going on in this little town in Tennessee? Everybody has a metric ton of emotional baggage! And by the time this series wraps up the local biker gang is going to end up heads of an international crime syndicate and the Winstons are going to be multimillionaire philanthropists group-living on a compound with their wives.
Two and a half stars rounded up to three. I'll probably keep trucking along to see how much the next book's damsel is in distress
In a Holidaze – Christina Lauren
I put this book on my work Secret Santa wish list and received it just in time for Sloth Week. Mae is 26, working at a job she hates, and living with her mother and brother. For her entire life, her family (even her father) spends Christmas in a cabin in Utah with her parents' friends from college and their families. It's Groundhog Day (movie) meets Hallmark Christmas movie as Mae struggles to make the RIGHT decisions to finally make it through the week at the cabin without having to start over. I had to suspend my disbelief at not just the time travel, but the fact that multi-family friendships like this even still exist.

Three and a half stars rounded up to four. There were too many people in the cabin (skip Aaron, Kyle, and the twins, they are inconsequential) and I think there should have been one more reboot but I'm not complaining. I cried at the end because I am a sap. Read this next Sloth Week.
The Book of Delights – Ross Gay
I just finished this one! On his birthday, poet Ross Gay decides to keep a daily journal of delights. Hand written (with a Le Pen, if you're a pen person) in a notebook. Many of his delights revolve around nature and humans caring for each other. But also: espressos in tiny cups without saucers. Each essay is tiny and he doesn't include all 365 days so don't worry about that. It's also nothing like The Happiness Project or any of the other rich white lady fulfillment authors.

Four stars. It's a sweet pick-me-up for a tumultuous time.
I'm glad I had some solid books to start off the year with.
All of my book lists and reviews are on Goodreads.

This a part of the Show us Your Books linkup from Jana Says and Life According to Steph. If you want to read more bloggers gush about the books they've read this month, click the button below and have fun!

Other SUYB posts:
2021:
January | February | March | April | May | June | July | August | September | October
2020:
February | March | Spring/Summer | September | October | November | Year-end review
2019
January | February | March |April | June | July | August | December
2018
January | February | March | April | May | June | July | August | September | October | November | December
---
Good news! If you're a regular reader but forget to check in, you can subscribe to a once-a-week email with links to that week's posts! Click here to sign up!