(aka Books in the Time of Coronavirus, part 1)
Hello! I've been reading at a steady clip again, thanks to regular library trips. In fall/winter, I'll go to the hometown library. In spring/summer, I visit the Philadelphia Free library during my lunch break. And I use the Libby app to put ebooks on hold. It's a good system, even if it means I have gluts of books from time to time.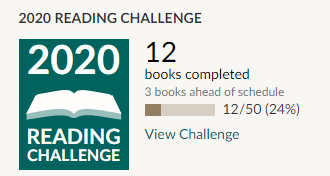 The Goodreads goal is looking achievable, too!
Onto the books! I use the Goodreads rating system, which is:
One star: did not like it
Two stars: it was ok
Three stars: liked it
Four stars: really liked it
Five stars: it was amazing
The Satapur Moonstone (Perveen Mistry #2) — Sujata Massey
This is second in a series featuring Perveen Mistry, a "lady lawyer" in 1920s India. She's not allowed to go to court, so she works as a solicitor in her father's firm. One of the few benefits of being a lady lawyer is that she can talk to clients who cannot or will not speak to men. In this book, Perveen is hired by the (British) government help settle a dispute about a young maharaja's education. Naturally, it ends up being more than that. These books start very slowly and are amazingly descriptive. When business starts to pick up it's a heck of a ride, but this might not be your thing if you want suspense and danger from beginning to end.

Three stars – a solid and enjoyable mystery, and I'll pick up book #3 which is supposedly in the works.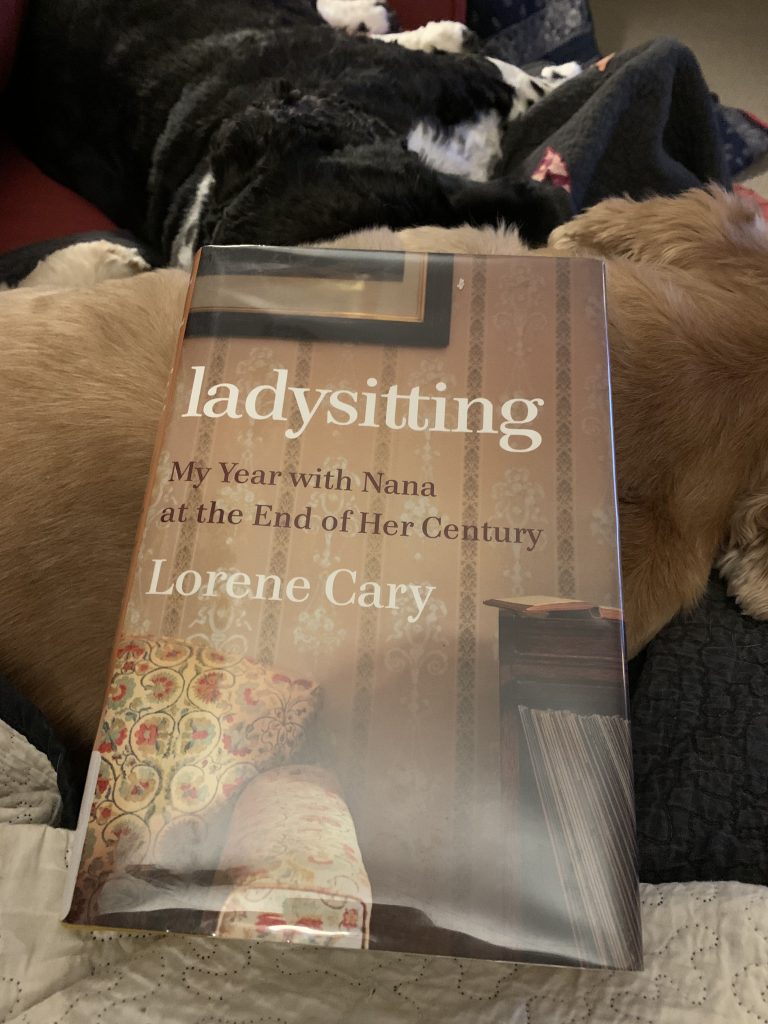 Ladysitting: My Year with Nana at the End of her Century — Lorene Cary
A memoir about a middle-aged woman who finds herself taking care of her elderly and failing grandmother. The book dives into the dynamics of this African-American family and the challenges of taking care of someone who took care to you. Bonus for Philly-area people: the author lives in Philadelphia, teaches at uPenn, and Nana used to live in Collingswood, NJ!

Four stars – it's a hold-no-punches look at difficult times.
She Came to Slay: The Life and Times of Harriet Tubman — Erica Armstrong Dunbar
I heard about this book on the Call Your Girlfriend podcast. What do you know about Harriet Tubman? Yeah, okay, Underground Railroad, blurry picture of a lady with a headwrap, not on the $20 bill. But Harriet Tubman had a whole rest of a life before and after that sliver of time that the history books mention. She accomplished so much – your mind will be blown. For example, did you know that she was the first woman to lead an armed military operation in the US? This very short and well-researched book with witty Beyonce-inspired chapter titles gives you all of the details. Obvious trigger warnings for slavery and all of the violence and horror that entailed.

Four stars. Really, go read this book, and have the young kids in your life read it too.
Wham! George & Me — Andrew Ridgeley
I saw this in the "new biographies" section when I was looking for She Came to Slay and I grabbed it like Gollum and the One Ring. If you were a Wham! fan, you know that Andrew Ridgeley was George's best friend who disappeared back into private life after Wham! ended. You may think, "Well, here's Andy cashing in." But remember, Andrew never said one bad thing about George, even when George was in his really messed up, depraved, carcrashing phase. This is a very loving memoir of Andrew's life with George. It mostly ends when Wham! ends, save for the final chapter about George's death. When you thumb through it, you'll see that it's full of photos (many, many photos), the font is large and the margins are large too. You might chuckle. And then you'll see the dedication, which reads:
This memoir is dedicated to the memory of my dearest friend, with whom I did the only thing I ever really wanted to do and was the only person I ever imagined doing it with.
And you'll read every word and love it like Andrew loved George.

Like Eat, Pray, Love, this book was written expressly for me. Therefore I give it FIVE STARS and a can of Aqua Net, but if you're not me, you'll give it a solid three.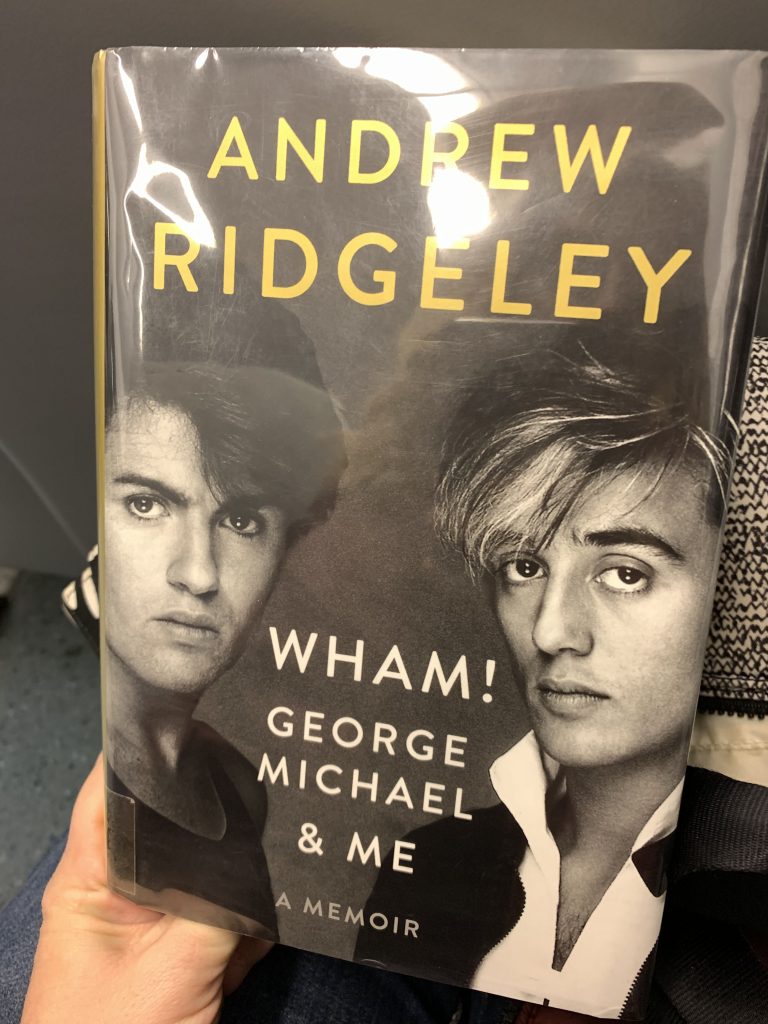 The World's Strongest Librarian: A Memoir of Tourette's, Faith, Strength, and the Power of Family — Josh Hanagarne
Seems like it was memoir month for me. This is Josh's story. Josh has Tourette Syndrome and not the sassy punchline kind where a person blurts expletives out in the middle of a board meeting. He has the kind that interferes with every aspect of his life: school, dating, fitness, and faith. While my interest waned during the parts when he was with the strange fitness teachers, Hanagarne wrote one of the most realistic accounts of being part of an infertile couple who desperately wants a baby but accepts that they can't that I've read. Spoiler alert: they end up having a baby, because EVERYONE has a baby excep– oh, whatever. And his family is solid. It's very nice to read a book where the author genuinely loves their family. Also, if your only exposure to LDS families are the super-rich blogging ones, this is a nice counter to that.

Two and a half stars, rounded to three.
The Antidote for Everything: Kimmery Martin
I snarfled this book down in 2 days. It's a great followup effort to "The Queen of Hearts" which I reviewed in October 2018. Georgia (former classmate of Zadie and Emma from The Queen of Hearts) is a urologist, her best friend Jonah is a Family Medicine doc. Their privately owned clinic/hospital in Charleston, SC, decides to stop treating transgender and LGBT patients. Which, you know, is legal in the year of our Lord 2020. This neither flies with Jonah, who is gay, nor with Georgia who is an example of the liberal southerners we find when we stop staring at stereotypes. This book is PACKED with everything. Seriously, there is a LOT going on but the crux of the book is Georgia and Jonah's beautiful friendship.

Four stars and I'll repeat this from last time: Kimmery is the quirkiest Kimberly derivative I've seen yet. It's like how I say my own name when I'm drunk.
Currently Reading: Aristotle and Dante Discover the Secrets of the Universe — Benjamin Alire Saenz. It's my semi-annual YA read.
All of my book lists and reviews are on Goodreads.

This a part of the Show us Your Books linkup from Jana Says and Life According to Steph. If you want to read more bloggers gush about the books they've read this month, click the button below and have fun!

Other SUYB posts:
2021:
January | February | March | April | May | June | July | August | September | October
2020:
February | March | Spring/Summer | September | October | November | Year-end review
2019
January | February | March |April | June | July | August | December
2018
January | February | March | April | May | June | July | August | September | October | November | December
PS: Wash your hands!