Happy Fourth Anniversary to the Show Us Your Books linkup!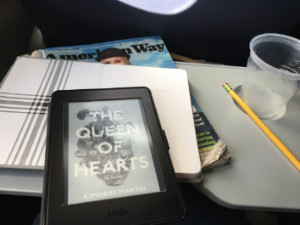 And yes I'm a day late but last night I had dinner with SMD herself. We ate at the Continental Midtown and I had a bangin' lobster macaroni and cheese dish. I had a great time and the evening was well worth the (non-existent because you're not the boss of me!) tardiness penalty.
It was a darn good reading month and I enjoyed every one of these books immensely! And look at this!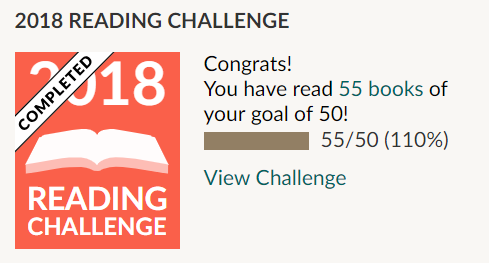 Now that the goal is taken care of I can play Diablo until the end of the year. I mean…read longer, more difficult books.
Onto the books! I use the Goodreads system to rate books, which is:
One star: did not like it
Two stars: it was ok
Three stars: liked it
Four stars: really liked it
Five stars: it was amazing
Enchantments: A Modern Witch's Guide to Self-Possession — Mya Spalter
Thanks to NetGalley for letting me read this book in exchange for an honest review. Once upon a time I was into crystals and spells, so I was quite interested in this book, which covers how modern witches practice. This book has a very conversational tone to it and not only did I learn, I laughed. Three stars!
The Queen of Hearts — Kimmery Martin
THIS BOOK. I read it in 2 days during my work trip to Kentucky. Part of it was read in a hot tub, which was just plain decadent. It's the story of Zadie and Emma, two accomplished doctors who met in medical school. I couldn't put it down — each chapter ended on a little cliffhanger that made me continue onward. Zadie and Emma are balancing work, marriage, friendship, and motherhood. And then a person from their past reappears (okay it's a guy) and a secret is revealed. Oooo! The point of view shifts between Zadie and Emma, and the timeline hops as well. Yet, I managed to stick with the storyline. I loved it! Five stars!
Also, Kimmery is the quirkiest Kimberly derivative I've seen yet. It's like how I say my own name when I'm drunk.
So Close to Being the Sh*t, Y'all Don't Even Know — Retta
I loved Parks & Recreation and shortly after the show ended I found Retta on Snapchat. I eventually followed her on Instagram instead. Retta is very smart and very funny, as is her book which is somewhat a memoir, but mostly essays on her obsessions. Including designer handbags, fashion, coffee, and the musical Hamilton. It was her passages on how lazy she can be that had me cackling.
Four stars because her humor resonates with me. I won this book in a Goodreads giveaway — people actually win! — but I think if I had listened to the audiobook, it would have garnered the fifth star. This book is meant to be heard in Retta's voice.
Bad Blood: Secrets and Lies in a Silicon Valley Startup — John Carreyrou
This is the actual, NONFICTION story of Elizabeth Holmes and her company Theranos. At its highest point, Theranos was valued at one BILLLLLLION dollars because of its invention of a mini blood lab that could perform an entire panel of blood tests on only a drop or two of blood. The machinery was small enough to install in pharmacy wellness centers and even homes! Except, you know, the technology never worked. Demonstrations were faked, lab results altered, inaccurate test results were sent to actual human beings, etc.
This is a well written, scathing, soup-to-nuts account by Wall Street Journal reporter John Carreyrou. It's the kind of crazypants nonfiction book that I adore. These people! Silicon Valley meets Dynasty. Another five-star book! Many exclamation points!
The Age of Spiritual Machines: When Computers Exceed Human Intelligence — Ray Kurzweil
I put this on my to-read list and it magically appeared on my desk at work a few days later! It's good to have friends who read…thank you JG!
It wasn't an easy book for me to read but by then I had made my goal of 50 so I dove in. I enjoyed his theories on how evolution is speeding up while the changes in the universe seem to be slowing down. It was a little hard to wrap my brain around it, but I appreciated it. He lost me in the philosophical sections but that's on me – I've never been into philosophy.
But! His predictions are pretty solid. I mean, I'm not eating things so that people can track my movement, but I do carry a tiny computer that pings out my location if I allow it to. And probably even if I don't. Throughout the book, Kurzweil converses with Molly, a stand-in for the reader. Molly moves through time as Kurzweil remains in 1998 and she reports back the changes that are happening around her and to her.
Three stars. I liked it, but did skim some parts.
The Female Persuasion — Meg Wolitzer
I don't know why I thought this was a nonfiction book. Much like her previous book The Interestings (two stars), this follows a handful of privileged young people over a span of time. But because this group is younger, it's mostly set in the present-ish era. Our main character is Greer, a very smart woman who is a college freshman when we first meet her. She and her boyfriend Cory are the smartest kids in their high school and possibly their town. She and Cory end up at different colleges. The first weekend at college Greer meets Zee, who quickly becomes her best friend. Zee takes Greer to see Faith Frank speak in the college chapel. Faith Frank is an outspoken feminist and activist in her 60s. She runs a feminist magazine and Greer falls hard for Faith's message and medium.
We go back in time sometimes to see how Greer, Cory, Zee, and Faith came to be who they are. And we move forward to the present time. Along the way, they all make choices and mistakes. But they're honest, stupid, human mistakes. Like we all made and probably still make.
Their stories are so real it could be nonfiction. The book takes a hard look at feminism the movement and Feminism the product.
Highlighted quote:
I think there are two kinds of feminists. The famous ones, and everyone else. Everyone else, all the people who just quietly go and do what they're supposed to do, and don't get a lot of credit for it, and don't have someone out there every day telling them they're doing an awesome job.
Four stars.
Currently reading: I'm dipping back into Discworld for Guards! Guards!, which is book #8.
All of my book lists and reviews are on Goodreads.
This a part of the Show us Your Books linkup from Jana Says and Life According to Steph. If you want to read more bloggers gush about the books they've read this month, click the button below and have fun!
What are you reading?
Previously:
January | February | March | April | May | June | July | August | September