I can't believe it's this day again. Show Us Your Books Day!
And yes, it's also 9/11. Seventeen years ago I was an adult and watched the horror on one of the TVs at the Courier-Post while it happened. (And then we went to work putting stories and photos online, because that's what newspaper people do.) I still look at low-flying planes to gauge if they are flying erratically. But I, me, Kim, speaking for myself, can't dwell on it every year for the rest of my life. I can recall the pangs of fear and loss and helplessness, and then go on trying to make life as great as I can.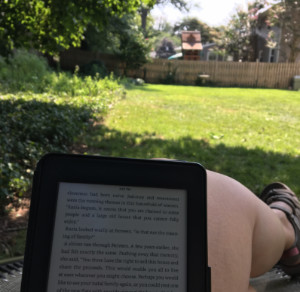 Which includes posting book reviews on the day designated. Which is today.
Onto the books! I use the Goodreads system to rate books, which is:
One star: did not like it
Two stars: it was ok
Three stars: liked it
Four stars: really liked it
Five stars: it was amazing
Let's Talk about Death (over Dinner): An Invitation and Guide to Life's Most Important Conversation — Michael Hebb
Weird fact about me: I am always interested in books about death and dying. I even have a shelf.
Tired of playing Table Topics? How about hosting a Death Dinner? In this book, Michael Hebb gives tips on how to talk about death. He suggests doing it over dinner, but the questions included in the book are good for discussion anytime, or answering them for yourself.
Death is an inevitable part of life, and a natural consequence of living is having to deal with the deaths of those close to you. Working through the questions with your family and friends will undoubtedly make that easier.
I enjoyed the anecdotes from Hebb's friends and colleagues as they tackled the questions. It's a lot to think of.
Four Stars. Thanks to NetGalley and the publisher for letting me read this book in exchange for an honest review.
The Kiss Quotient — Helen Hoang
Stella Lane is super smart, super successful, and super rich. But she's awful at dating and doesn't like sex. Stella has Asperger's Syndrome, which doesn't make social interactions impossible, just more difficult. Stella hires an escort, Michael, to give her lessons.
THIS BOOK GETS STEAMY. As in, I stopped reading when someone sat next to me on the train. But I really really loved it because it was a different kind of romance. After years of avoiding the genre because I thought I was too snobby for it, I'm enjoying the modern take on romance novels.
I gave this five stars on Goodreads because I was all YEAH immediately after reading. It's probably a four-star book, but I feel bad taking stars away on Goodreads after the fact. Especially when the author is active on Goodreads.
Woman Last Seen in Her Thirties — Camille Pagán
Maggie Harris is 53 years old with two adult children, an unnecessary part time job, and a good marriage with her attorney-husband. Who suddenly ends their marriage because of someone else. In dealing with all of that mess, Maggie realizes that she lost herself to her family years ago. She decides to build a new life for herself, taking all sorts of chances along the way.
Four Stars. I was rooting for Maggie the entire time. The book sounds super cliched and formulaic, but the characters grew more real as the book continued.
The Widows of Malabar Hill — Sujata Massey
In 1921 Bombay, Perveen Mistry is a solicitor in her father's law firm. Acutally, she is the only female lawyer in Bombay so although she's not allowed to be appear in court, she is able enter worlds that her male colleagues cannot. In this book, she's integral to solving a murder that happened in the house of three Muslim widows who have closed themselves off to the world. Through the second plotline set in 1916 we learn about Perveen's past.
You know how people tell you to read books from writers of different backgrounds? They're right. I learned a lot about Indian culture of the time, the struggles of women, and religion. There's a glossary in the back but the book is so well written I didn't need it. The first half of the book moves slowly as all of the characters are established but once it gets going, it goes.
Four Stars. The second book in the series is coming out in February! Sujata Massey writes another mystery series around a 27 year old Japanese-American teacher in Tokyo. The first in that series is called The Salaryman's Wife and I'm adding it to my TBR.
Currently reading: Enchantments: A Modern Witch's Guide to Self-Possession — Mya Spalter. It's a NetGalley book and I'm allllllmost done. It'll be my 50th book of my 50-book goal. I'll be tackling more reading in the next few days.
All of my book lists and reviews are on Goodreads.
This a part of the Show us Your Books linkup from Jana Says and Life According to Steph. If you want to read more bloggers gush about the books they've read this month, click the button below and have fun!
What are you reading?
Previously:
January | February | March | April | May | June | July | August