I eked out five books this month. My Seattle trip was heavy on the socializing, and I actually watched a movie on the flight back instead of reading. It was Game Night. It was funny enough and had my problematic boo Jason Bateman. Two of my books required a bit of digestion which slowed me down.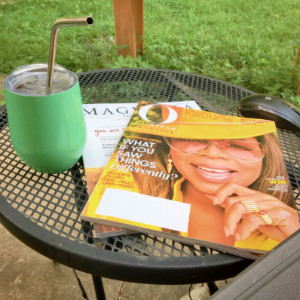 As always, I have many magazines to keep me busy. O Magazine continues to delight this middle aged lady, but sadly Magnolia Journal has become a bit of a hate read and I'm not going to renew it. I want to see pretty things and learn about decorating, but I'm getting preached to instead. Chip's column this issue comes really close to declaring themselves as Quiverfull Christians and … not my cup of tea. But they have millions of adoring fans who share a belief system so they won't miss my subscription. Funny enough, I buy items from their Hearth & Home line at Target, but only if they go on clearance. If they can save money by re-purposing old doors and windows, they'll be okay with me not spending full price on their stuff.
Onto the books! I use the Goodreads system to rate books, which is:
One star: did not like it
Two stars: it was ok
Three stars: liked it
Four stars: really liked it
Five stars: it was amazing
Men Explain Things to Me — Rebecca Solnit
I needed to top off my rage meter and this little ditty did it. It's a collection of Solnit's essays about feminism. The first essay (and source of the book's title) is probably her most famous. It touches on how men feel the need to explain things to women, even if the man clearly knows less about the subject than the woman does. It's the source of the term "mansplaining" even though Solnit didn't coin the phrase.
The essays are, frankly, depressing, and I had to put the book down in between each one. Women are hated. Women are silenced. Women are disbelieved and abused and killed. It was true hundreds of years ago, it's still true today as evidenced by domestic violence statistics and how at least once a week I have to say something like, "yes, I know. I was the one who told you."
"Most women fight wars on two fronts, one for whatever the putative topic is and one simply for the right to speak, to have ideas, to be acknowledged to be in possession of facts and truths, to have value, to be a human being."
Four stars and when's the next march?
Behold the Dreamers — Imbolo Mbue
What is the American Dream? For Jende Jonga, it's providing opportunities for his children that they wouldn't have in his native Cameroon. For his wife, Neni, it's the ability to get an education and be rich. For Clark Edwards, it's making as much money as he can to provide for his family. For his wife, Cindy, it's the ability to rise above a rough start. For their son Vince, it's freedom to escape.
These two very different families and their futures intertwine right before the fall of Lehman Brothers in 2008. The story was pretty simple but the feelings ran deep. It made me think a lot about class, race, and privilege.
Five stars!
Grin and Beard it #2 — Penny Reid
I started this in July, but because I owned it, I put it aside when Behold the Dreamers finally became available. I know that main characters don't always have to be likable, but it really helps in a romance novel when you don't find the heroine annoying. Sienna Diaz is an intelligent, funny, Latina Academy Award winning actor with no sense of direction. She's in Green Valley, Tennessee to shoot a movie. Jethro Winston is a bad-boy biker turned park ranger, trying his best to make up his past transgressions to his family and the community. Of course, his nose is so far on the grindstone that he hasn't heard of Sienna, so their meet-cute is pretty cute. I found Sienna to be too "extra" as the kids today would say. The sizzly parts made for uncomfortable train reading, but everything ends up (inconceivably) fine in the end.
Two stars which means it's not bad, just okay. I'll get the third one if it hits $1.99 and features one of the more-fun Winston brothers.
Also, I am in awe of the readers on Goodreads who review romance novels and provide collages of how they'd cast the main couple.
Pyramids (Discworld #7) — Terry Pratchett
Pteppic is next in line to the throne of Djelibeybi, Discworld's version of Ancient Egypt. He spends his youth at the Assassin's school in Ankh-Morpork and on the day of his final exam, his father dies. Pteppic goes home and finds out that being a God means a lot less freedom than being an assassin. The story diverts into some metaphysical and mathematical weirdness which seemed to function as padding. I had to go back and reread a key part to figure out what actually happened. I think this is probably when fans started referring to him as Pterry.
Three stars – I liked it just fine.
Major Pettigrew's Last Stand — Helen Simonson
I purchased this a while ago, waiting for the inevitable gap between library holds. It's a sweet book about a 68 year old widower, Major Ernest Pettigrew, and his love affair with 58-year old widow Mrs. Ali. He's English, she's Pakistani. Their cultures, families, and friends clash, but our couple keeps their heads up high through the whole thing. Subplots include the fate of a pair of shotguns, a developer encroaching upon the small English village they live in, and a disastrous country club gala. Growing old is a bitch, but it's easier if you have love.
Four stars because I'm a sucker for sweet love stories and can I have this as a movie, please and thank you?
Currently reading: Let's Talk about Death over Dinner, by Michael Hebb. This is my first-ever Netgalley book. And The Kiss Quotient by Helen Hoang, because my Kindle died in the middle of my nightly sitting-outside session. Rude!
Stupid purchase: Hope Never Dies, a fictional (natch) Obama/Biden murder mystery. WM sent me this NPR story about it and I bought it right on impulse. How could I resist this cover?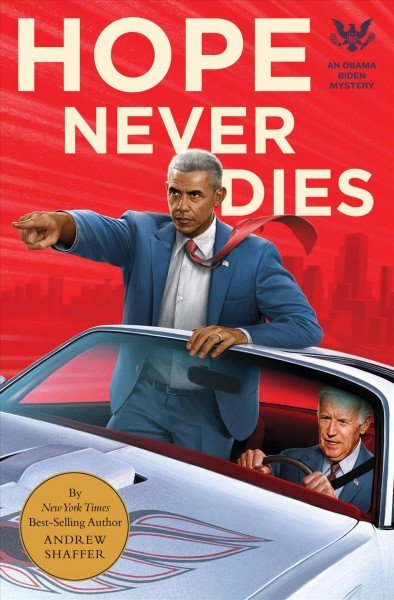 Philadelphia Library eBook Hold list:
I'm using Libby, the new Overdrive app, to manage my holds now.

The Queen of Hearts — Position: 10 of 28
The Widows of Malabar Hill — Position: 7 of 33
The Female Persuasion — Position 86 of 211
The Long Way to a Small, Angry Planet — Position: 41 of 55
You are a Badass — Position: 70 of 102
Bad Blood: Secrets and Lies in a Silicon Valley Startup — Position: 65 of 145
There There — Position: 171 of 185
From the Corner of the Oval — Position: 64 of 99
So Close to being the Sh*t — Position: 35 of 38
Guards, Guards! — Position: 6 of 9
All of my book lists and reviews are on Goodreads.
This a part of the Show us Your Books linkup from Jana Says and Life According to Steph. If you want to read more bloggers gush about the books they've read this month, click the button below and have fun!
What are you reading?
Previously:
January | February | March | April | May | June | July