Oh crap you guys. I'm attending a software user conference in Austin, TX this week and I completely neglected the blog. And now it's Show Us Your Books day and I can't NOT do it. I have a streak going. It's 10:43pm Austin time which means I have 17 minutes to make the EST deadline.

Tonight was the client appreciation party, and it was in an outdoor area in the warm (finally) Austin weather, with food trucks and strings of lights and an 80s cover band. Basically, if you were to climb into my head and plan a massive party for me, this would be it.
(I'm a little tipsy. Tito's is based in Austin.)
My reading goal this year is 50 books and I'm at 21!
As always, I use the Goodreads scale, which is:
One star: did not like it


Two stars: it was ok


Three stars: liked it


Four stars: really liked it


Five stars: it was amazing
Louisa: The Extraordinary Life of Mrs. Adams — Louisa Thomas
Louisa Adams was the wife of John Quincy Adams, the less popular Adams president and that's saying a crapton, because nobody liked his dad very much at all. Louisa was the product of an American father and a faux-Aristocratic English mother. She was brought up to be the model wife. This biography traces her life and how she managed to adapt to crazy circumstance after crazy circumstance. Rich, pampered daughter in Europe? Check. Ambassador's wife in Prussia? Check. Hardscrabble farm wife? Check. Widow? Check. Her life was simultaneously amazing and a sack of shit, yet she persevered and found her voice. Three stars, because it was a bit repetitive.
Lillian Boxfish Takes a Walk — Kathleen Rooney
This is a story about Lillian Boxfish, an 84 year old woman who lived an amazing life. She takes a walk around New York City on New Year's Eve, 1984, and the places she visits causes her to reminisce about the people who crossed into and out of her life. She is based loosely on the real-life Margaret Fishback), an advertising copywriter for Macy's. It was charming, and even though she is old she doesn't die at the end, so read without dread. Four stars, and I hope I'm that spry at 84.
Textbook Amy Krouse Rosenthal – Amy Krouse Rosenthal
Because I continue to break my own effing heart, I decided to read another AKR book, which sucks because she's dead. It's a memoir that's written like a textbook with chapters that evoke subjects like English, Mathematics, Poetry, etc. There is an interactive portion where, if you send a text to a certain number, you get responses from Amy.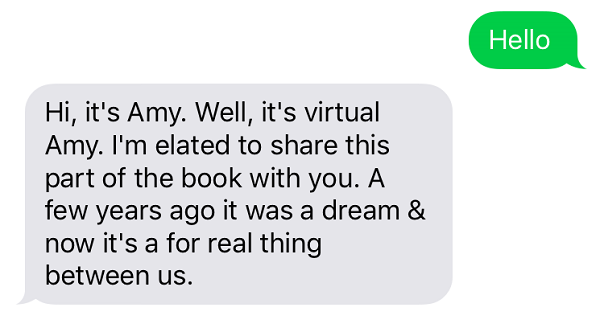 Except it doesn't always work. And she's dead, which makes it that much more poignant. Four stars, because I still thinks she could have been one of my best friends, and I wish she was still around to send out pies.
Britt-Marie was Here — Fredrik Backman
Backman hates me and wants nothing more for me to cry all the time. Even after the lesson of "My Grandmother Told Me To Tell You She's Sorry" I still picked up this book, a loose sequel about Britt-Marie, the nag-bag that lived in Elsa's building. She leaves her philandering husband, Kent, and ends up on her own. I have a soft spot for curmudgeonly childless women who grow and make a difference. Britt-Marie, you are my sunny story as well. Four stars and a box of Kleenex.
Highlight: The winter requires whoever is doing the watering to have a bit of faith, in order to believe that what looks empty has every potential.
Naked in Death (In Death #1) — J.D. Robb
J.D. Robb is really Nora Roberts. This is the first in a 1,000-book series (or so it seems) about Eve Dallas, a New York City Detective in the year 2058. She solves a case of a grisly serial killer. Are there books with female cops who aren't complete sartorial disasters? I'm not looking for a cop dressed in Kate Spade, but it would be nice to read about a female cop who is neither a model nor practically a hobo. This is a well-written book and many people love it, but it was not for me. The crime was dark, with sexual violence triggers galore. Two stars, because somewhere in the middle it went full-on romance novel and our hard-boiled protagonist turned out being someone who needed to be taken care of.
The Storied Life of A.J. Fikry — Gabrielle Zevin
A fiction book about A.J. Fikry, a widowed bookstore owner whose life and business change for the better when a baby is left in his store. There is a strong theme of "babies make everything better" but this was so charming and creative that I didn't care. It's a book about the love of books, which is different than a book about books where if you haven't read every classical work (like me!) you feel left out. Five Stars and two puffy eyes! I used the rest of the box of Kleenex left over from Britt-Marie Was Here.
Currently reading: Option B by Sheryl Sandburg and Adam Grant
All of my book lists and reviews are on Goodreads.
This a part of the Show us Your Books linkup from Jana Says and Life According to Steph. If you want to read more bloggers gush about the books they've read this month, click the button below and have fun!
Previously:
January
February
March
Time for bed. Sessions start at 7:30am.