Another month, another Show us your Books post. I'm doing well with my goal, thanks to daylight rides home on the train and putting the darn mobile phone away. Oh, and refusing to exercise and falling out of practicing my guitar. (sigh)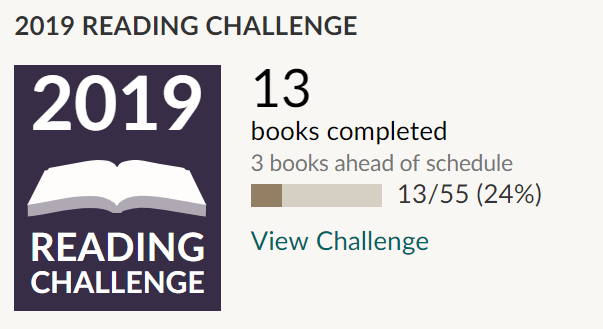 Onto the books! I use the Goodreads system to rate books, which is:
Onto the books! I use the Goodreads rating system, which is:
One star: did not like it
Two stars: it was ok
Three stars: liked it
Four stars: really liked it
Five stars: it was amazing
An American Marriage — Tayari Jones
This book was available at my local library so I snagged it. I was reluctant to read it, because how could a story of a young couple torn apart when the husband is wrongly convicted of a crime and sent to prison for 12 years not depress the hell out of me?
But woven into the strong narrative of being Black in the present-day American South is the story of Roy and Celestial's marriage. And of their parents' marriages. And even though everyone makes mistakes, you know why those choices were made. Adulting isn't easy. Marriage isn't easy. And all marriages have gray areas; some at the start, some at the middle, some at the very end. You can so easily make the wrong decision because you believe in the right thing.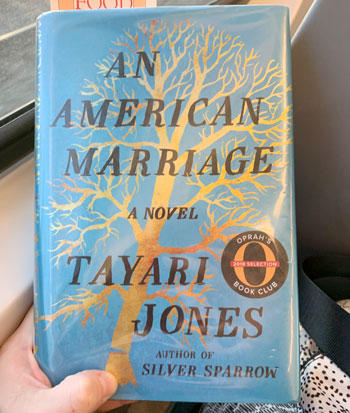 THIS BOOK WAS AMAZING. I read it in giant gulps, in about one 24-hr period of commuting and lunch breaks. I was one chapter from the end when I got to work last week and was rooting for a train delay so I could finish it before work. Instead, I took my lunch early to get that last chapter. I was sulky when I had to put this book down.
Five stars.

What We Do Now: Standing Up For Your Values in Trump's America — edited by Dennis Johnson
This is a collection of "omg what now??!?" essays and articles rushed into publication between Trump's election and his inauguration. I read it to charge myself up. Instead it was depressing. These articles were written with the tone of "Candidate Trump said XYZ, but surely, President Trump won't dare do XYZ" and today it's all "yup, he's doing X and Y and trying to do Z and let me tell you about the L-W that's going on too!" Oh you sweet summer children of November, 2016…you have no idea.
It just didn't hold up. I read the whole thing except the opening essay from some unpleasant old man in Vermont, because he gets NONE of my time, not now, not ever. The highlight for me was this passage, because of the hate-on Allan Lichtman has for Nate Silver.

"Nate Silver is a CLERK," the historian sputtered. *chortle!*

Two stars.
When Death Becomes Life: Notes from a Transplant Surgeon — Joshua D. Mezrich
This book was on display at the library and not on my TBR. But I grabbed it, because why not? This is Dr. Mezrich's memoir of what made him decide to go into organ transplantation (his affinity for kidneys is pretty adorable), interspersed with the ugly and failure-prone history of organ transplantation. Mezrich tells his own stories with pathos and humor. But he doesn't shy away from ethical issues regarding organ transplantation. For example, should an alcoholic be eligible for a new liver?
It took me a while to get through this book because of the science and a bit of the sadness. Many animals and people died before the process was perfected. Many. But I'm glad I took a chance on this book.

Four stars. Are you an organ donor? Want to be? You can register here. I just did!
Belong to Me (Love Walked In #2) — Marisa de los Santos

Oh man oh man, I was so excited to read this because I gave Love Walked in five stars and it gave me all of the warm and fuzzy feelings I could stand. In this sequel, Cornelia and Teo move to a nondescript rich suburb because Teo gets a job as a pediatric oncologist in Philadelphia. And Cornelia … just hangs around. She talks of a grad degree, but she spends most of the book not doing much except being tiny. And then all of the secondary characters show up. So many characters. The snooty neighborhood wives lead by Piper and Elizabeth. And their husbands and kids. Mysterious single mom Lake and her son, Dev. And Dev's friends from school. And Lake's new boyfriend. And his daughter. And Clare from the first book. And Cornelia's brother and his girlfriend.
Like the first book, the theme is family, biological and chosen. Where do you belong? Who belongs to you? Where this book pissed me off is that it stopped addressing the real, adult problems and turned into a KIDS FIX EVERYTHING book. You want a kid? You get a kid! Here's a kid you didn't know you had! Have kids? Here are MORE kids! Trying to resolve an awkard plot point? Fill it with kids!

At the beginning of the book, mean mom Piper insinuates that you're not a real family unless you have children. I expected the book to prove her wrong, but it kind of proved her right.

Three stars.
The Little Book of Hygge: The Danish Way to Live Well — Meik Wiking
Such a cute little book, but very redundant. It probably could have been edited down to half the size. The best part was the end because after 200 pages of sucking you in with candles, cakes, and sweaters, Wiking drops a truth bomb. The reason Denmark is so happy, he claims, is because they have a strong social welfare system. Knowing you're going to be taken care of if things go poorly makes people worry less. You're able to leave your bike outside the bakery because it's likely not going to get stolen because people don't need to because there is a safety net.
Three candles, er, stars. And it's HOO-ga, but it won't stop me from calling it Higgy. Getting Higgy with it!
Currently reading: Old in Art School by Nell Painter Irwin. It has more art history in it than I was counting on, but I'm pushing through.
All of my book lists and reviews are on Goodreads.

This a part of the Show us Your Books linkup from Jana Says and Life According to Steph. If you want to read more bloggers gush about the books they've read this month, click the button below and have fun!

Other SUYB posts:
2021:
January | February | March | April | May | June | July | August | September | October
2020:
February | March | Spring/Summer | September | October | November | Year-end review
2019
January | February | March |April | June | July | August | December
2018
January | February | March | April | May | June | July | August | September | October | November | December