I haven't updated since last book review? And I have how many crummy drafts? Five? Do I even do the April Extras now that we're 11 days into May? Eh, it'll all shake out. It's just a blog, not a job.
Three books read this month! Goodreads is still asking me to set a goal. Not this year.
Onto the books! I use the Goodreads rating system, which is:
One star: did not like it
Two stars: it was ok
Three stars: liked it
Four stars: really liked it
Five stars: it was amazing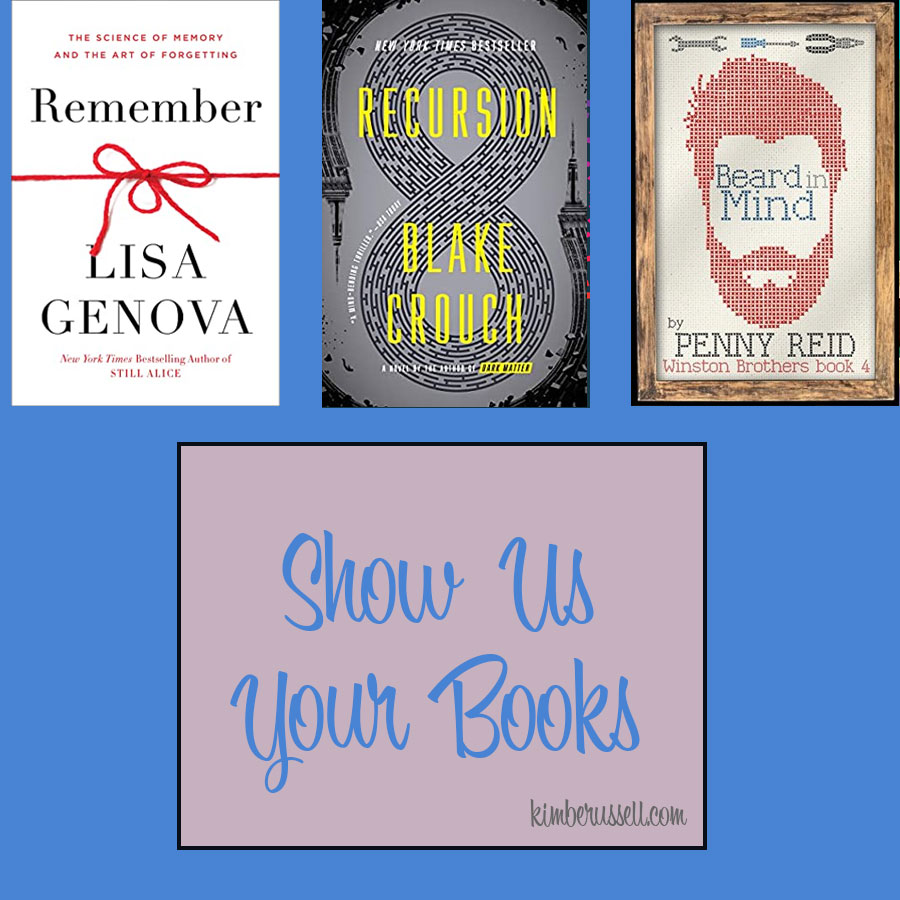 Beard in Mind (Winston Brothers #4) by Penny Reid– Okay, listen. I'm far past caring about any individual brother in this series. I am instead completely fascinated by the little town of Green Valley, Tennessee and how it's just the epicenter of any drama you can think of. Shit goes DOWN in Green Valley. With this book's Winston brother (Beau) finding his soulmate girl, it becomes FOUR Winston brothers finding twoo wuv in exactly one year. I figure this because their mother was already dead in book 1, and this book has the 1 year anniversary of her passing. So in this book, Cletus (book 3, hooked up with banana cake girl) hires Shelley to work at the Winston auto shop because Beau's twin Duane (book 1) and Jessica are going to Spain. And in the background plans are being made for Jethro (book 2) and Sienna's wedding.
Shelley has OCD and came to Green Valley to pull herself together and seek help from a local therapist. Shelley has actual, real, OCD and not the "tee hee I have to make sure the curling iron is unplugged 3 times before I leave tee hee" kind of OCD. Shelly has ugly, compulsive OCD and I'd imagine if you weren't familiar with OCD it could be very tough to read. Meanwhile, Beau is having troubles reconciling that the Pain named Duane is traveling shortly into Spain. (I tried.) While Beau certainly supports Shelley's efforts to cope with her illness, he does not rescue her from it. The progress she makes belong to her, and I appreciate that. There is also not a "I'm healed and all of my loose ends are tied up!" moment, which is also appreciated.
And of course the Iron Wraiths, the most evil Biker Club in the world is about to drop a family secret on Beau that will tear the Winston family asunder. Spoiler: it won't. You know from the minute the secret is hinted (there is one moment early on in the book that jumps out and gives you a huge hint of what's coming) at that it won't.
My recommendation is to read the books in this series pretty close together because I haven't and for me, the brothers all seem to blend together. Unless the passage mentions the girl they're with, I confuse them. Also, this book runs concurrently with the Cletus/banana cake girl book.
Content warnings for domestic violence, self harm, and a very real and gritty look at OCD that may upset people. Three stars and I hope in book 5 the town of Green Valley hosts the Olympics.
Recursion by Blake Crouch – Holy wow. What if there was an invention that sent people back into a past memory and allowed them to change a decision? Terribad, right? RIGHT. This book was freaking amazing and I hated to put it down. Sci-fi thriller isn't my genre of choice but once I told myself that I didn't have to pass a written exam demonstrating 100% reading comprehension of the more neurosciencey parts, I was able to let go and allow the plot to swallow me whole. If you do not "get" some of the deep memory theories, you're still going to enjoy the book.
This quote made me feel very seen and I do not like it.
Five stars and a standing ovation. Am I sci-fi thriller fan now? Content warning for suicide, murder, nuclear destruction, "I'm the government and I'm here to help," and science.
Remember: The Science of Memory and the Art of Forgetting by Lisa Genova – I knew that I'd enjoy this book because it's the type of conversational non-fiction book that scratches my non-fiction itch. In a very accessible way, Genova teaches the reader the different types of memory, how memories are stored, and a few tips on improving your memory that are proven by science . I really enjoyed it, but the anecdotes did become repetitive. Yes, okay, Yo-Yo Ma forgot his cello in a taxi trunk. Got it.
Takeaways: it's absolutely fine to 'offload' memory tasks as calendar reminders, shopping lists, and other documentation. Sleep more. It's perfectly natural to walk into a room and forget why you walked into that room.
Four stars! If you're a little worried about your flaky memory, this book helps.
Currently reading: The Storyteller: Tales of Life and Music by Dave Grohl. I'm really enjoying this memoir so far.
All of my book lists and reviews are on Goodreads.

This a part of the Show us Your Books linkup from Jana Says and Life According to Steph. If you want to read more bloggers gush about the books they've read this month, click the button below and have fun!

Other SUYB posts:
2021:
January | February | March | April | May | June | July | August | September | October
2020:
February | March | Spring/Summer | September | October | November | Year-end review
2019
January | February | March |April | June | July | August | December
2018
January | February | March | April | May | June | July | August | September | October | November | December
---
Good news! If you're a regular reader but forget to check in, you can subscribe to a once-a-week email with links to that week's posts! Click here to sign up!