A light reading month, not for lack of desire, but because the bulk of my pleasure reading time is going toward the Association Law book which I mentioned last month. More on that below. Here are the three books I read since we met last:
Small Gods (Discworld 13) — Terry Pratchett
I've been reading the Discworld series for the first time, but only a few books a year. My reasoning is that if if I hard-core binged them all, I'd become tired of the series long before I ran out of books to read. I started in 2016, and it's 2021 and I'm on book 13. This one, Small Gods, tackles the difference between belief and religion. This one wasn't my favorite, partially because of the intimation of cruelty and torture (which I absolutely do not tolerate in my entertainment), but also because I feel we are even more steeped in the consequences of Big Religion than we were when the book was written in 1992. I slogged through and give it two stars.
It's been a while since I checked an old paperback out of the library. This gem in the back of the book warmed my heart a bit. CD-ROM!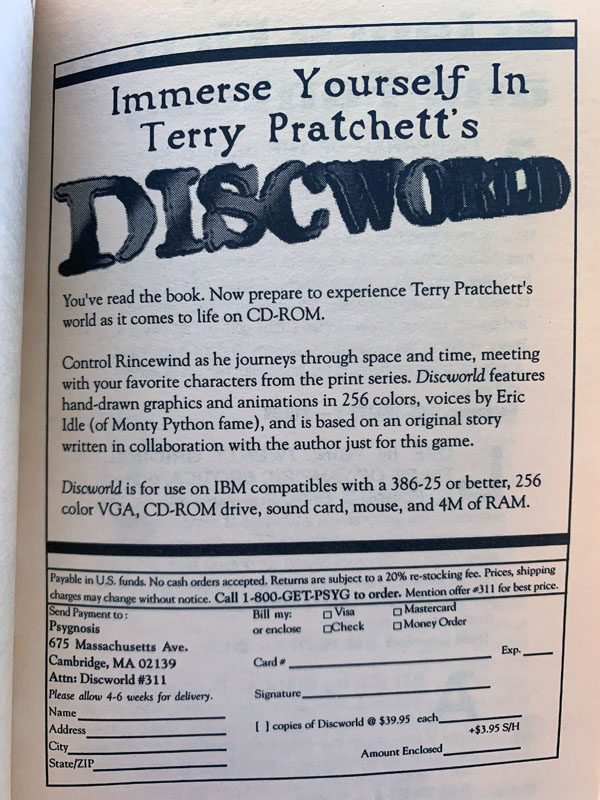 Hood Feminism: Notes from the Women That a Movement Forgot — Mikki Kendall
I'm a white lady in the suburbs who, a year ago, posted a black square on her Instagram account. I was a little reluctant to do so because it was a bit slacktivism-y, but I genuine believe that any step forward is a good one. That is, as long as the black square isn't your first AND last action. The problem with black squares and Hate Has No Home Here signs (which I also have outside) is that it's easy to believe that taking that step is a one-and-done demonstration of allyship and that you're now good to go. Kind of like saying your 10 Hail Marys after confession to purge your sins and then believing you'll be sinless forever. This is a very long way of saying that with that black square I made a promise to myself to continue to learn about Black history, to support Black owned businesses, to give to support causes that level the playing field, and to learn how to be what Mikki Kendall calls an accomplice and not just an ally.
If that paragraph above describes you too, I heartily recommend this book, which demonstrates why our pussycat hat wearing feminism needs to be intersectional feminism. We can chant and wear our fun hats, but we also need to make sure that our Black sisters have food security, education, and protection from violence inside and outside of their neighborhoods. At the same time, we need to be accomplices and assist those who are already in those spheres trying to make a difference.
Five stars, my review does it a disservice.
Summer of '69 — Elin Hilderbrand
I had planned to read the second installment of the Paradise series but I checked out the third book instead. This one was cheaper in the Kindle store, and I had some credit from declining next-day Amazon shipping.
This was legitimately on track to be a five star book for me because if I love any genre of fiction most of all, it's rich family drama, where everyone has a secret and then there is SCANDAL when the secrets come to light and everything gets worked out while eating lovely seafood dinners. This story of 48 year old Kate Nichols Levin, her old-money mother, her three older children from her dead first husband, her 13 year old child with her current husband, and their family's lifelong hired help, all of whom had juicy secrets, was almost there. But it was sidelined by Hilderbrand's desire to cram in every current event that happened in the summer of 1969. Including Mary Jo Kopechne, who made a wordless cameo in the story hours before Ted Kennedy drove her off of a bridge and failed to call the cops. And that was two stars' worth of "boo hiss" from me. I almost quit the book right there. There was also some loose ends I would have liked to see tied up, but they had to get the "babies fix everything" ending in there so…*shrug*
Three stars, it could have been a five!!!!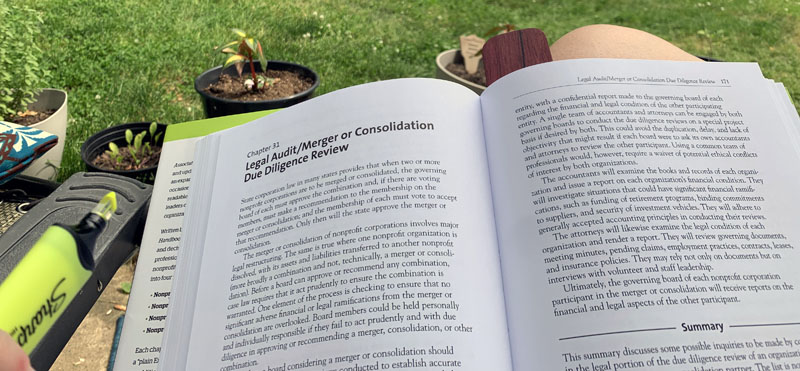 Currently reading:
People You Meet on Vacation by Emily Henry – I am so excited to read this book.
The Association Law Handbook – I'm 44% through this monster which takes up most of my reading time, hence only three pleasure books this month. I haven't had to study anything in years and I don't remember how to. So I read 20 pages one day, and then the next day I'll reread those 20 pages and take notes. Rinse and repeat, with usually one day off per week. It's very well-written but hoo boy these chapters on Political Action Committees are boring. If I ever become the Chief Staff Executive of a nonprofit I hope it doesn't have an associated PAC.
All of my book lists and reviews are on Goodreads.

This a part of the Show us Your Books linkup from Jana Says and Life According to Steph. If you want to read more bloggers gush about the books they've read this month, click the button below and have fun!

Other SUYB posts:
2021:
January | February | March | April | May | June | July | August | September | October
2020:
February | March | Spring/Summer | September | October | November | Year-end review
2019
January | February | March |April | June | July | August | December
2018
January | February | March | April | May | June | July | August | September | October | November | December
Good news! If you're a regular reader but forget to check in, you can subscribe to a once-a-week email with links to that week's posts! Click here to sign up!
---