Missed January but here I am, back in February! I completely missed my 2019 Goodreads goal but you know what? IT'S FINE. It's an arbitrary number and I missed it and the world still spins. My 2020 goal is 50 books, which is what it was in 2018.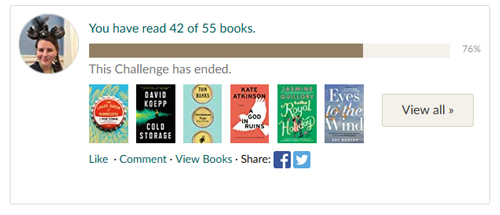 I'm also not going to sabotage my post about these books by trying to make it perfect and witty and then never posting the draft because I feel that it falls flat. Nope. Just gonna barf this post out here because what's what my personal blogging practice is. It's a journal.
Onto the books! I use the Goodreads rating system, which is:
One star: did not like it
Two stars: it was ok
Three stars: liked it
Four stars: really liked it
Five stars: it was amazing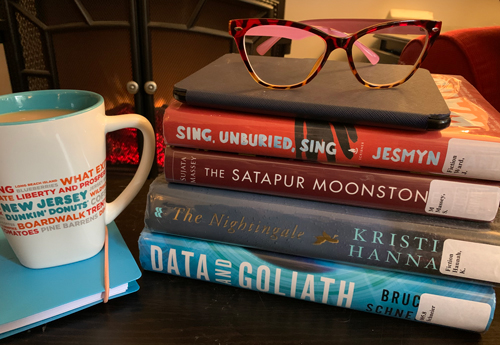 The Lager Queen of Minnesota by J. Ryan Stradal (read in 2019)
Edith and Helen are farmer's daughters in Minnesota. Edith does everything politely and by the book. Helen takes chances. Inexplicably to Edith, their father leaves Helen the farm upon his death. This book is a beautiful (but slow, very slow) study of three generations of women and their chosen family as they navigate the business of brewing. I liked that the story is narrated by various characters, because you learn that neither Edith nor Helen knew the entire story. Laughs, tears, etc.

Five stars and I am so impressed with how Stradal writes his female characters.
Cold Storage by David Koepp (read in 2019)
I chose this one because it was recommended by multiple book nerds and because it was a little out of my comfort zone. I'm not a suspense person and this is a suspenseful book about an organism that comes to earth via the shattered pieces of Skylab.

Effing Skylab! I was a six when Skylab fell and every night there would be news broadcasts of potential doom – that one paper clip sized chunk of Skylab would bash your head in or a brick sized piece could destroy your house. I, and many my age, was convinced we were going to die. I still hate any mention of Skylab.

Anyway, this organism is discovered in the Australian outback, where it mutated enough to kill an entire small town. Roberto Diaz and his coworker Trini manage to contain it and bury it way under the ground in a frozen chamber. Decades later, the land is sold and a storage facility is built above it. And global warming causes all of the safety functions to fail.

This story was very compelling and fun to read (although not really wise when you are already sick and have a headache) but really really really unrealistic. But fun.

Three stars, and it would make a hell of a summer movie. Minus the terrifying Skylab part.
Reaper Man (Discworld #11) by Terry Pratchett
I'm reading through this series slowly — one book every few months — because I know there is an end and I want to draw the series out as much as possible. I was a little skittish abut #11 because I really didn't enjoy Moving Pictures (#10) and I was worried Pratchett was going to become a caricature of himself, cleverness on top of cleverness. (For an example of a personality who became a caricature of himself, see Emeril Lagasse. Once a innovative chef who ended up a BAM! machine.) Instead, we get this rollicking story about Death (a favorite character of mine) and how he acts when he, himself, is running out of time to live. It was hilarious up until it became touching. The tears were rolling down my face at the end. Pratchett's writings do that to me.

Five stars and a box of tissues.
The Immortalists by Chloe Benjamin
On a scorching New York City summer day in 1969, four siblings (Varya, 13; Daniel, 11; Klara, 9; Simon, 7) go to a fortune teller who is purported to be able to tell people the dates they'll die. What they learn inform the decisions they make for the rest of their lives and each of them tries to become their own definition of 'immortal'.

If you were alive during the 80s, you pretty much understand how the first sibling dies as soon as you being reading the first few lines of their story. The rest of them weren't as predictable, thank goodness.

Trigger warnings for suicide, gun violence, lab animals (not overt cruelty, but a, 'geez, really?' instance), and a whole lotta death.

Four stars — While reading this book I had a dream that I only had six months to live; that's how powerful it was for me.
The Floating Feldmans by Elyssa Friedland
I have a weakness for books about wholly unlikable, privileged families. Meet the Feldmans, the latest installment in this genre. Annette Feldman is turning 70 and decides to take her entire family on a cruise to celebrate. This includes her husband David, her ne'er do well son Freddy and his much-younger girlfriend, her never-good-enough-daughter Elise, her husband Mitch, and their two crummy teenagers. Every person has a secret that could RUIN EVERYTHING but not really. There's also a vague subplot about the Cruise Director which doesn't seem to go anywhere.

Three stars, and did you know that babies fix everything and if you're not a parent you've never understood the true meaning of anything? Also, cruises can be fun.
Sing, Unburied, Sing by Jesmyn Ward
Wow. This is a hell of a magical-realism, Southern Gothic book about family and the results of generations of violence against African-Americans in the South. It was beautifully written and so, so, brutal. There is love, too.

Trigger warnings for drug use, child abuse and neglect, violent whippings, murder, torture, lynching, asshole white-on-black mob violence, ghosts, police brutality, and a metric ton of vomit.

Four stars.
Data and Goliath: The Hidden Battles to Collect Your Data and Control Your World by Bruce Schneier
This is a good telling of how data used to be collected versus how (and how much) is collected now. Or, rather, in 2015 when it was published. It's probably worse now. But it's a good primer on privacy and surveillance, how much our government does, and some steps we can take to counter it.

Three stars.
The Nightingale by Kristin Hannah
My mom recommended this book to me, and I should have said no because she's a fan of dire "until then we'll have to muddle through somehow" World War II books. This book is about two French sisters and the parts they played in the French Resistance. The first three chapters had me all, "you're going to die. you're going to die, oh you are TOTALLY going to die." I was only wrong once.
Trigger warnings for war, murder, rape, torture, THE HOLOCAUST and all the horror that comes with, family separation, you know, World War II.

Four stars. It was beautifully written but oh my geez war books are not my jam.
Currently reading: The Satapur Moonstone (Perveen Mistry #2) by Sujata Massey
All of my book lists and reviews are on Goodreads.

This a part of the Show us Your Books linkup from Jana Says and Life According to Steph. If you want to read more bloggers gush about the books they've read this month, click the button below and have fun!

Other SUYB posts:
2021:
January | February | March | April | May | June | July | August | September | October
2020:
February | March | Spring/Summer | September | October | November | Year-end review
2019
January | February | March |April | June | July | August | December
2018
January | February | March | April | May | June | July | August | September | October | November | December