The last time I was at the aquarium in Camden it was early 2000 and I was there for an event the C-P threw for its readers to mark the new millennium. That was before Gannett ruined it and all of its other local newspapers. Yesterday I took Nephew A, who will be SIX in April (and Mom, who had never been there before) and we had a great time!
Although A is one of the two cutest children in existence, I keep his face off of the blog, hence the weird photos. If you want to see an actual photo of him, email me and I will call you a sick freak and call the police.
I wanted the day to be all about him, so I didn't plan a thing. The only thing I told him was that I wanted to find purple fish because purple is my favorite color. Then we let him lead the way.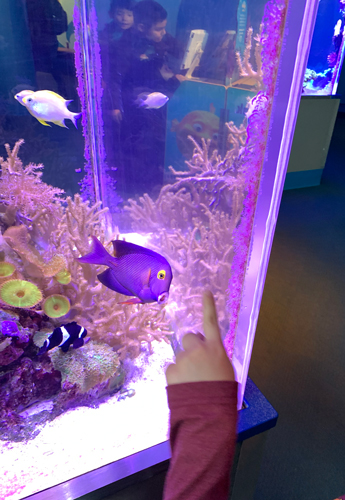 I'm pretty sure he said hello to every fish (Kindergarten teaches kindness) except the yellow moray eel, which was mildly terrifying. He wanted to play the crane machine and I said, "YES" and gave him a dollar. It was a play-until-you-win game but his first win didn't register. He got to continue playing!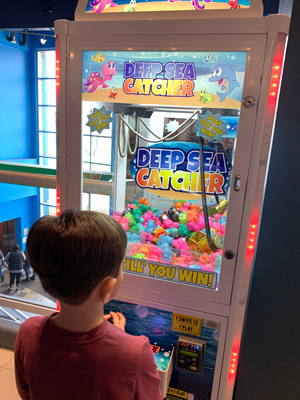 Six hours later he won the second plastic frog, and we moved on. I wanted to try the hurricane simulator and he agreed. He's a very brave kid when it comes to rides and danger. For the reasonable cost of $3, we were buffeted by category-one winds.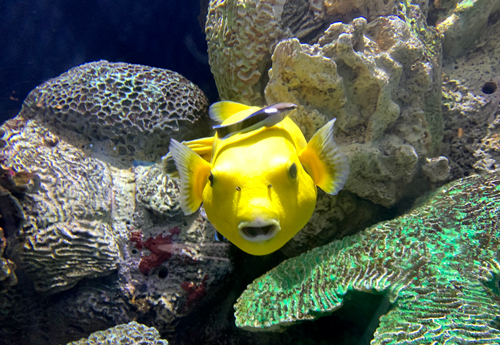 We compared how large our mouths were next to shark jaws.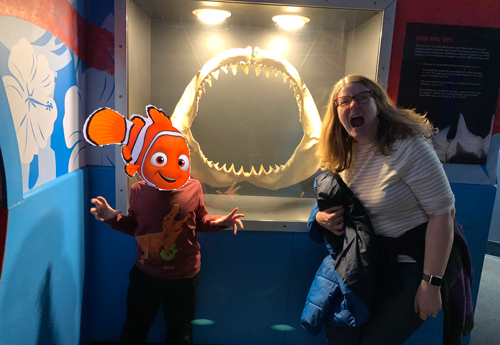 And we walked a rope bridge over the shark tank (Mom too!) and none of us fell in. Normally, I'd have a feeling of unease doing something like that but given that Billy Joel could rewrite the entire "We Didn't Start the Fire" about the world events of the last 5 years alone, what the hell, let's walk over some sharks.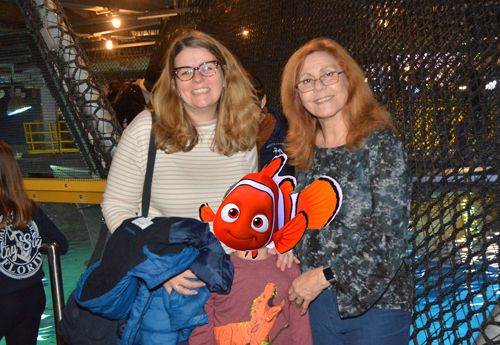 When we went to the gift shop I told A that I would spend up to $30 (tax not included) on whatever the heck he wanted. Aunt Kim says YES to everything. He picked this shark research action set that I learned just this moment was marked up $10 over Amazon's price.
He also wanted the ability to fill a crappy, tiny drawstring bag up with rocks. You know the bag of rocks. The bag of rocks that is at every attraction and amusement park? The bag of rocks that has nothing to do with any attraction and amusement park? That bag of rocks. THAT BAG. But Aunt Kim says YES so sure, kid, have a bag of rocks.
The food court was a hellscape but Aunt Kim always says YES so I asked him, "A. We can eat lunch here or we can eat lunch at any restaurant in the entire UNIVERSE. Anywhere you'd want to go. Here or ANYWHERE."
"Friendly's!" he replied.
"EXCELLENT."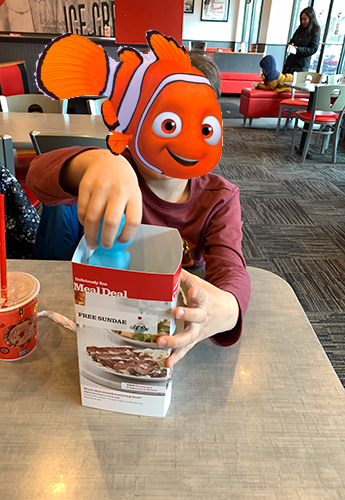 We made sure to have ice cream, too.
It was a fantastic day with a fantastic kid.
I forgot to take the booster seat out of Molly after dropping him off, but I put it to use today for other precious cargo.