Hey Kim! What's been going on?
Personally:
In July I joined a gym, which announced its closing 6 weeks later. Then I joined another gym, which is still open. I go in 2-3 times a week and do a mix of cardio and strength training. It's very humbling. However, I can very reluctantly admit that walking almost every day since March and working out even occasionally is improving how I feel. I'm not in this to lose weight, but to build strength and stamina for the long haul.
In September I turned fifty. IN WALT DISNEY WORLD! The trip was amazing and perfect in almost every way. (The heat index was over 100 degrees every day, which was a lot, even for this lover of summer.)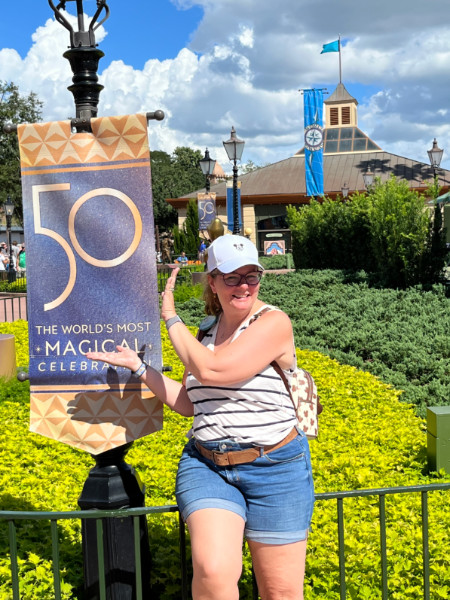 Two weeks ago, Murphy was diagnosed with Immune Mediated Hemolytic Anemia, which means his body is attacking its own red blood cells. IMHA is scary and quite often fatal. He was VERY lethargic with pale gums when we took him to the vet. His red blood cell count was at 18%. After a week on steroids, that number popped up to 30% and his doctor is very pleased. If his next blood test also shows improvement, they'll try to wean him off of the steroid. He's also on aspirin because IMHA can cause blood clots. This is terrible and stressful and we're in "give him the meds and pretend everything is fine" mode. It's possible that it can be reversed, but it's also possible that it can't be.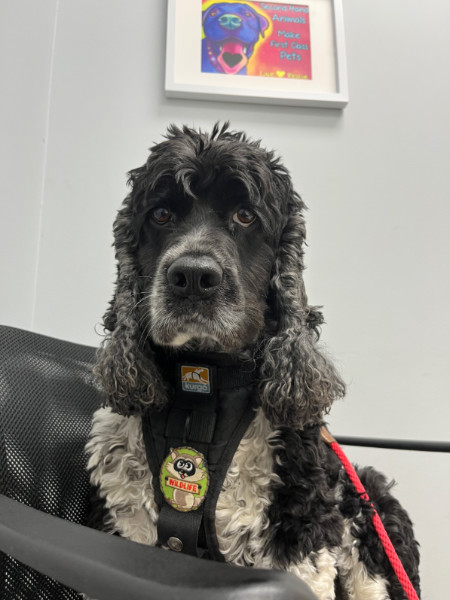 "FUN" FACT #1: in the last 18 months, Murphy has seen all six of the vets on staff at our clinic.
"FUN" FACT #2: Please know that we love Murphy to pieces, but Murphy on steroids is difficult to like sometimes.
I haven't been able to read a book since summer. I also haven't been able to craft in months, either. I miss doing both, but I can't force it.
Gaming: I played Strange Horticulture (intriguing but short), Slay the Spire (still obsessed), Disney Dreamlight Valley (cute, but light on content), and Valheim (bleak survival game, can only play a little at a time).
Professionally:
In August, I attended the ASAE Annual conference in Nashville and was recognized as a new CAE. In September, I was elected to be part of the MetaFilter inaugural 12-member Steering Committee. For a volunteer position, it's much more work than any of us thought it would be, but it's good work and much needed work. I'm also nominated for a second 2-year MASAE board term.
I'm still working from home and probably will be for the long haul. TNP has us going in 1x/month, but I try to go in 1x/week just to get out of the house. To cheer up my side of the home office a bit, I painted a Spaceship Earth pattern on a 2′ wooden round. I was inspired by a TikTok video. It's now up on my office wall with some new shelves. I'm still not thrilled with working from home, but things are never going back to how they were, and it's time for me to deal with it. To that end, I removed almost all of my personal items from our office building.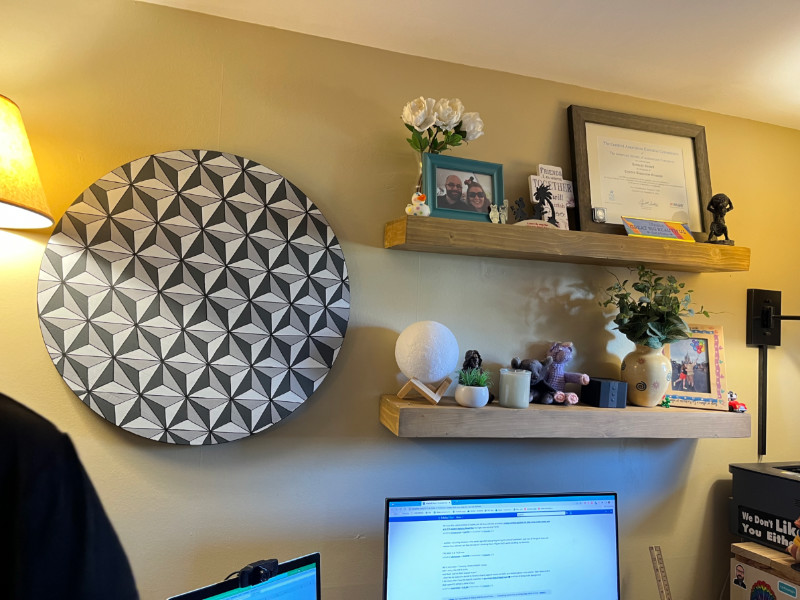 And that's about it. I have missed writing here.