Happy happy happy June – my favorite month of the year! The first Wednesday of the month brings the Currently linkup with Anne In Residence. This month's words are: celebrating, collecting, gifting, thinking, and trying.
celebrating: our world opening up again. I'm being mindful that not everyone can be vaccinated right now, but watching the 7-day average for new cases drop each day for the USA is a thrill, especially after the prior management of this crisis. I am thankful for science, and for everyone who's doing the right thing. Next week I'll see my father for the first time since September, 2019. At the end of the month I'll see some cousins for the first time since December, 2020. It will take everything not to start crying every time I "re-meet" somebody again. That's a tall order for me, the Grim Weeper.
collecting: My unworn clothes to give away. I took three garbage bags worth of clothes to Goodwill on Monday. There's room in my drawers and closet again. I kept looking at my winter pieces and thinking, "do I even want to wear this again?" For example, I can't imagine cramming ass into a pencil skirt anytime soon. I'm glad the looks for summer (and hopefully fall) are loose and flowy.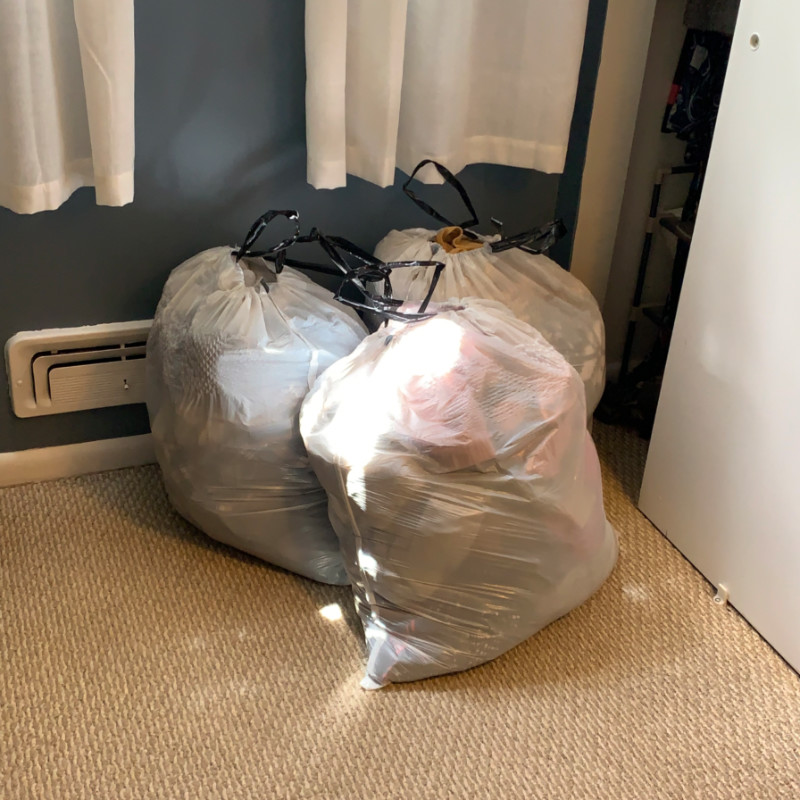 gifting: Erm, family birthday season is in its yearly hiatus. I have a wedding this weekend (food! dancing! strangers! structured shoes!) so that will be a cash gift. I'll make the card myself.
thinking: a lot about my capital-F Faith and how every time that Faith is shattered by something (3.5 million dead from Covid worldwide, etc etc), I end up putting the pieces back together and trying again. I've been watching weekly church services on Youtube from a lovely, welcoming, progressive Presbyterian church in …. Oakland, California. Which is a bit out of my commuting range. Finding a faith home has been a lifelong struggle for me and some days I feel like I am the shaggiest, dirtiest, and slowest sheep ten steps behind the rest of The Flock. But I'm still here, clopping away, getting stuck in bushes and falling into crevasses. This entire paragraph makes no sense but neither does my faith journey.
trying: to grow a new sourdough starter because I miss baking bread. This one, Caren IV, is two days old and hopefully tomorrow I'll see some bubbles. Caren III died when we forgot she lived in the oven and preheated it without taking her out. Caren II was my most successful starter, but a fruitfly found its way into her jar last summer and NOPE. Caren Prime passed at about a month old.
Past Currentlys (Pastlys?): July 2021 | June 2021 | May 2021 | April 2021 (erroneously titled April 2020) | March 2021
---
Good news! If you're a regular reader but forget to check in, you can subscribe to a once-a-week email with links to that week's posts! Click here to sign up!