Doing another linkup – this one is Currently with Anne In Residence. I'm always up for a writing prompt/linkup and this month's words are choosing, imagining, making, recommending, and wearing.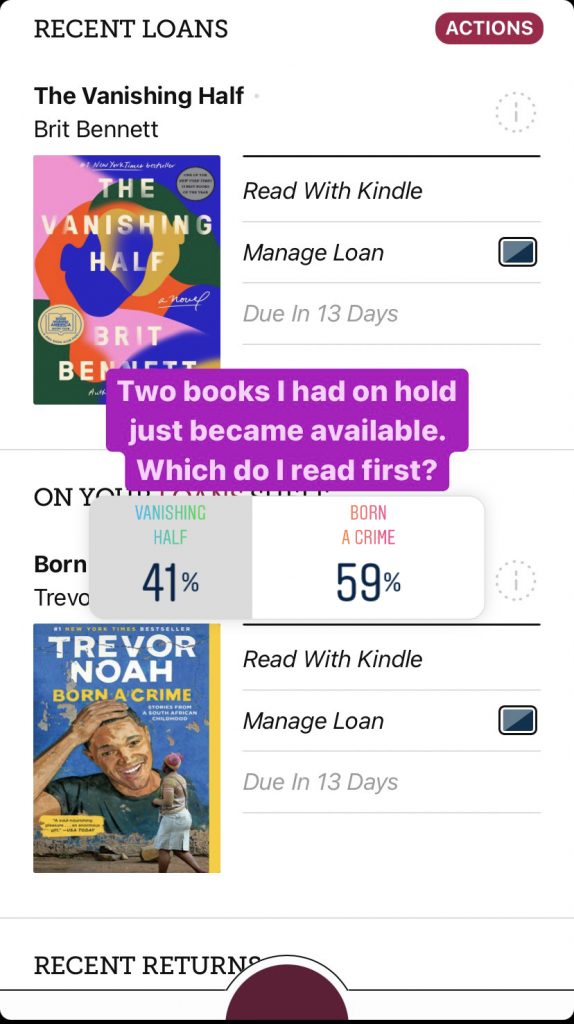 choosing … To read Born a Crime by Trevor Noah next. That book and The Vanishing Half became available at the same time. I can read both in 2 weeks so I accepted both. I was torn on which to read first so I punted the question to Instagram and Twitter (not linking my Twitter account because I'm meaner there) and Born a Crime won. By the time I finish both, Our Time is Now by Stacey Abrams should be ready to arrive. By the way, the monthly Show Us Your Books linkup is next Tuesday if you're a bookish blogger/blogreader.
imagining – A post-COVID social life. We have weddings coming up in June, September, and October and I don't know how to act.
No, literally, I don't know how to act. For example, all of my dancing for the last 12 months has been clumsy butt-poppin' to 90s New Jack Swing songs because the only one who sees me has to jump through a lot of expensive legal hoops to get out of this relationship. And I'm carrying around a bag of Doritos like a security blanket. Maybe I should send my regrets…
making – Popcorn! I don't have a microwave, so I pop my popcorn in a West Bend Stir Crazy with a little bit of olive oil. I asked Twitter (again, don't follow me there I'm not nice) which toppings they put on popcorn and received the following suggestions: cinnamon sugar, Old Bay with butter, hot sauce & lime juice, powdered chicken, powdered vinegar, smoked paprika, curry powder, nutritional yeast with butter, furikake, Trader Joe's Everything but the Elote seasoning, M&Ms, a combo of garlic powder, truffle salt, nutritional yeast, cayenne, sharp cheddar powder and black pepper, a bunch of suggestions for cheddar powders, a link to Chrissy Teigen's popcorn flavor set, and a recommendation to pop half in bacon grease, half normally with cheddar powder, and mix the two.
That is a LOT of popcorn options, and I look forward to working through them. What's your popcorn go-to?
recommending – Burt's Bees Lip Crayon in Redwood Forest. A swipe of it makes me look more alive on a day of Zoom calls. I keep it my desk drawer. It's a bricky red that doesn't make me look like a six year old trying on Mom's makeup. I'm wearing it here…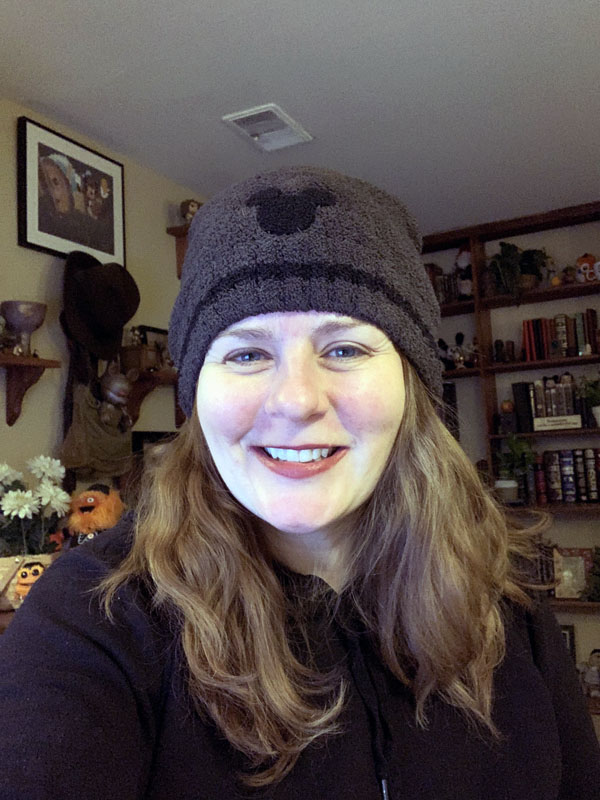 wearing – A hat indoors. I'm cold from November until April. Is it how I'm wired? Is it the creeping despair of non-summer? Who knows? But the one thing I've started doing that has increased my comfort at home while not turning up the heat is wearing a hat when I'm sitting. Which is a lot. For my birthday before last, WM bought me a Mickey Mouse Barefoot Dreams Beanie (see pic above) and it is my go-to inside hat. It's not good for outside winter weather but for reading a book on the sofa on a dreary winter's night? PERFECT.
Read others' answers to this month's prompt here.