The first Wednesday of the month brings the Currently linkup with Anne In Residence. This month's words are: eating, feeling, going, ordering, and realizing.
eating: veggies from the garden. So far we've harvested a lot of lettuce, a few bunches of radishes, and beets. The lettuce is finished until the fall when I'll replant. I've been planting 6 radishes every other week and they're providing a tasty addition to salad. AND I pulled my first bunch of beets today and I am elated. The first green bean plants are producing tiny beans, and the tomato plants have the tiniest tomatoes starting to grow.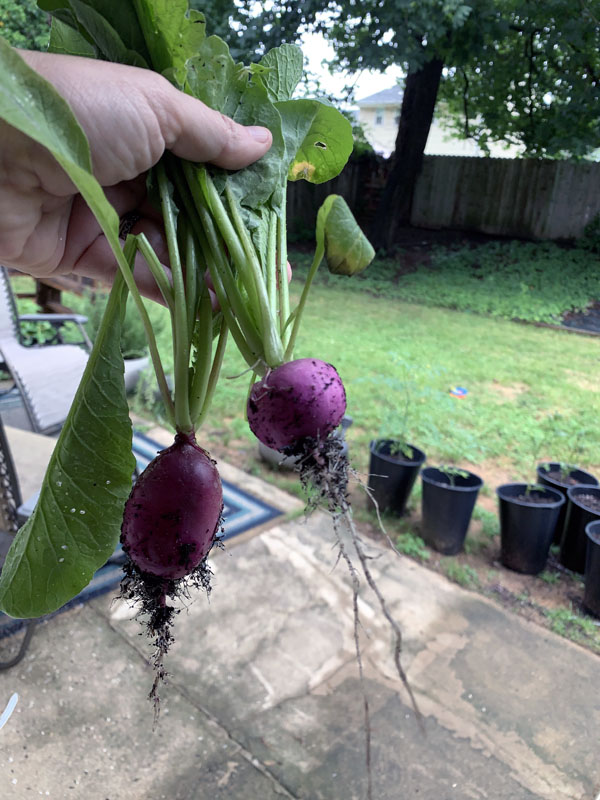 feeling: Happy. With everything opening again, I'm happy. Summer outdoor concerts are opening again, some festivals are restarting, and I am just so thankful and grateful. I'm hoping and praying that people who refuse vaccinations eventually stop watching people trying to stick keys to their foreheads and listen to those who love them.
going: for more walks, because hoo boy I am more sedentary than I thought I was and I need to bring the energy level back up.
ordering: The dogs' Heartgard medicine from Chewy's pharmacy. I thought it would be easier, but my vet required I pick up the prescription and mail it to Chewy. The cost is cheaper though. I'm not sure I'll keep doing it but it's an experiment.
realizing: that I'm not going to finish the backyard ivy project until fall. About 1/3 of our yard was covered in ivy. Last spring we rolled some tarp over a lot of it with the intention of suffocating the ivy and planting grass there this year. However, the best time to plant grass is spring and fall and right now we are in neither of those seasons. I guess the tarp will remain a little longer.
Past Currentlys (Pastlys?): July 2021 | June 2021 | May 2021 | April 2021 (erroneously titled April 2020) | March 2021
---
Good news! If you're a regular reader but forget to check in, you can subscribe to a once-a-week email with links to that week's posts! Click here to sign up!