Sitting here: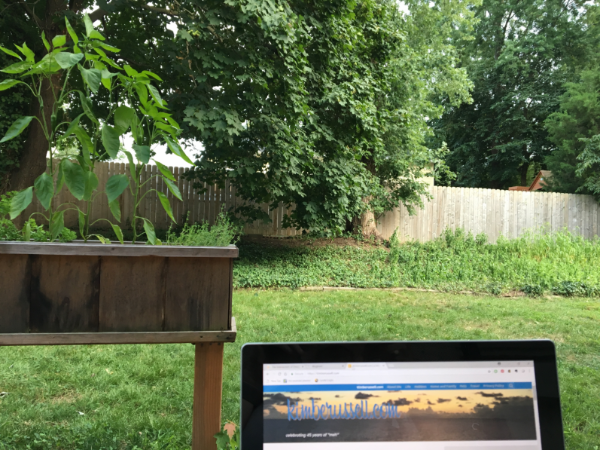 While I'll be sad to see summer go, I'm pleased that I squeezed in so much outdoor time. Instead of dorking on the internet for a half hour in between each household task, I just do all of the crap at once so I can spend a chunk of that time outside. I've done most of my blog planning here, too. My pepper plants, planted too late, are finally bearing fruit! Er – veg!
Planning on planting some lettuce, garlic and beets this fall. Why not try? I may get to be the COO of "Angry Man Farm" (that's what we named our house) after all!
Celebrating: National Dog Day with these goobers.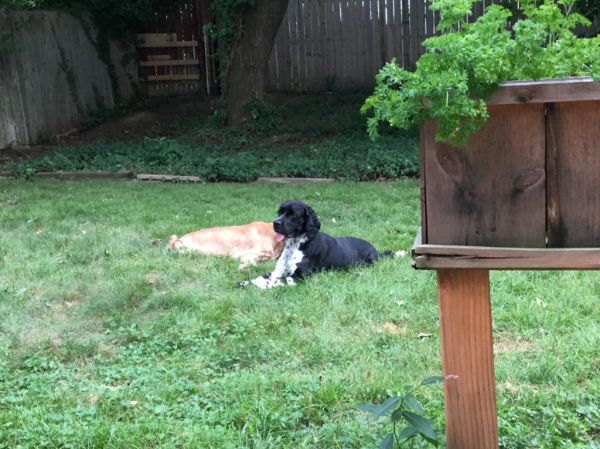 Ollie is kicking ass, post ear infections and dental surgery. He's been on walks 2 days in a row and is not only making it through without stopping due to fatigue (he always stops to pee on trees), but he's leading me again! He'll be with us for 11 years next month. He's great.
Anticipating tomorrow's mammogram. I called last week to make an an appointment, expecting not to be seen until October.
Receptionist: We have a cancellation on Monday at 10:45!
Me: Oooooh. Oh. Um.
R: You didn't expect that, did you?
Me: Noooooo. But I'll take it.
R: That's the spirit!
I'm sure it'll be fine. If you'd like you can read the accounts of my first mammogram as well as my second. I just think that if this teenaged blog becomes a lifelong work of mine, I should be honest about getting older and the seven thousand doctor appointments that come along with it. Maybe someone will find this through Google and feel better.
Reading: The Widows of Malabar Hill. It's set in 1910s and 1920s India and I'm really enjoying it. It's numbered #1 in the Perveen Mistry mystery series, so I'm assuming our heroine lives.
Fitnessing. I'm on track to meet my (meager) fitness goals every day this week as long as I get up right now and go in and get to yoga-ing.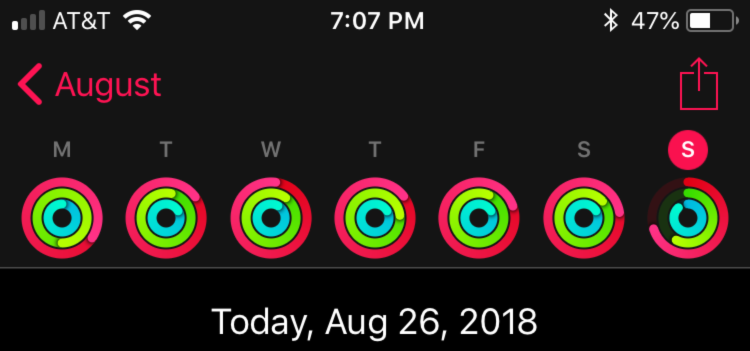 Six days a week I either practice yoga or hit the Total Gym. In sixty days, even if I don't lose a pound of weight I will be a stronger, fitter, and more flexible human bean.