Happy Friday, which is also National Gardening Day and National Ex-Spouse Day. Both of which I have. 🙂 I took off yesterday and today to bum around the house which turned into cleaning the yard, spraying weeds, and spontaneously painting the living room, which has mostly been WM's job. The color is one that's been our go-to for years, Glidden Whispering Wheat.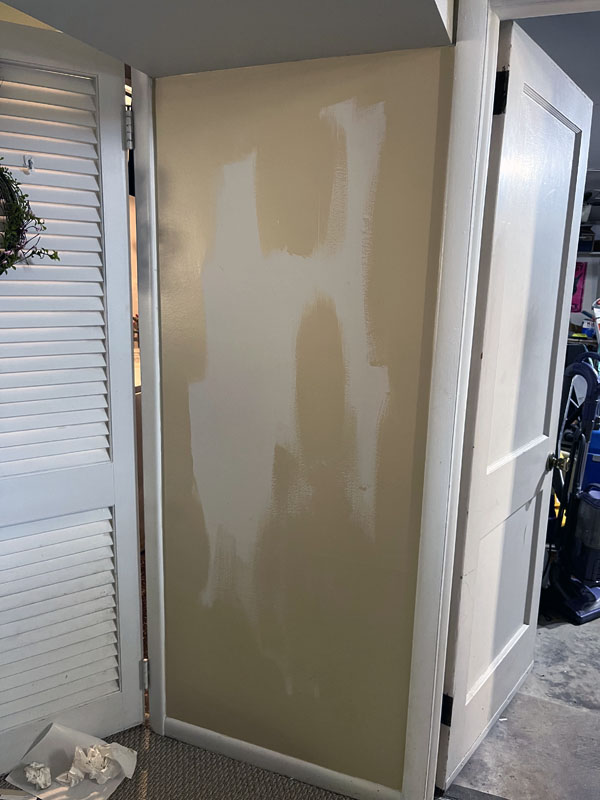 It's unseasonably warm here (not complaining) so I took the tomato, pepper, and basil seedlings out of the garage into the backyard for the weekend. We're only a few days from the last frost date but I'm reluctant to transplant them to the beds. I've been burned frozen before.
In middle-aged lady news, I had a colonoscopy "fast track" screening over the phone this morning which is the first step toward actually having a colonoscopy. I entered all of my information into the health portal. A nurse from the health system called me today to … again get all of the information that I put into the health portal. Now the office of the doctor who is going to do the colonoscopy is going to MAIL me forms to fill out and return BY MAIL, and then I'll get on the schedule.
It doesn't make sense to me, either.
Time for the Friday 5! This week's theme is Food Court and I am here for it! Let's gooooo!
How's your water intake?
This week it's TERRIBLE. I can't find my water bottle. It has to be in the house somewhere (I rarely leave) and I can't find it. So now I'm drinking out of cups like it's 1995.

What do you eat specifically for its health benefits?
When I have a salad, it is specifically because I need more greens and veggies, not because I enjoy salads.

What do you avoid specifically because it's unhealthy?
Any drink specifically designated as an "energy drink." I'm okay with drinking 2 cups of coffee but to have 2 cups worth of caffeine concentrated in a bottle that's less than 2 ounces? Dark magic. No good.

What foods or beverages put you in a good mood?
Any kind of pasta dish that you'd find at a beach town spaghetti house. Spaghetti and marinara? Fantastic. Linguini with clams? Amazing. The Olive Garden suffices in a pinch, but to put me at peak "Kim" happiness, it has to be 1) not cooked in my house and 2) not a national chain and 3) not too stuffy.

What are your favorite cookie, pie, and pastry?
Cookie: Homemade: a chocolate chip cookie not baked by me. Store: Pepperidge Farm Mint Milanos.
Pie: Homemade or store-bought: a cherry pie not baked by me. Whipped cream optional.
Pastry: Homemade or store-bought: A chocolate croissant not assembled by me. I'll allow bake-at-home.
Enjoy your weekend!
---
Good news! If you're a regular reader but forget to check in, you can subscribe to a once-a-week email with links to that week's posts! Click here to sign up!