Happy Friday! I worked a full five-day workweek! Woooo! Go me and my white-collar self. I worked from home today with my snore of spaniels. I'll be home Monday too. This work from home thing? Niiiiice.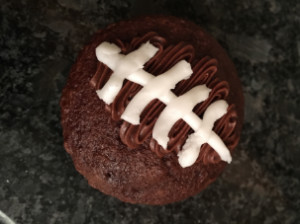 Yesterday at work we had a "Tailgate" party for the Super Bowl, but mostly for the Eagles. Although I spent many years actively rooting against the team, I put on my green because it would be so nice for my favorite city to win. I volunteered to make football-themed cupcakes. WM did the baking and most of the decorating and they looked pretty awesome, if I do say so myself. Thanks, Pinterest!
This week's Friday 5 theme is Groundhog Day, and this year, like most years, that rodent is on my shit list. He has only predicted an early spring 12 times in my lifetime.
1. What's your favorite Bill Murray performance?
It's a throwback, but I'm definitely going with What About Bob? which I remember as great fun, but is actually pretty dark! Death Therapy!
2. What's been a highlight of your winter so far?
Christmas. It's been too cold for highlights.
3. What's there to look forward to in the next six weeks?
Nephew number 3 arrives in approximately six weeks! I can't wait to meet him and I hope John and Kristen name him Russell. I'm also taking a trip to see Dad in Florida. Spring breaking with the retired set is always something to write home about.
4. Too early for flapjacks?
There is never a wrong time for flapjacks. Every now and then I'll even have them for dinner!
5. If someone in a bar asks to buy you a drink (and let's just say for the sake of the question you are amenable), what do you order?
I don't have a go-to drink, which is a little sad because every adult should. I'm pretty basic. Let's see if I can break out the old-school HTML for a second. (cracks knuckles)
| | |
| --- | --- |
| If you want to buy me a: | I'll have a: |
| Shot | Fireball |
| Beer | Sam Adams Summer Ale, Blue Moon |
| Wine | Merlot |
| Frozen drink | Pina Colada (so basic!) |
| Mixed drink | Rum & Coke |
Ah. HTML. You so sexy.