(rabbit rabbit!)
Originally published October 19th on the Royal Caribbean Blog message boards.
Wednesday, October 18
I woke up on my own at 7:10 which is me still waking up for work, but VERY late for work. We go up to breakfast as usual – I have a pancake, bacon, fruit, and a chocolate covered banana. Mom gets potatoes, bacon, fruit, and a gluten free roll. We have coffee and mimosas because WHY NOT? Captain Toni was in the Windjammer too! He may have just had fruit, which is good because he's a sea guy and we don't want him to get scurvy. (Oh, the things I remember from grade school…)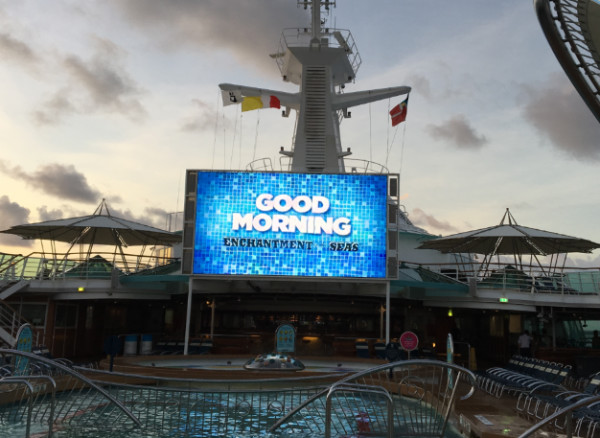 We had our second cup of coffee out on deck 9 and watched our approach to Coco Cay. I'm stupidly excited for this day, because I love the beach. At 9:30 we decided to get moving. From our room on deck 3 we could see the tenders glide back and forth outside, as well as the supplies being loaded onto another craft. I teased mom that the shipping list for that boat was "20 Limbo sticks, 15 volleyballs, 30 hula hoops, and one gluten free roll."
We boarded the tender which looked remarkably unsafe but we rolled with it. We're seated on the top level and the breeze and view can't be beat.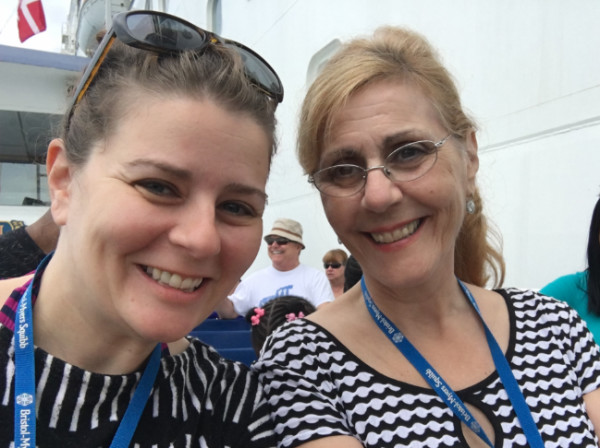 We didn't bring any of our gigantic water haul with us to Coco Cay because the message hammered home was DO NOT BRING ANYTHING OFF OF THE BOAT WITH YOU. On the tender there we saw people with coffee cups and bottles of water. Remember the old cartoons where the main character slowly turned into a lollipop with a "SUCKER" label on it? Me.
We landed at the docks and man, it took my breath away. I know this is a completely manufactured environment but it rang all of my bells for "perfect island beach!" All of the buildings are brightly colored and clearly named. The dock construction was going on, but the noise was easily ignored. We had the Coco Cay photos taken because we are cruise noobs. I rented the 2 loungers/sunshade back when we booked the cruise. South Beach is a LONG way away and we were thankful for the tram that took us there. There were three rows of chairs/sunshades there and once you turn in voucher to the employee, they are first come, first served. We ended up in the second row, which is what we get for being lazy. We also got fancy VIP bracelets.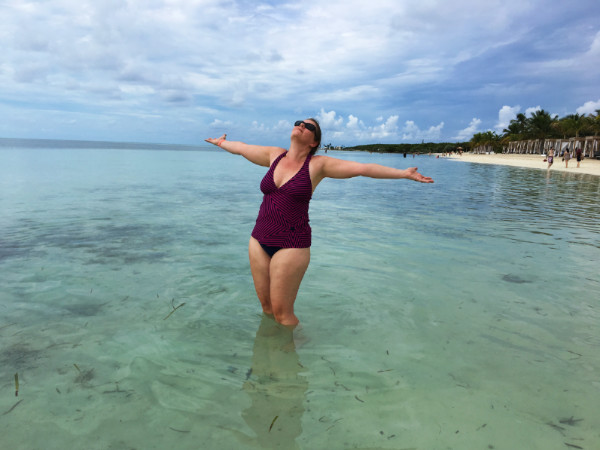 Immediately we waded into the water. It was warm yet refreshing and what's better, I could see my feet! Don't get me wrong — I love my home state of NJ and I grew up at those beaches but the surf is rough and constantly kicking up sand so you can't see the bottom. Walking into the Atlantic from the Jersey shore is akin to a trust fall. On Coco Cay, not only could I see my feet but there were teeny fish darting around! The water was shallow and although I walked pretty far, it never came up above my knees. Is this a result of Hurricane Irma?
We settled into our chairs, toasty and thankful. And then … the people in front of us left! After getting the OK from the attendant, we moved into the front row, and we were even more thankful. As I said, I grew up going to the Jersey shore. Which can be very crowded, especially in the shore towns with boardwalks. There were no distractions at South Beach — no amusements behind you, no airplanes towing banners, no Jersey shore scents like pizza or Drakkar Noir. It was beautiful and everything I needed it to be.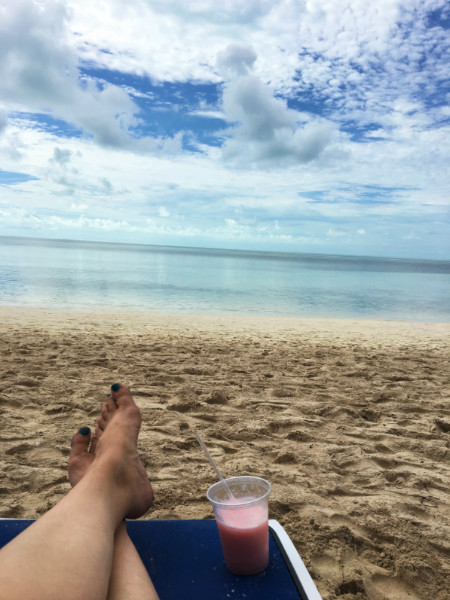 Lunch is served from 11:30-1:30. I was expecting hot dogs and hamburgers. I was not expecting gyros, curry, ribs, and a roast suckling pig, severed head prominiently displayed on the carving board. I have the heart of a vegetarian but the appetite of someone who makes steak/moo jokes. Mom went to the grill, gave her room number and recived a gluten free roll for her buger. This place is seriously approaching Santa Claus level of service. She had a burger, fries, and fruit. I had a hot dog (classy broad), macaroni and cheese, fruit, lemon cake. We shared a picnic table from a family from Minnesota. I'm one of those people who will write on the internet all day long but who is awkward around new people in real life. But everyone here is so nice that even I'm finding it easy. (Mom can make friends with anyone but apparently not Mario.)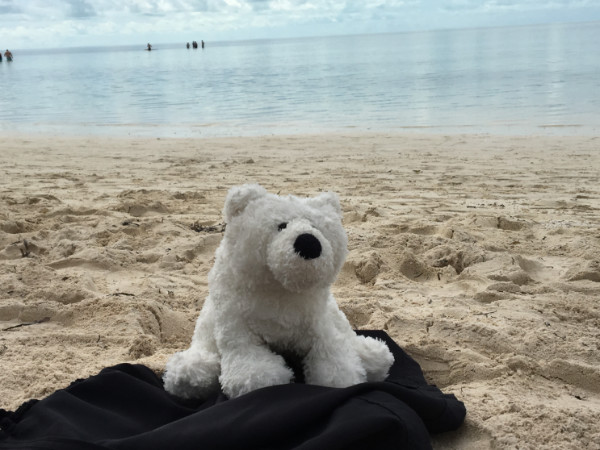 (Other OllieBear adventures: Atlanta, Virginia Beach, Las Vegas.)
After lunch we poked around the straw market, took some of our own photos, and then found 2 empty beach chairs under an umbrella. Plop. At 3 we reluctantly took the vaguely unsafe looking tender back to the ship.
Wildlife seen on Coco Cay without even trying because who has time for a nature walk when there is tanning to do?:
> small fish
> large fish
> tiny crabs
> chickens (live)
> iguanas
> sea gulls
> pig (head of, deceased, roasted)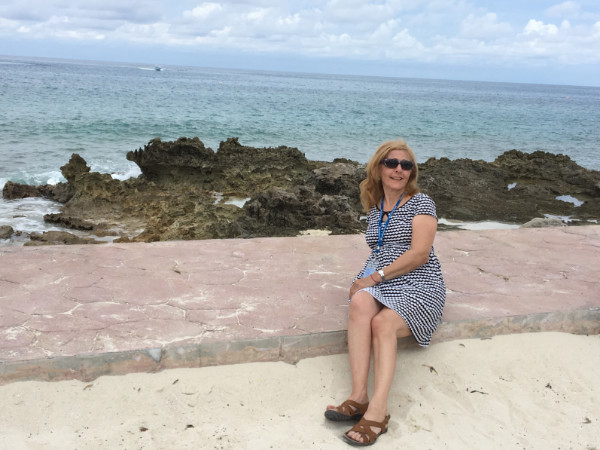 We dumped off things in our room and went to Windjammer for coffee. Annnnnnnnnnnd ended up with a plate of nachos with queso. I'm going to be wearing tents to work next week. We hoovered down the nachos and took our coffees out to the pool deck. We watched the belly flop competition which was a lot of fun.
Time for an important decision: today's bingo was going to be a 3-game session, and they were giving away a free cruise. However, the entry price for the regular one-game session was $33 so I was figuring that the price for that big session would be around $100. $100 for a huge chance to lose. And the deck was so nice and we wanted to watch as we sailed away from Coco Cay. And thus, the bingo addiction was broken. I saw our photos from formal night and I kid you not, the one of of me alone on the stairs is one of the best photos I've taken. We're not going to spend the $199 for the package, so we have some hard decisions to make.
We showered all of the beach funk off before dinner. I have given up trying to keep the water within the boundary of the shower, and just wipe the bathroom floor down when I'm done. The shower curtain has boundary issues and likely works for a notable Hollywood producer because it touches me without consent.
Our tablemates from night 1 were back and we had a great time chatting about our various excurisons. Ajay was phenomenal again (any WWE fans out there? just me? ok.) I had a caprese salad, garlic tiger shrimp, and key lime pie. I've had a glass of Wolf Blass Merlot each night, too. Mom had a salad, tiger shrimp (prepared without gluten) and they made her a sugar free, gluten free chocolate mousse for dessert.
The boat started rocking during dinner. Not enough to make us sick, but it was the first time I felt it the whole trip. It would continue to rock throughout the night, stopping right before morning.
I cashed in my chips from Monday night at Casino Royale's craps table at a $25-0 exchange rate. Boo, hiss. Gambling is horrible. Don't be like me. On a whim we went to the karaoke event in the Spotlight lounge. I watched 15 super-courageous people bring the house down. We were going to go to bed then but … there was a 70s party about to bust out in the Centrum. It was quite fun and was well received. But … I'm 45 and these were songs from when I was a kid. I have to wonder if they could maybe do a 70s night and then an 80s/90s night to try and shake off the "cruising is for old people" myth.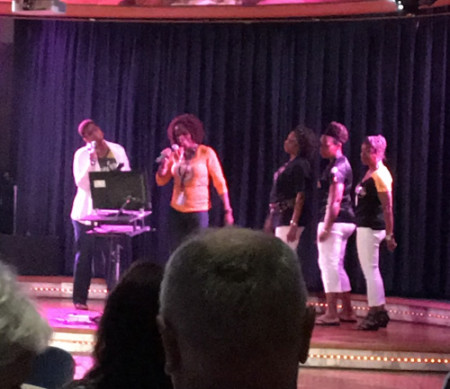 But then I went to bed right after that so maybe I'm old too! 😉
Day 3: A+++