Originally published October 18th on the Royal Caribbean Blog message boards.
Tuesday, October 17
I woke up with a start at 6:30am because I was going to be late for work, which of course I was not. I peeked out the window and saw tiny glimmering lights in the distance. "Self," I said. "It's time to go see the sunrise." With Mom as my willing accomplice, we put on some appropriate duds and headed up to deck 9. There were clouds on the horizon so we didn't get the full effect, but it was lovely nonetheless. As we approached Nassau, I saw a castle up ahead that turned out to be the Atlantis resort. Well, since we were awake, may as well have breakfast. And that's how we ended up in the Windjammer at 7:15am. I had eggs, bacon, a grilled tomato (good!), and a chocolate covered banana. Mom hit up the gluten free area and ended up with eggs, potatoes, and fruit. We had mimosas because WHY NOT??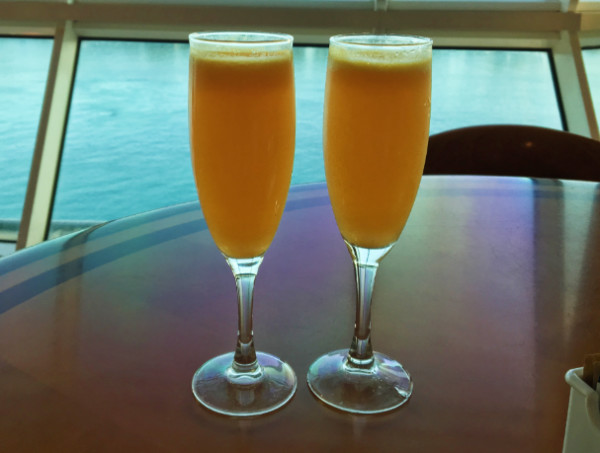 We had no excursions planned because I wanted us to take it easy. But how could we skip the opportunity to set foot in Nassau? After breakfast we left the ship (had the gangway photo taken because we are cruise noobs) and headed to shop. We are tourists so we stuck to the touristy area. I won't lie, being loudly solicited for hair braiding and taxis as soon as we left the pier was a bit of culture shock, but whatever. Everyone was nice, just loud. We shopped on Bay Street. I picked up some gifts for coworkers (spoiler: magnets), Mom bought some gifts for friends (spoiler: more magnets), and something for my nephew (not magnets. He's 3 1/2.) at Del Sol. I bought color changing nail polish that is a gorgeous pink in sunlight and a jaundiced yellow when I'm not in sunlight. I spend my days in a cubicle, so in retrospect that was not the best choice.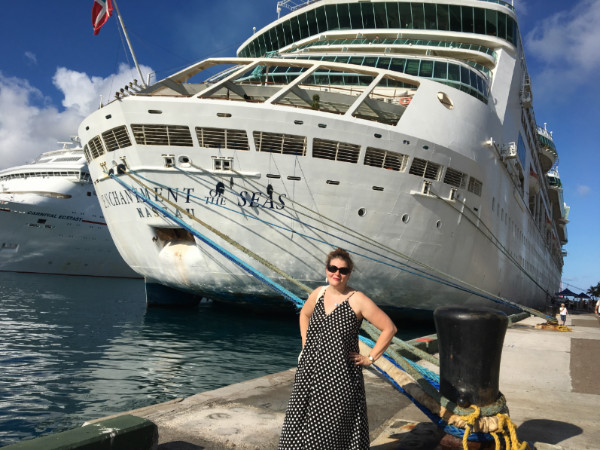 We were back on the ship in time for lunch at the Windjammer, which was very empty today. Mom had a bunless hamburger, some fries and fruit. I had Caribbean curry chicken with coconut and cranberries, some mashed potatoes, a dollop of penne alfredo, a giant piece of sourdough bread, a slice of peach pie and a plop of bread pudding. As you can tell, I've taken to the concept of a cruise buffet like a duck to water.
Speaking of water…. Mom told me to order bottled water for the room. I idly picked the 12-pack of 1-liter bottles but I'm an idiot who has no idea how much a liter actually is. We have a LOT of water here for just two people. Caveat emptor when buying water.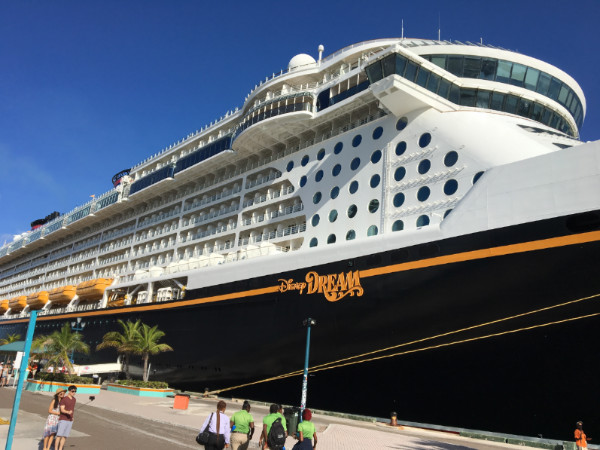 Next up: POOL TIME. I suited up and headed to deck 9 while Mom chilled in the cabin for a bit. It was ridiculously hot, and even the drink of the day (Portside Punch) failed to cool me off. The movie playing was the live action remake of Beauty and the Beast, which I have serious and angry feelings about. Mom came up to join me and we (along with 2 liters of water) moved to the Solarium which was quite a piece of paradise.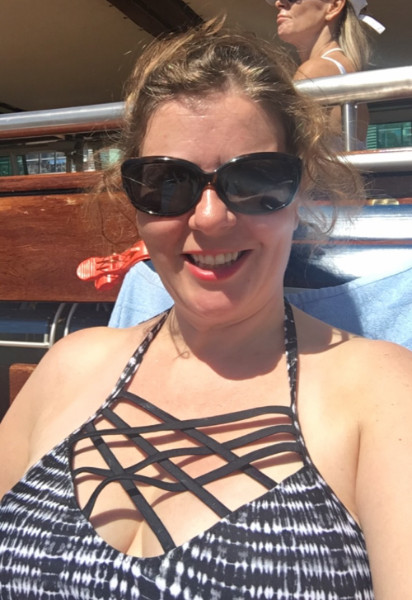 Back to the room to shower. (I read someone on the fan boards who said there is no soap in the cabins. We have bar soap and some sort of squirty soap in the shower.) Tonight is formal night. Dinner is at 6 and skipping bingo is not an option, so we suited up in our LBDs and were the most fancy-pants ladies at the 5pm bingo session. Those who brought receipts from the previous day's bingo session received even more cards and I really have a problem. I won another free tablet full of cards before the game began and I got down to waiting for one number and … STILL LOST. Bah.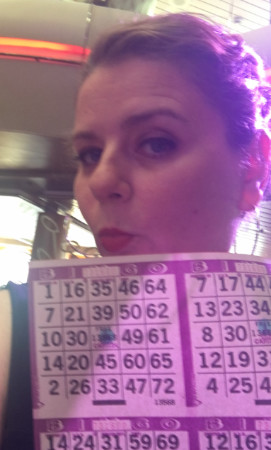 Formal night dress code: Don't sweat it. Some people were in super fancy duds, some people were in nice-casual duds like us, and some people were in MDR in shorts and tees. I wore a black dress, silver heels, and a black and white Kate Spade scarf as a pashmina. I concluded that I spent far too much time worrying about how to dress.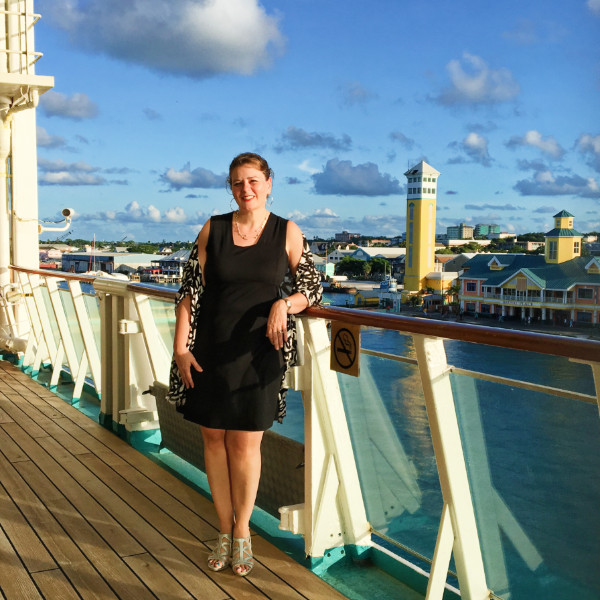 Off to MDR for dinner. Our friends from last night had a sunset cruise excursion, and the other ladies never returned so Mom and I had the table to ourselves. Mom had another amazing gluten-free night: shrimp cocktail, chicken breast au jus, and coconut rice pudding. I had a chilled banana rum soup as an appetizer. You could have just put a fancy umbrella and a straw in it and handed it to me as I sunned on the deck today. For dinner I had pan-fried corvina (a white fish I never heard of before) and dessert was a chocolate mousse-like bar. Our server is Ajay and he is the best.
Mom: "I don't know how I'm going to go back to tossing chicken tenders in the oven."
Me: "I think I'm buzzed from this soup."
After dinner (and numerous formal night photos because we are cruise noobs) we settled into the R bar for the captain's reception. I spied that Super Mario guy at a "reserved" table and because of Michael Poole's live blog from this past weekend, I knew who he was.
("Super" Mario is a guy who has logged over 7,009 nights on Royal Caribbean ships. He runs his own business from the ship's pool deck thanks to the magic of the Internet!)
I enjoyed the reception, especially that each officer had their own walk-on music like baseball players. Mario was called up and given a bottle of wine because he has 7009 nights logged on Royal Caribbean ships. This is Mario's last time on the Enchantment — he's moving to the Freedom. I tried to get Mom to hook up with him to see if we could glom some points from him (or at the very least that bottle of wine), but she was not willing to take one for the team. Whatever, Mom. I drowned my sorrow in a Captain's special peach champagne drink because the soup buzz was wearing off.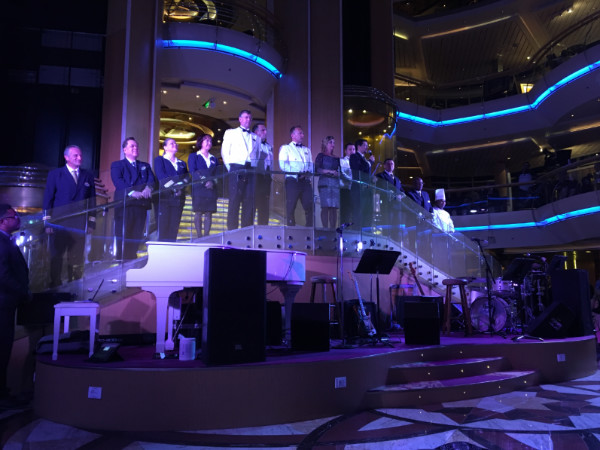 Music this evening was from Mood Icons, a 3-man cover band with a repertoire of American sing-along songs. Friends in Low Places! Margaritaville! Wonderful Tonight! Sweet Little Sixteen!
We asked Guest Services about the food at Coco Cay tomorrow and was sent back to talk to the head waiter at MDR. He's going to make sure Mom has a gluten-free bun at the lunch area. Everyone is so nice and accomodating. We hit the stores on deck 6 and I bought a non-magnet gift for my nephew. There's a Roxy sundress I'm lusting over but it's $64.50 and … nah. I'll by myself something to wear in Key West.
After going from deck 3 to 4 to 6 to 5 to 4 to 6 again, my feet were howling. Back down to 3 to change shoes, and then we called it a night shortly after. We are docked in Nassau until midnight so I won't get to see us leave. That's a bummer. I don't know why we're here so long – we are the last cruise ship in port. There was a snail towel sculpture waiting for us in the room. I like it here. 🙂
Day 2: A++