Originally published October 17th on the Royal Caribbean Blog message boards
Monday, October 16.
Woke at 4:30, picked up mom at 4:47 to head to the airport. The rain was falling at a steady clip.
Things I hate:
> Driving in the rain.
> Driving to the airport.
> Driving over the Walt Whitman Bridge.
Unfortunately, sometimes we must do things we hate in order to get what we want.
We arrived at the airport without incident at 5:15 for a 6:55 flight. The gas indicator bonged when we were almost there – I'll deal with that Friday. Parked in Economy, took the shuttle to the terminal and was greeted by the longest security line I've ever seen in my years of travelling out of PHL. My gut shook. It snaked out of security, down the hall, around the corner, and down toward the parking lot entrance. "Always fly the night before!" the Greek Chorus of message board people said in my head. The line moved at a decent clip and at about halfway, we were pulled to the front of the line because of Mom's cane. (Mom's had A SUMMER but is 90% back to normal!) We got through (no taking off jackets, shoes, or removing the baggies of liquid from the bags!) but we literally walked up to the terminal and into the A line and onto the plane. SWA flight to FLL took off without incident. Coffee was great!
We flew to FLL and took Miami Port Express to the terminal. The line was long, but well worth it. They were selling lanyards at the terminal for the SeaPass cards (7.00 for regular ones and 9.99 for sports team branded ones) but we had some freebies from the Pennsylvania Conference for Women so we skipped. We had the boarding pictures taken because we are cruise noobs.
Gah, what a pretty boat. Totally gorgeous! We stood in the Centrum for a while, overwhelmed. Then our stomachs took over and we went to the Windjammer which was jam packed with people and some typically crappy tourist behavior, like taking over tables with suitcases and camping there until the cabins opened. Boo! Mom found the gluten-free corner and was very pleased with the offerings. I had a hot dog and fries because I'm a classy broad.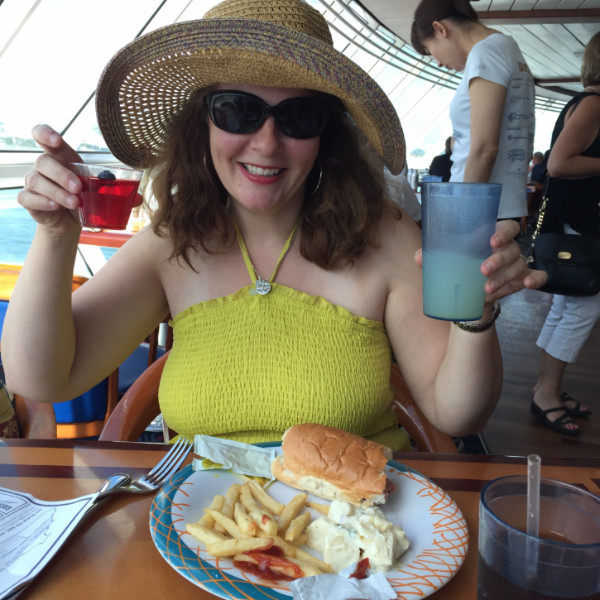 The rooms opened at 1pm and we love our room! It's perfect for two people who don't hate each other. We have a large ocean view cabin, deck 3, beds separated.
Next we toured the spa and entered the drawing. The spa is lovely and smelled great. Sat in the solarium and was kicked out to go to the muster drill. The spa drawing was at 4:10 and you had to be present to win. We … didn't win.
Sail-away party! We found some chairs on deck 10 and bid adios to Miami with the help of a Bahama Mama. We had zero problems with feeling movement or seasickness. Zero. It's beautiful.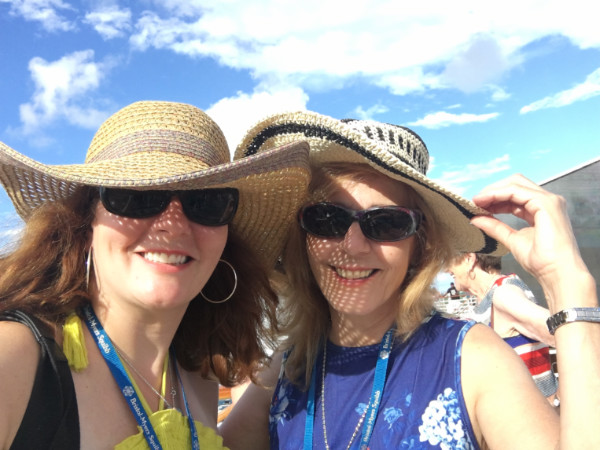 Our dinner seating was at 6pm and we arrived at the My Fair Lady Dining room (MDR) to encounter a GIANT line. It went quickly, though, and one of the waitstaff escorted us to our table. It was a six-top and … full. Hm. Turns out there was a party of 4 adults who were split between 2 tables and rather than go and get that fixed, they decided that nobody would notice if they took our seats. We were willing to switch to the other table, but then one of them copped a HUGE attitude with the maitre'd and you know what? Nah. I want my table. You all are wrong so you can move. All four stalked off to another table and we had a great time chatting with the two who remained.
DINNER WAS GREAT. You know, I was nervous about MDR because I read things but the food was great. I had a good Caesar salad, the strip steak and a warm chocolate hazelnut cake for dessert. All of the gluten free food was clearly notated on the menu and Mom had no problem at all. She also had the steak, cooked to super well done as she requested. (I prefer a bit of moo left in it.) Her dessert was a gluten free blueberry and peach cobbler, which was great. It was all great! IT'S ALL GREAT! Mom got a sneak peek at tomorrow's menu. The waitstaff is phenomenal.
We went to the casino after dinner because I am weak. I ended up $5 up. Then we went to bingo in Boleros. It was $33 to play for a jackpot of $300. For that $33 you get 36 electronic cards (on a tablet – they keep track of the numbers themselves!) and 3 paper cards for us olds who like dabbing things. Buy 2 packages and you got the third for free, which we did. And then they had a free raffle for the remaining tablets and I won one of those. AND WE STILL LOST!!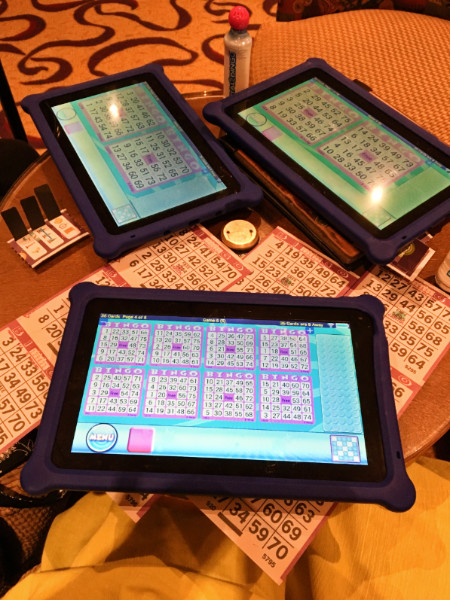 There were 2 winners who split the jackpot. But the hosts where hysterical and we had an expensive good time. By then were were completely feeling the long day. We stood outside and experienced the ocean at night (spoiler: dark) before going back to our room, where I fell into my tiny bed. It's a little firmer than what I'm used to but it really didn't matter.
Day 1: A++