Watching: America Ninja Warrior episodes from this summer. When I'm doing hard things, I picture Akbar Gbajabiamila saying "I SEE YOU KIM! I SEE YOU!" I'd like to have fewer heart-tugging background stories and more runs, but it's still a solid watch and I love the camaraderie.
Healing: I ended up going to the doctor for my sore back and he prescribed anti-inflammatories and stretching. I think the pain is fading, but it's been a good 2 months now so maybe I'm getting used to it? I have enough meds to get me through October. If it's still bugging I have a prescription for xrays.
sneakily Editing: this post on a Monday afternoon. I can't see typos when I blog on my Surface. Stupid eyes.
Losing: STILL LOSING at Words with Friends. Shameful, Kim, shameful. Akbar doesn't see you.

Posing: We went to my cousin's daughter's wedding and — okay wait…I have to tell you how crazy it is that I held this girl IN MY ARMS as an infant and yesterday she got married. Effing insane. Sunrise, sunset, and all of that crap. The wedding was at a farm, and the barn rang my Fixer Upper bells. This is me in the dress I talked about in June.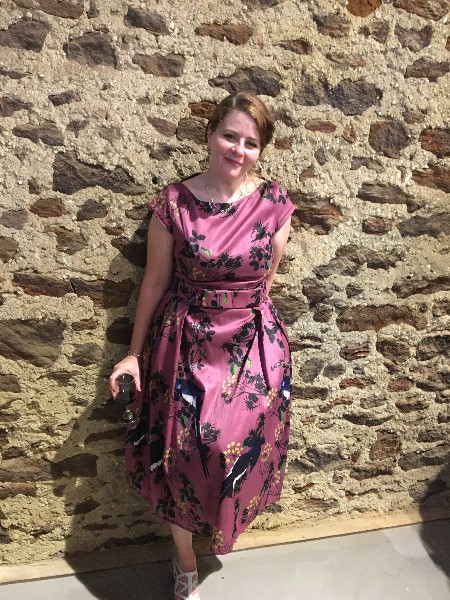 Dress by eShakti, shoes by Naturalizer, necklace by Stella & Dot, bracelet is Diamonique by QVC. None of it #sponsored but the Cab Sauv was on the house.
"You're a bartender's best friend," the bartender told me after I expertly ordered 3 drinks.
"Why is that?" I asked coyly.
"Because you know exactly what you want."
I laughed. "I've had a lot of practice."
Thisis 45: old enough to wear Naturalizers, but still young enough to know how to Wobble.