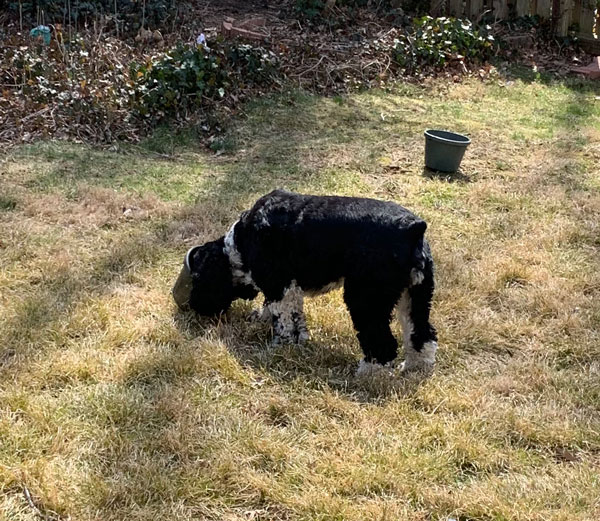 As we work to bring the backyard back to life, Murphy spends his time stealing flowerpots.
Sunday: Dinner with one of my oldest friends from Middle School. No matter how many years go by, we always pick right up like there was never an interruption.
Monday: I applied to give a talk to a tiny conference I attend each December. I gave one in 2017 with a coworker. This time it'll be me, on my own. When the call for applications came out, I wasn't going to do it, but that (now-former) coworker poked me that I should. And then an outline slowly gained shape in my head….
…and I applied. I'll find out in April or May, I think.
Tuesday: Ollie scampered down the hall, taking us all by surprise because he's a pretty slow, laid back old man these days. But he was happy and felt good.
Wednesday: IT'S SPRING, BABYYYYYYYYYYYYY! I'd like to believe I had a better attitude about winter this year.
Thursday: I am grateful that my dentist isn't charging me for treating the infection that manifested itself in my gum right next to my dental implant.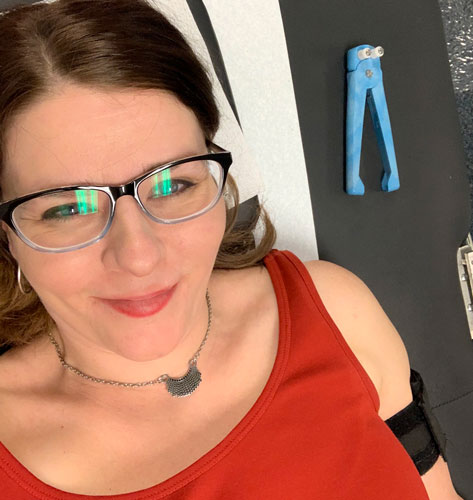 Friday: The end of the week. TNP has an annual conference, and the 3 weeks preceding that conference are pretty high-tension. The conference starts Sunday and after everyone returns our work cycle relaxes through summer.
Saturday: We had a great 3-mile walk. I finished The Secret Life of Violet Grant.

I'm taking an online class to help me be accountable w/r/t fitness: physical and emotional. This is my (tardy) monthly journal entry.
What are some of your expectations that do not match up with reality? 
I expect myself to be an all-or-nothing person. I expect to be able to, when dieting, completely give up all junk food. This isn't the case. This NEVER has been the case. I don't know why I think this can the case.
Let's take my favorite snack chip ever. Cool Ranch Doritos.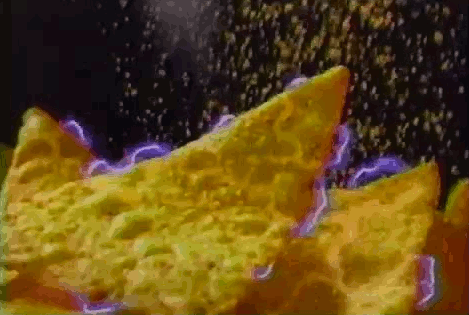 They're not good for me. They're not good for anyone, really. When I try to be "Healthy Kim" I send the Doritos packing. Eventually (usually February) this backfires. Because when I ban Doritos from my life…I eventually break and eat a LOT of Doritos.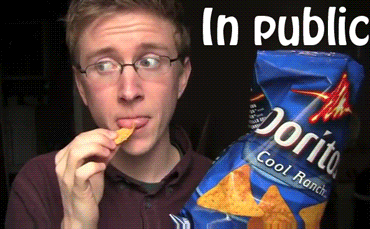 The solution for me is moderation. I can snack in moderation. I can drink wine in moderation. (Shut up, I can.) I can eat Hershey Kisses in moderation too. (But not pizza.) Therefore on Monday morning, I took the bags (yes plural, not a typo) of chips and divided them up into small serving-size packs. Done. And you know what? I'm completely fine with blowing 150 calories on 28 grams of Doritos, and I am ALSO completely fine with only eating 28 grams of Doritos. Who knew?

I knew. Why I do NOT listen to myself more boggles my own mind.
What's working:
Water drinking, eating the lunch I bring to work, leaving desk for work, flossing, washing face, work goals
What's not working:
Regular exercise, nail biting (lost that when the gum around my dental implant got infected), guitar practice, did not lose 3 lbs in February. AND I gained back the 2 I lost in January.

Recommitting?:
Still in it. I downloaded My Fitness Pal and to my joy, saw that it adds calories to your daily allowance according to how much you exercise. Gamechanger. Your girl Kim is extremely food-motivated. The weather is getting nicer so I can start walking again. And I'm going to scour yard sales for a crappy bike and mix that in.
And I'm going to listen to myself more.

Previous Fit Posts
February 2019: Fit Journal – February 2019
January 2019: Where have I been? What do I want?