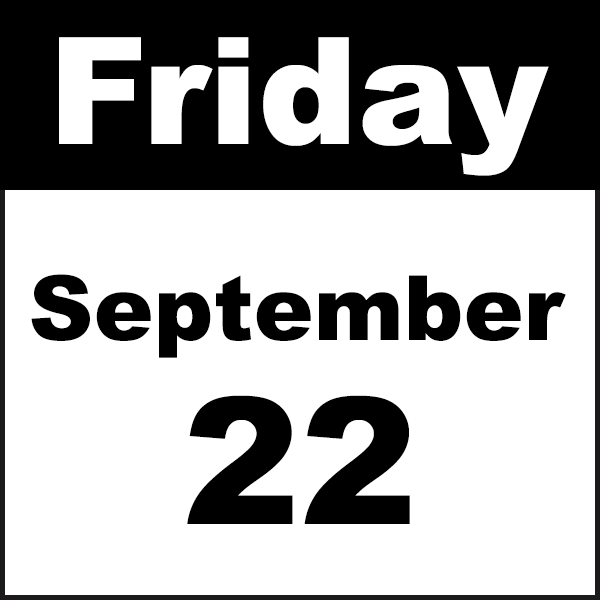 Happy Friday, friends! It's also National Ice Cream Cone Day, Car Free Day (I take public transit at every opportunity, but I also think the car free movement can be unrealistic) and American Business Woman's Day. I'm observing that day by being off from work today and Monday to burn off the last of the PTO I can't carry over to TNP's next fiscal year, which starts October 1.
It's supposed to rain tomorrow, Sunday, and Monday. So today I made sure to get the outdoor chores finished. I mowed the lawn (I've been doing this since a little before WM's knee surgery), got rid of the dead coneflowers in the front garden, planted more beet, carrot, and spinach seeds for fall, and cleaned up the dog poop. I myself am pooped.
Time for the Friday 5! This week's theme is don't tip the boat over which makes me think we're headed toward a disco theme!
When did you most recently feel you should be dancing?
Yesterday was September 21, aka the 21st night of September and Earth, Wind, and Fire's September has been EVERYWHERE. No shade to the Bee Gees, but September is a very danceable song.

What hot stuff have you recently consumed?
We went out for wings earlier this week – or was it last week? – and my favorite wings are sweet chili. Don't let the sweetness make you complacent because the heat is definitely there.

What kind of side-hustle would be fun to try?
I would love to be a part-time influencer but I think that in order to do it well and be genuine about it, you need to do it full time and seek out brands that match your audience.

What were some of this summer's good times?
Every time I spent by the ocean was a good time. I would have been back down the shore this morning if the weather were nicer.

What are your plans for Saturday night?
Currently I have none. We usually hang at home and watch whatever cheesy horror movie is being shown by Svengoolie.
I think I'm going to be crafty tomorrow. If you'd like to know where I got the notion, I saw a tutorial on Pinterest for making ghosts out of polymer clay and was intrigued. Good or bad, I'll share the results here later next week. I should probably also fall-ify the blog logo.
---
---
Need some more email in your life? If you're a regular reader but forget to check in, you can subscribe to a once-a-week email with links to the week's posts! Click here to sign up!