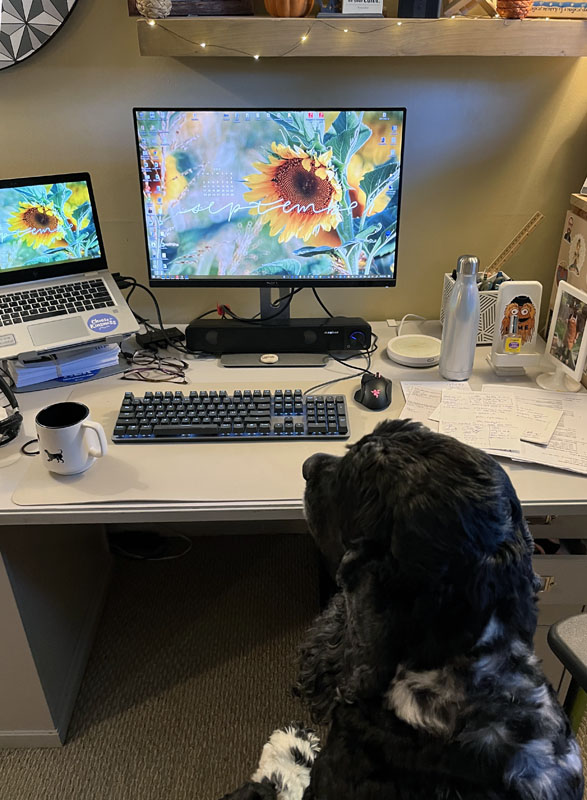 Good:
Tuesday: Ill effects of the Covid booster were completely gone.
Wednesday: It was our monthly in-office day. I went to my Fancy Coffee Friday spot for the first time in years and the coffee was delicious. Twelve of us went to the bar across the street afterwards – I know some people don't like socializing with coworkers, but some still do.

Thursday: On 9/13 I began a short morning yoga routine. Today was the first day I completed it without taking a break

Friday: First day of a four-day "burn down the PTO that I can't carry to next fiscal year" over.

Saturday: a trip to the library and a really savory sausage and peppers pasta dinner
Meh:
Monday: Sunday's Covid booster made me really, really tired. No fever, but I fell asleep at 6pm.

Thursday: Neighbor issues: not their fault, not our fault – they just need care and when they don't receive that care, they become erratic and agitated and we just happen to be the ones living next door. This was a thing last summer, and is a thing again.
Again, more good than meh!
---
---
Need some more email in your life? If you're a regular reader but forget to check in, you can subscribe to a once-a-week email with links to the week's posts! Click here to sign up!