There are 3 kinds of Disney Parks fans. The first group will never criticize a thing. The second group hates everything that has been added since 1980. The third group, the more centrist group, can love many things and still dislike some things. Hate the sin, love the sinner. That's me. And since Disney is not paying me to post glowing accounts of my trips, here's a list of the things we didn't like.
HOWEVER if you are from Disney and wish to comp my trips in the future, I will be the best paid shill you'd ever want. Put me up in the Polynesian Village resort and I will sing the praises of your crummy coffee. I can be bought.
Crummy Coffee: I am not a coffee snob. I drink mostly K-cup coffee at home. I will drink fresh ground, hand poured Ethiopian coffee from a fancy coffee shop, and I will also gulp down McDonald's coffee without blinking. Dunkin'? Sure! Starbucks? Veranda, please! But the Joffrey's 50th anniversary blend that's featured in the parks now was terrible unless it was mixed with syrups and sugars and whipped cream. Maybe if it's freshly-brewed it would be better. But the 2 servings I had from the food court coffee urn were terrible.. Southwest's 4 oz of airplane coffee was a better experience. It was so bad that we gave up eating breakfast at Port Orleans and went to the parks early to hit the in-park Starbucks.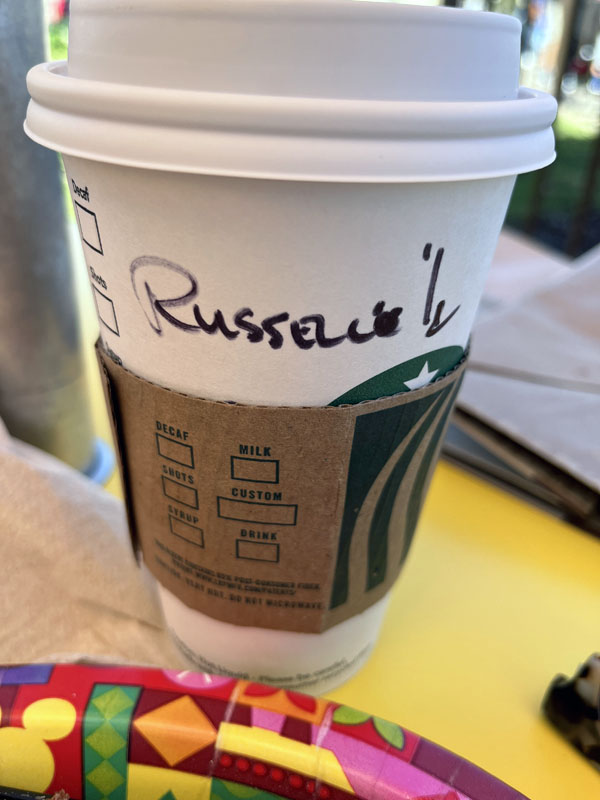 Frozen Ever After: I have a weird code that if a ride is specifically aimed toward kids, I don't ride it right away, because a kid is going to enjoy it more than me. This is how I haven't been on Slinky Dog Dash yet. This trip was the first time we rode Frozen Ever After in Epcot. It was okay, but in the end it looked and felt like a hasty reskin of Maelstrom. This was one of the attractions that you had to pay for Lightning Lane access, or wait in the standby line. We didn't want to spend money (I think it was $7 a person), so we hustled to the ride as soon as the park opened and only waited 25 minutes. I am VERY glad we didn't spend the money. The kids in line seemed to love it, which is what matters. But I think the kids deserve more.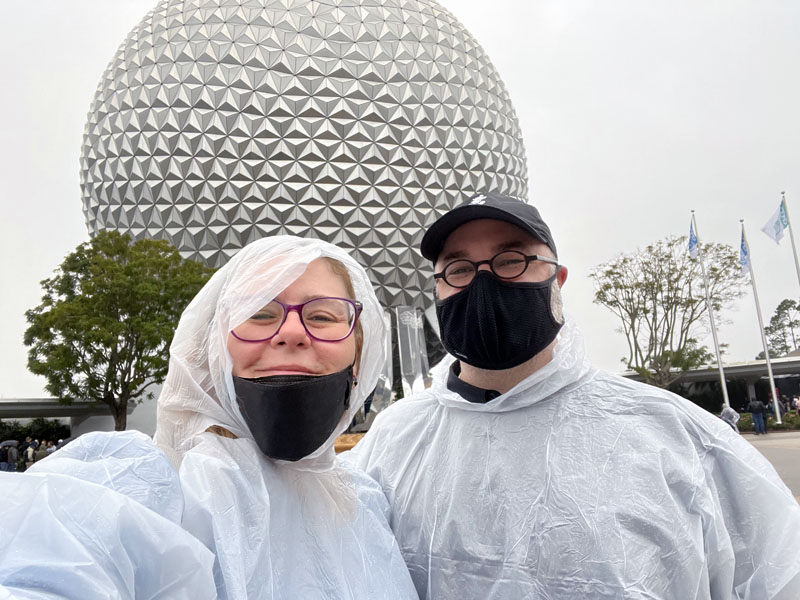 Disney Influencers and Disney Adults: Disney Influencers are those who make a living posting about their adventures in the parks on various social media. You can easily spot them in the wild because they are wearing outlandishly impractical outfits and are posing like supermodels in front of the attractions. Or being photographed taking a bite out of park snacks and then dumping the food in the trash when the photo shoot is finished. They have custom Mickey ears. They wear winged eyeliner to a theme park. They seem to think they have personal relationships with the cast members. They are holding up the line because they are checking their social analytics. Good on them for making money by acting weird at the parks, but I'd rather not make a job out of a vacation. (Unless you work for Disney and want to pay me to visit. Again, I can be bought.)

A Disney Adult is someone who has been armed with 20+ years of internet "insider" knowledge about the best places to sit and the best places to eat and the secret menu items and most importantly, how to complain and get free things. At Skipper's Canteen, we sat next to a family who complained about the sangria not being fruity enough. They complained about not being able to understand the waiter (we had the same one, we understood them just fine). They complained about the quality of the food. And they managed to receive free desserts for their 2 kids (who ate 2 bites and left the rest), and a consoling visit from the restaurant's manager, to whom they dropped all of the names of all of the people they knew who worked there. Disney adults will shove your kids out of the way. They will scream at Cast Members. And they have ruined so many generous Disney policies have been scrapped because Disney adults viciously exploited them.
For example, the refillable mugs at hotels were good for as many times you needed it filled over the course of your stay. So the Disney adults, adhering to the letter not the the spirit of the law, began to bring back the same mugs year after year. Even after the design changed. Disney Adults would use one mug and let multiple people share it. Disney Adults would bring their hotel mug to the parks and fill up there. Now, the mugs have a chip in them that expires on your last day, and that chip also throttles how often you can refill your mug. Disney adults are entitled to a better experience than the rest of us because they have done their own research. Draw parallels where you will.
WHERE IS THE ENCANTO MERCH? I know they didn't expect it to be a hit, but there should have been something.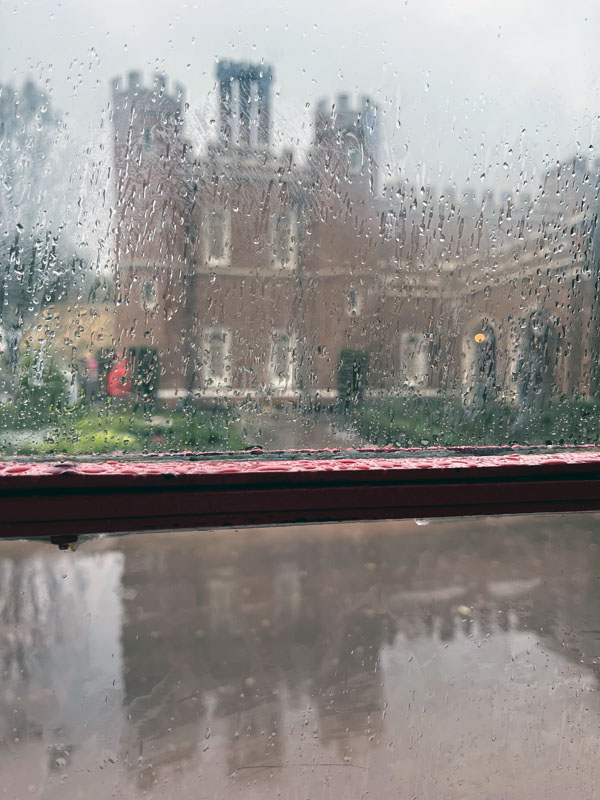 Weather: This is not Disney's fault. When you go to Florida in January, you take some weather risks. The first two days were in the high 70s and sunny. On the third day, the temperature plummeted and the rain arrived with a vengeance. We bought ponchos and soldiered on, but it was cold and damp and we just weren't prepared. There was a hole in the sole of my sneaker and water just seeped up into my sock. At 2pm we had enough and went back to the room. On day 4 it was just chilly, no rain. That day I layered almost every shirt I had so I could stay warm. The last day started out in the high 40s and finally crept up past 60 degrees, but we were leaving for the airport in the late afternoon so blah.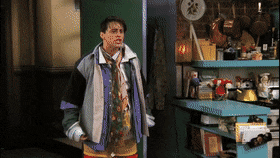 Weird Covid precautions: I am in favor of Covid precautions as long as they make sense. And even if they don't, I still follow. Masking in crowded places? Absolutely. Masks up in a restaurant until your food comes? I will but okaaaayyy. We know that open spaces are better than confined spaces. You know the type of queues where you snake back and forth around waist-high stanchions? Now they are waist-high walls with tall plexiglass tops. That keeps me from sneezing on someone in another lane, but coops me up tighter with the people in my own lane than if they stayed with the stanchions.
And there are signs everywhere about sanitation efforts, but we all know by now that the chance of catching Covid by touching a surface is very small. And all it takes is a look at the tables at the park and at the resort food court to know they are not cleaning them after each dining party.
My own pitiful body: Also not Disney's fault. On this trip, I keenly felt the repercussions of almost two very sedentary years. I know I've made a point of not making "lose weight" a resolution anymore, but either I need to do that or I need to build enough muscle and stamina to carry this body around. I'll probably have to do a little of both because it's not going to get any easier.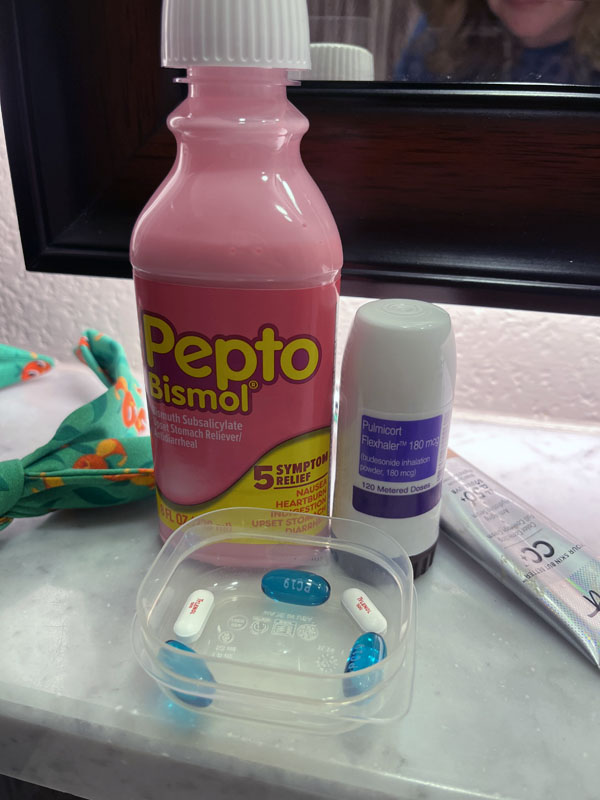 Paid Lightning Lane (LL) access: As I said in the previous post, the two most premium attractions in each park (selected by Disney) are not available for the regular Genie+/Fastpass treatment. You have to either wait in a the standby line or purchase LL access for each person who wants to ride the attraction. Oh, and those LL passes can sell out very quickly so you have to be online at 6:58 am ready to refresh the app at 7am.

We knew that Rise of the Resistance was something we wanted to do. We also knew that its standby line wait time clocked in at 135 minutes the first 3 days we were at WDW. So we plopped $30 ($15×2) down to grab a LL return window. We paid for LL access for Rise, Mickey & Minnie's Runaway Railway (twice), Seven Dwarves Mine Train, and Remy's Ratatouille adventure. But we are a family of two with two comfy middle-class salaries. A lot of families are larger and making do with less and this upcharge – after already buying a pricey theme park ticket – hits harder in those cases. It's a pretty shitty practice.
Tip: If you're going to purchase LLs or order food from the app, make sure you have a saved credit card whose bank does not care about you. Capital One declined every LL and food purchase I tried to make through the app, and by the time I went through the process to tell Capital One that the purchases were legit, WM used his card to order on his phone. Good on you, Capital One, but I lost a Rise of the Resistance LL window because you care so much about me.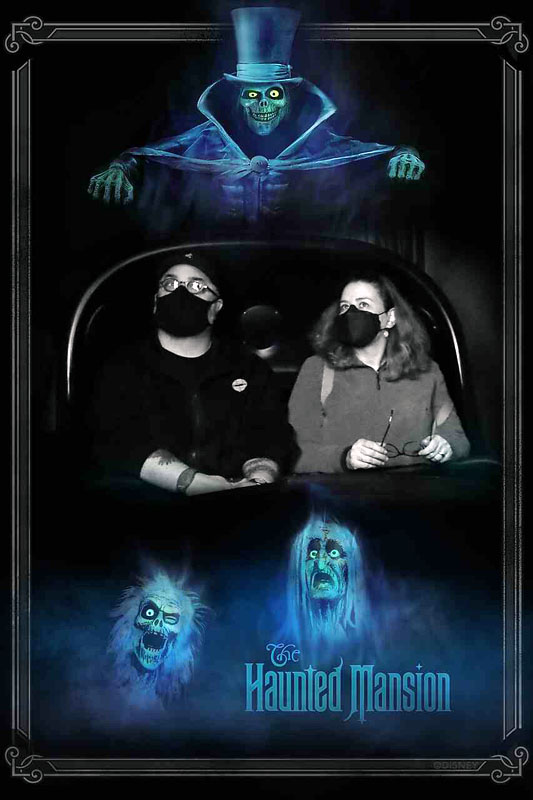 Parkhopping difficulties: I purchased the parkhopper add-on for our tickets this year, just like I had always done. We love to parkhop. Usually we will hit a park in the morning, head to the hotel for break, and go to another park for late afternoon/evening. Or we'd go to a park early to hit attractions while the crowds were low, and then hit a second park for lunch. This year it was a waste of money because we didn't parkhop at all. Reasons:

> If you are in one park, you cannot "hop" to your second park until after 2pm.
> Just because you can grab a new Genie+ return window for an attraction every 2 hours doesn't mean that the return window will be soon. The return windows became later and later in the day, and before we knew it it would be 1:30pm and the return windows were extending past 6pm, extending our time in the first park.
>Being awake and online at 7am easily lends itself to "let's just head out now." And this might be an "us" thing, but early park mornings mean by 2pm we were wearing down a bit and thinking, "meh, let's just stay here until dark and then head back to the room."

Next time we're going to save money and not parkhop.
---
I know this sounds like a giant list of bellyaches and grievances but we honestly had a fantastic time. Disney just needs to move the needle a little more away from balance sheet and little more back toward magic. The trip was exciting and fun and just what we needed, wet socks and all. I really want to start planning the next trip.
And we did not catch Covid, meaning we'll definitely catch it from a mundane Target run.
Did you miss the things we liked about WDW post? Here it is.
---
Good news! If you're a regular reader but forget to check in, you can subscribe to a once-a-week email with links to that week's posts! Click here to sign up!