We indeed made it to Walt Disney World and ooo what a balm to the soul it was, even with weird (and mostly justified) Covid-19 protocols. And most of the thrill was likely of the 'holy crap we're HERE!' variety, because we really didn't think we'd make it. Even at the airport we were waiting for the plane to be cancelled.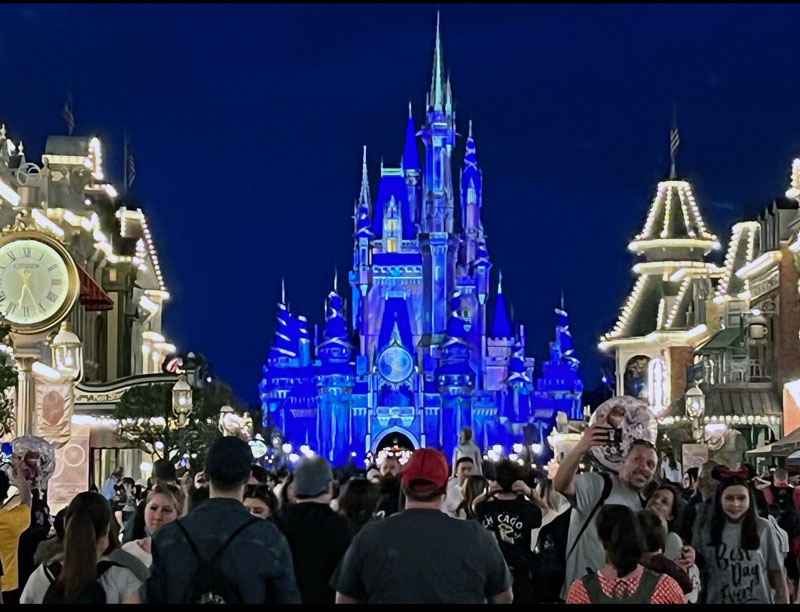 I'm breaking up the trip into two posts: what we liked, and what we didn't like. Here's what we liked!
The schedule was: Day 1 – Magic Kingdom, Day 2 – Studios & Disney Springs, Day 3 – Epcot, Day 4 – Studios, Day 5 – Magic Kingdom and a visit to the Polynesian lobby so we can pretend we're staying there. We always do MK/Polynesian lobby on the last day.
The new rides: Remy's Ratatouille Adventure was absolutely charming and wholesome. We and the two other adults in the car were gasping with delight. Same for Mickey and Minnie's Runaway Railway, which was built inside what once was The Great Movie Ride. In Galaxy's Edge, Rise of the Resistance was awe-inspiring. The experience took you outside, inside, outside, and inside again. The scale of the attraction was huge. And Millennium Falcon: Smuggler's Run was a riot – the best of Mission: Space and Star Tours. If these are the future of Disney Parks attractions, I'm 100% on board.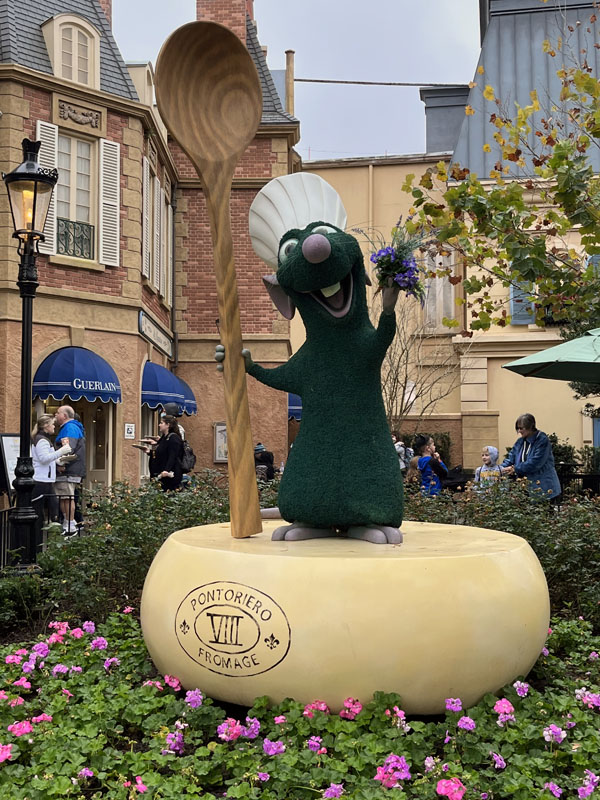 Galaxy's Edge: We spent most of our two Studios days in Galaxy's Edge. It's the new Star Wars themed land. It's massive and immersive almost to a fault. They want you to think that you're in an actual town, so the signage is subtle and not the honkin' neon signs you look for at a theme park. After all, you don't want the First Order to see where the Resistance rides are, right? The cast members are townspeople. One kid told the Smuggler's Run ride attendant, "I'll be ok, I watched Star Wars," and the attendant deadpanned, "I don't know what that is."

As you know, WM is a teacher and work for him (and many other teachers) has been difficult since March 2020. He is also a Star Wars goober and it was heartwarming watching him nerd out over Galaxy's Edge. We made sure to do almost everything. He built a lightsaber. He built a droid, which I hope to teach to fetch me Doritos. He was happy and relaxed and every thing we did there was worth every dollar that we spent. We drank in Oga's Cantina and the drinks were fizzy and bubbly and out of this world. I ate blue-tinged popcorn. All of the thumbs up for Galaxy's Edge.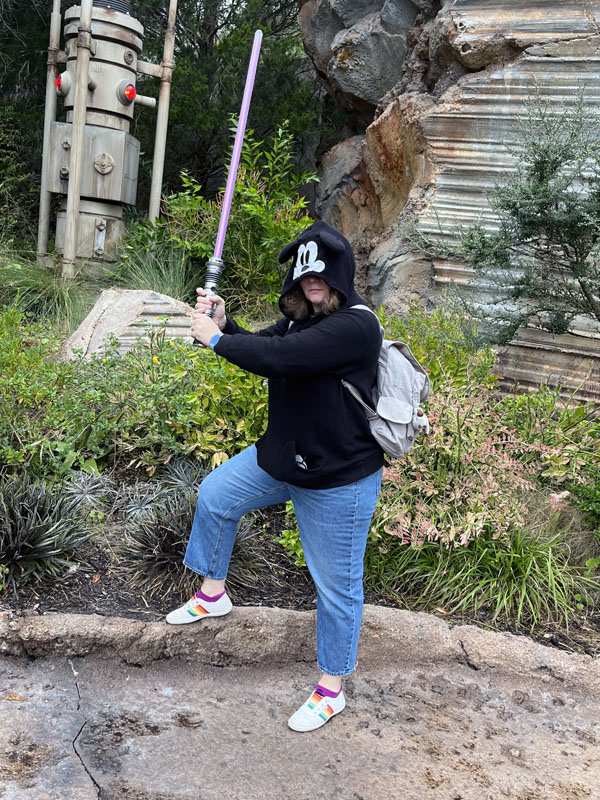 Genie+/Lightning Lane: Every time I feel like I master whatever the current Disney system is for "how to feel superior by getting on rides before others" they change how it's done. So when I was confronted with a new Genie/Genie+/Lighting Lane mashup I was nervous. Thanks to a friend who went in December, I had a good idea going in on what it was.
The basic Disney app that you download in advance of going to the park has a feature called Genie. You work with it, telling it what you're interested in, and it tells you what's available, standby line wait times, where you should go next etc.

Genie+ is a paid addon for your park tickets and allows you to reserve windows of time to arrive at an attraction and go into a shorter line. The shorter line is called the Lightning Lane. Genie+/LL is basically the old FastPass system without paper. You can grab a new window every two hours.
For the most exclusive rides in each park (currently 2 rides per park) there are only two options: the standby lines or a paid Lightning Lane pass. This is where I side-eye Disney a bit. The pricing ranged between $7 and $15 per person per ride, and you MUST log into the app at 7am every morning to snatch up a spot. We have the money to throw at this. Many don't. But that's for the "don't like" post.
Mini-Parades: Because of Covid, the gigantic parades down Magic Kingdom's Main Street are on hiatus. I suppose it's because they don't want people crammed along the sidewalks for 60 minutes in advance. I mean, one time a kid being held by their parent sneezed in my face while we were watching a parade, so I sort of get it. Instead, Disney has been running mini-parades through the day. Cast Members sweep by and shoof people out of the street, there's a group of perky dancers, a float or two with Disney characters, and you're done. I really liked them. It was 3 minutes of spontaneous whimsy.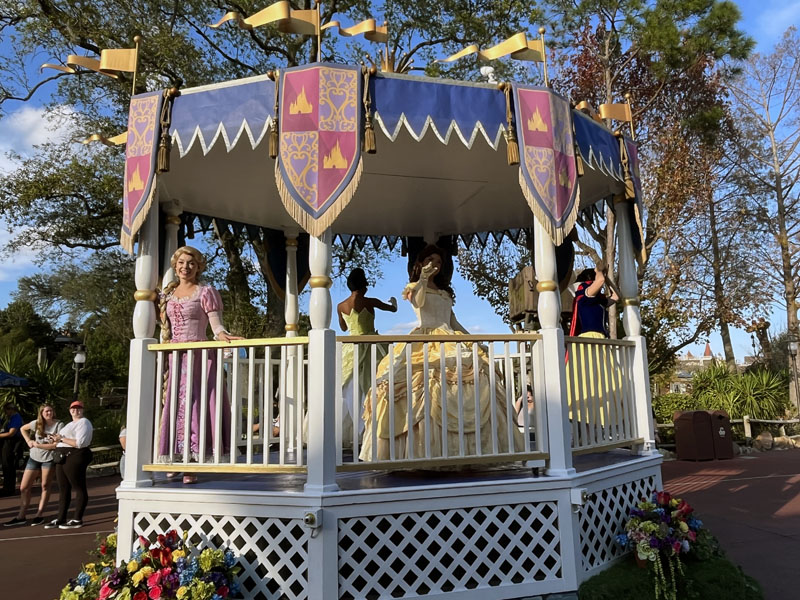 Cordoned-off characters: Another Covid precaution. Characters are out and about, but they appear on stages or roofs or fenced off grassy areas. This prevents one-on-one photos, but also prevents the lonnnnng lines winding through the park cause by people who want autographs or personal conversations. I kind of like it? Like the mini-parades it was a lot more spontaneous.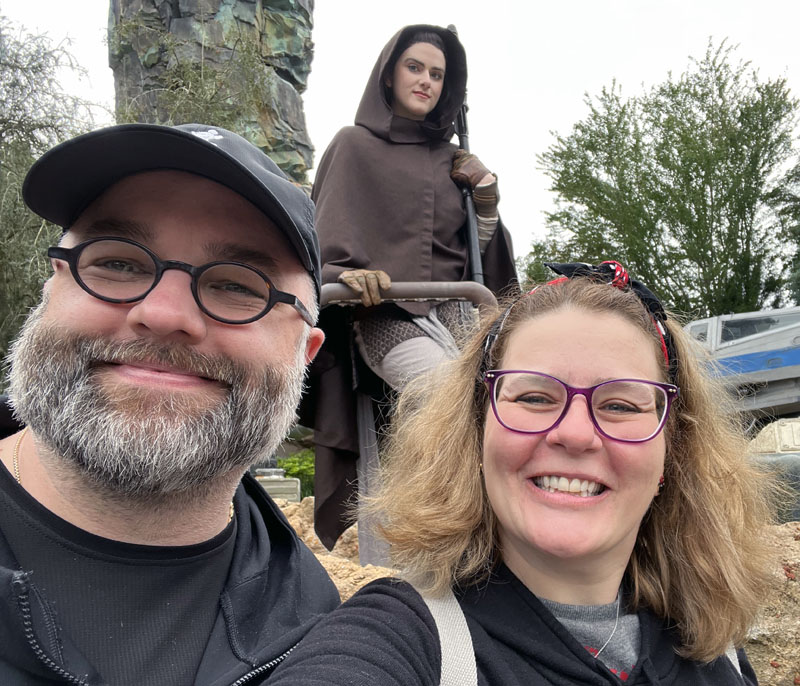 Aromas: Did they pump extra loveliness into the air to accommodate masks? I don't know but the scents of Disney were top-tier. Flowers, sugar, bakery, coffee, STEAK, everything was designed to make you relaxed and hungry.
The 50th Anniversary: Walt Disney World opened in October of 1971. And because it has stayed in business for 50 years, we get to try festive snacks and buy all the blue and gold merchandise we want. There are also golden statues of false idols Disney characters scattered throughout the four parks.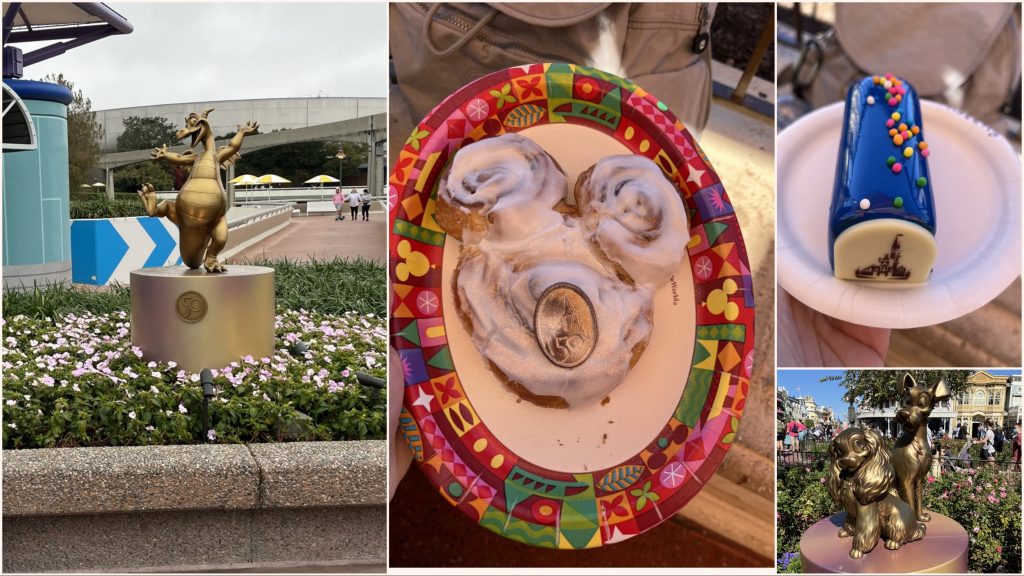 Crowds: My friends, with the exception of the super-crowded Monday in Magic Kingdom the crowds were perfect. I had been at WDW before in January, and if you want the opportunity to experience Disney without the smell of body odor, I highly recommend January.
Length of Stay: For us, adults without children who've seen a lot of this before, the 4-night stay was enough. Anything we didn't see (we never go to Animal Kingdom anymore, I can't really articulate why) was by choice. The weather (see future post on things we didn't like) drove us back to the hotel earlier than we wanted on a few nights. But lying in bed with your favorite person, eating snacks and watching bad TV without having work the next day is also a great vacation in itself.
Actual N95 masks: After years futzing around with K95s and KF94s, I finally bought legitimate N95 masks. They are 3M Aura from Home Depot (not an affiliate link, I suck, blah blah). They are precious gold to me. I used one on each travel day. I've been working from home for (what seems like) the last 800 years and I was a little worried about how'd I do with wearing a mask all day. You all do it, schoolkids do it, medical professionals do it, but my longest stretch in one was about 3 and a half hours. The travel days were about 6 or 7 days long. These were a dream. I even managed to sleep on the plane in one. For the park days, I used KF94s. Two a day. One before the mid-day hotel break, and the second one for evenings.

It's amazing how many people will wear a mask when they know Disney will kick your ass out if you don't.
The next post will be things we didn't like. Or more realistically, things we were "meh" about.
---
Good news! If you're a regular reader but forget to check in, you can subscribe to a once-a-week email with links to that week's posts! Click here to sign up!