Happy Friday! Today I was off from work for this momentous event: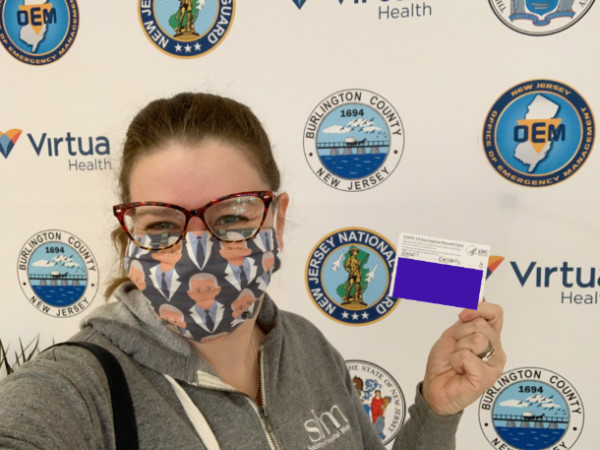 After which I TORE off my mask and licked the doorhandles. Nah. I kept my mask on and still used hand sanitizer because I care about most others. In two weeks I'll have as much immunity as I'll ever have and to celebrate I'm going to go to the library. I'll be the one happily crying in the stacks.
After I got home and had lunch, Mom called. Her car broke down about 10 miles away. Thankfully, she was in a parking lot. I my shoes back on, drove out, and waited with her two and a half hours for a tow, then took her to the grocery store and back home.
And here's the Friday 5! This week's theme is Consumer Reports.
1. What tool did you most recently purchase, and what tool will you purchase next?
I bought a set of tongs for the kitchen — the kind with the scalloped edges. They are replacing my old tongs that had the squarish open ends and were really difficult to small things with. I am the definition of exciting. The next tool I buy will be a wheelbarrow, because I want to order a bunch of soil and fill some unevenness in the backyard.

2. What toy did you most recently purchase, and what toy will you purchase next?
I purchased a small squishable plague doctor to commemorate this whole mess. He's very cute. I don't have a toy in mind to purchase, but if we can expand the definition of toy to include games I'm thinking of trying Valheim.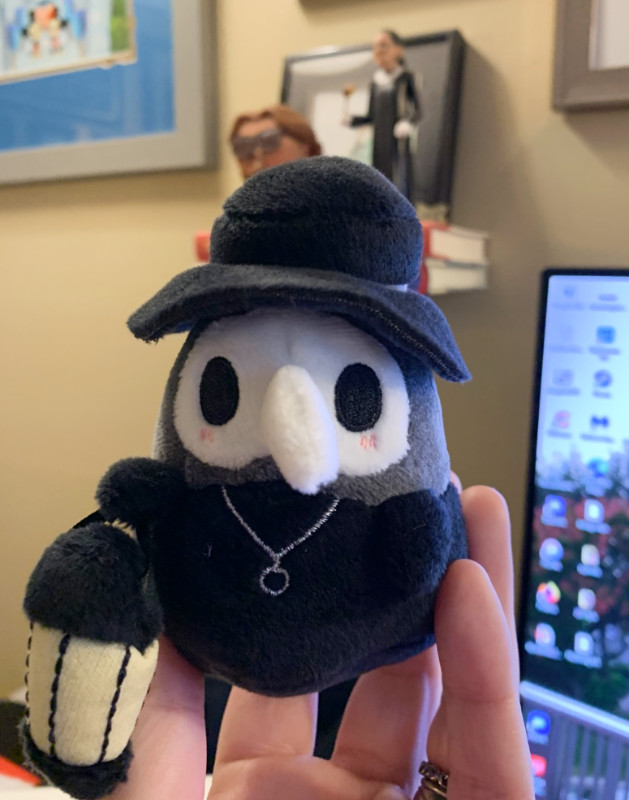 3. What staple did you most recently purchase, and what staple will you purchase next?
While I was at the grocery store with Mom I purchased 2 bags of Chips Ahoy (original for me, chewy for WM) and a can of matzo ball soup. I was feeling tired. Those aren't necessarily staples, but today they feel like it. The next staple will likely be coffee.

4 What did you most recently purchase to give away, and what will you next purchase to give away?
I bought the Little Tykes Easy Hit Golf Set and a handful of sticker books for Nephew B's birthday. Nephew A's birthday is next and … I have no idea. He's into the Nintendo Switch and Minecraft. He'll be 7 (!!) so maybe he's a good age for a slime kit?

And gift guides for kids are oddly aspirational, like all 7 year olds are into coding and circuitry. When I was 7 I was still playing with dolls and peeing my pants if I laughed too hard.

5. What are you most recently glad you did not purchase after consideration?
A convection toaster oven, but only because it would take a lot of counter space which I'm not willing to surrender. It would replace both my detested air fryer (I love how it cooks, I HAAATTTTEEE cleaning it) and my toaster; however, both of those appliances can be moved to the top of the fridge, but this replacement would have to live someplace permanently. The only place I can do that is on the kitchen table, and I would like to have a few flat surfaces in this house that aren't permanently covered with stuff. Every few days I take the tape measure and see how I can make this work.
Although this kitchen is larger, I actually had more counterspace in our old apartment. This is also the reason why we don't have a microwave. The previous owners had their microwave on a cart in the garage.
---
Now I'm tucked on the sofa with a bottle of water and a bag of Chips Ahoy waiting for the worst (side effect wise) and hoping for the best. I only plan on moving to pee and go to bed. The only plans I have for the weekend are taking notes on one of my CAE exam readings and planting the next round of seedlings.
---
---
Need some more email in your life? If you're a regular reader but forget to check in, you can subscribe to a once-a-week email with links to the week's posts! Click here to sign up!