After work WM picked me up at the Collingswood PATCO station (my old stomping ground) and we retrieved a repaired Molly from the shop. Even though I only drive maybe a mile and a half a day total, that second car is missed when the weather's cold and I have to bum a trip to the train from Mom in the morning. We had the oil changed too because if the repair's over $1300, what the hell, add in the oil change, am I right?
I was pretty displeased to see this sucker show up. I've told them repeatedly that I will not join and that I will never join, but nevertheless…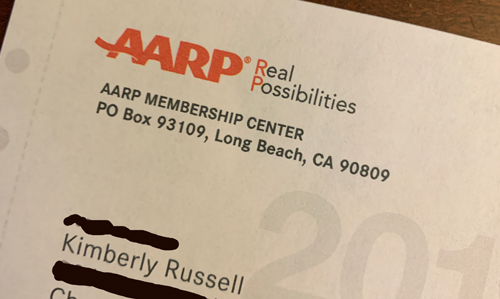 The latest reason why not?
OK, millennials. But we're the people that actually have the money"

Myrna Blyth, senior vice president and editorial director of AARP Media
Way to go, Myrna. AARP did douche-pologize for the comment, saying that it "became divorced from its context." It's very funny hearing the generation that sang:
Come mothers and fathers
Throughout the land
And don't criticize
What you can't understand
Your sons and your daughters
Are beyond your command
Your old road is rapidly agin'
Please get out of the new one if you can't lend your hand
For the times they are a-changin'
and that coined the phrase "Don't trust anyone over 30" get itchy about being the older generation now.
Spare some good thoughts for my dog-brother Chip, who's having some health problems. He's almost 14 now.