Happy Sunday!
Yesterday Mom and I had the honor of escorting Nephew A to an Easter Egg Hunt at Paws Discovery Farm.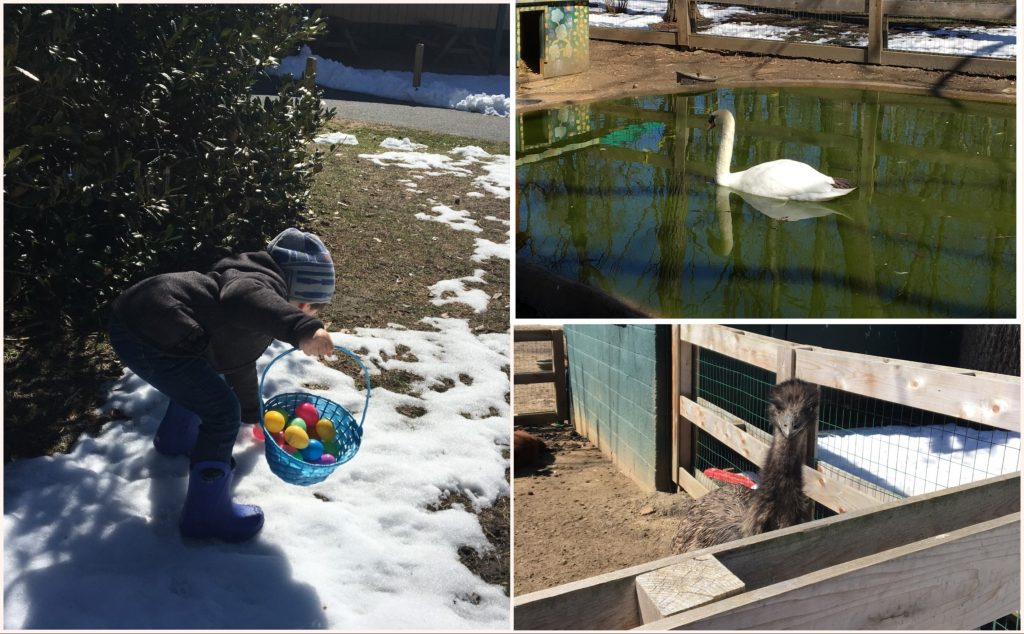 It was an all-day event and the staff replenished the eggs regularly, making for a bunch of thrilled little kids. Because Mother Nature hates us, the paths were snowy. In addition to watching A go into Egg Hunting Beast Mode, I got to feed a cow and pet some barnyard animals. I also stole some Nephew B snuggles. All in all a great day. 🙂
***
You could not pay me to pull out the Surface to blog on Friday night. I went up to bed at 9:50pm. Here's the Friday 5 – on a Sunday! This week's topic is The Shine of a Thousand Spotlights. Let's get to it!
1. What physical trait are you (or have you been) self-conscious about?
I'm tweaked about the scar I have on my face from Murphy's misplaced bite and I'm hoping it fades. People tell me they can barely see it, but to me it is practically neon. The permanent trait I hate about myself is my feet. Seriously, if I don't polish the toenails they look like Fred Flintstone's feet. I call them my man feet. No offense meant to actual man feet.
2. When did you last do something risking injury?
When you're a naturally clumsy person, every action is an injury risk. And I've found that after 40, even the inactions can cause risk. Want an example? My left shoulder and wrist have been sore for 2 days since … I slept on it? Who the heck knows. If it was a heart attack I'd be gone by now so I'm chalking it up to old lady muscles.
I think the last risky thing I did was zipline last year. I'd like to do that again sometime.
3. Why do critics and the general movie-going public never seem to agree?
Because critics are writers, and writers want to appear to be smarter than the hoi polloi. (Note my writerly use of hoi polloi.)
4. How do you feel about Hugh Jackman as an actor?
Seems an ok guy. I call him Huge Ackman. You should, too.
5. Who is the best singer you've seen in live performance?
This is a toughie. I've seen many many concerts that I've enjoyed greatly, but to be honest, they're not the BEST singers. The best singer I've seen is probably Michael Buble. Kind of hoping that he tours again soon.
***
I'm currently watching NJPW Strong Style Evolved. Will the Bullet Club survive the "leadership" of the American Dream Cody Rhodes? I don't know, but there is something improbably sexy about hearing Kenny Omega speak Japanese.