Watching: WWE Hell in a Cell pay-per-view. Only one of my guys won so far – Bobby Roode. Boo, hiss.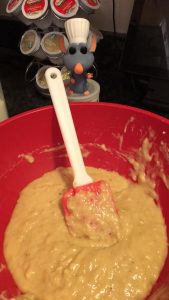 Eating: Banana bread, baked tonight.
Reading: What It Means When a Man Falls from the Sky. Come back Tuesday for my Show Us Your Books post!
Learning: SAP Business Object Business Intelligence. It's for work, and it's a new thing and while I had training, I'm seeking entry level tutorials on it, because it's new. I have a love/hate relationship with new software. If you know of any good online tutorials, let me know in the comments, please? Or email me at ladygypsy and then that AT sign with the usual gmail domain name.
Losing: At Words with Friends. STILL.

Sleeping: in tomorrow because it's Work From Home Monday! Woooo! WM is off as well, so I'll have an intern to bring me breakfast and lunch. My plan is to watch WeBI videos all morning.