Happy Friday!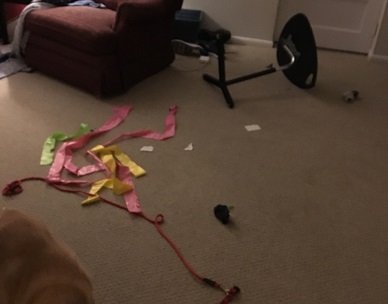 Today was my last Summer Friday of the season. (Boooo!) And it rained most of the morning (BOOOO!) so no beach for me. Bah.
Instead, we went to see The Hitman's Bodyguard. It was okay. I went in expecting a comedy and got a HEAPING side of violence and genocide. The funny parts were funny, Samuel L. Jackson continues to be a national treasure. and the big recliners offset any disappointment.
And then we went to the library to return my books, which I forgot at home. (BOOOOOOO!)
My sourdough starter was a bust. I tried to make a leaven with it last night. The leaven is supposed to be all bubbly and float. No bubbles. No float. (BOOOOOOOOOOO!) It also developed some sour-smelling fermented liquid. I'll reevaluate my methodology and try again. I already spent $10 on an artisan bread proofing basket – can't turn back now!
***
And now it's time for the Friday 5 — this week the theme is Homecoming. Let's get to it!
1. What's the crime like in your neighborhood?
Low, low, low. Once a year a house gets broken into. Sometimes a poltical sign gets yanked from a yard. Literary Lane is a very quiet enclave of beautifully boring suburbia. While I still miss the DeeLuxe Apartment in the Sky, the crime there was rising every year. The last year we lived there, someone in our building — ON OUR FLOOR — was stabbed. And three floors down, someone was murdered.
2. If you could have attended one of those high schools with a specific academic focus, such as performing arts, studio arts, sustainability, science and technology, international languages and diplomacy, or some option you thought of yourself, which would you have chosen when you were thirteen?
When I was 13, I wanted to be a lawyer and eventually a Senator, so I would have gone to the international languages & diplomacy school for sure. Even though my jobs now skew STEM-ward, I was never ever a STEM kid.
3. What was memorable about a party you remember from high school?
I went to some Sweet Sixteen parties, but they were a far cry from what they are now. Mostly basement parties or occasionally a hall. At one of them, I danced with the boy who would become my first boyfriend. The song was "Always" by Atlantic Starr. (sips Ensure, sits on rocker and reminisces)
4. Which of your older relatives is (or was) the handsomest or prettiest?
My super-distant cousin George O'Dowd has always been very distinctively attractive.
5. What was homecoming like at your high school? How did you feel about it?
Homecoming was a football game on Thanksgiving weekend against the high school on the other side of town. My disinterest for football combined with my distinct lack of social skills and popularity in high school meant that I gave no craps about homecoming. I think I went once in my 4 years there. My school didn't even have a homecoming dance until 2008!