The older I get, the more Jersey pride I have. Maybe I'm trying to compensate for our size, our reputation, or our Governor. (Whom I voted for. Twice. Yeah.) In any case, I love my little Garden State. I even have a NJ Pinterest board! Two weeks ago, WM and I were at the Collingswood Mayfair and I saw the most creative jewelry idea!
You might remember that I used to make jewelry as a hobby. I'll get back to it someday, I suppose. But I've seen so many copycat products that I got a little jaded on jewelry booths at craft shows. But The Sassy Apple's booth allowed you to create your own bangle bracelets with beach tag charms!
Back to NJ: You have to pay to get onto many of our beaches. It kind of blows, but the money goes to fund the victims of the bad NY and PA drivers who plow through our state every Friday-Sunday with seventeen bicycles strapped to their roof beach replenishment and cleaning efforts. You can see what they look like here. You pin them to your beach bag or wear them on your swimsuit.
I already have a New Jersey seaglass-like charm that I wear on a necklace and when I saw these I knew I found the perfect accompaniment.
She created charms for many of the NJ shore towns. I love how the little gold wire is bent to resemble the beach tag pin!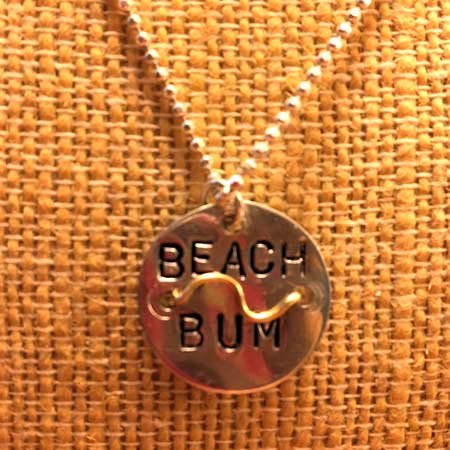 I couldn't decide which shore town to go with, because Wildwood was my town we went to when I was a kid, Ocean City when I was older, and now I go to Margate because there is nothing there but beach. I think beach bum is perfect.
Meanwhile, I'm still waiting for my first beach trip of the season. The weather has not played nicely with my free time so far.
I was not compensated for this writeup. I just love the charm.