Happy Memorial Day, which is a day we set aside to honor those lost in military service to our country but instead everyone posts pictures of their living veteran relatives or their dead relatives who were veterans. It makes my eyeball twitch when people put up the "REMEMBER WHAT THIS DAY IS REALLY ABOUT YOU BBQ-ING INFIDEL" memes and then say "Here's a pic of grandpappy who is now 101 and fought in WWII." No maybe YOU should remember what this day is about. I'll hold your corn on the cob. And eat it.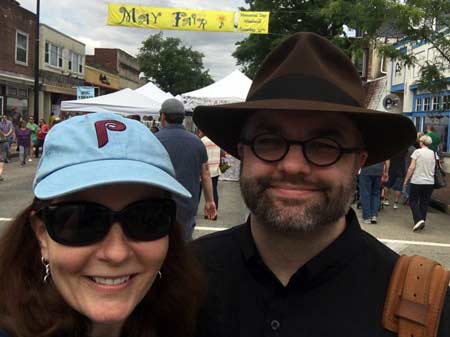 On Saturday WM and I went to our 10th Collingswood Mayfair. To our surprise, it was partially sponsored by the Dee-luxe Apartments in the Sky! Which I can now safely say was the Heights of Collingswood. Even though it never that hard to figure out. We bought a planter for the yard, a charm that looks like a beach tag, and some dog biscuits from Pawfect Pastries to give to Murphy when he's good. We've yet to give him one. It's been that kind of weekend.
Friday the library closed early. Instead I got a pedicure (blue) and went to Ulta for eyeshadow. Lately I've been getting away with a swipe of eyeliner and some mascara but I wanted to up my game and look more polished. The makeup artists at Ulta in Cherry Hill listened to my request ("I just want to look like I'm awake.") and selected a color palette that can go from "Target Run" to "Date Night."

We took advantage of the eight full hours of sunlight this weekend and planted some more grass seed. This is our third go-round — I wonder how the neighbors would feel if we just filled the front yard with rocks. And we finally put together our grill.
WM: Wait, "we finally put together our grill?" What in the hell is "we?"
Okay, fine. WM finally put together our grill while I kept Murphy from chewing the tree. We are truly suburbanites now. Oh, and I cut bangs into my hair myself (with an assist from Wikihow) because even when things are coming together, I still make bad decisions.
Tomorrow I have a dentist appointment where I'm finally getting the impression made for my crown. In less than 2 months, I'll finally, FINALLY have a full smile again without a flipper. It's been a long, drooly time.