As you can tell, I survived my colonoscopy! It didn't hurt at all and it was very quick. If you're an over-50 person or anyone who needs to have one done and are curious about it than do I have a blog post for you!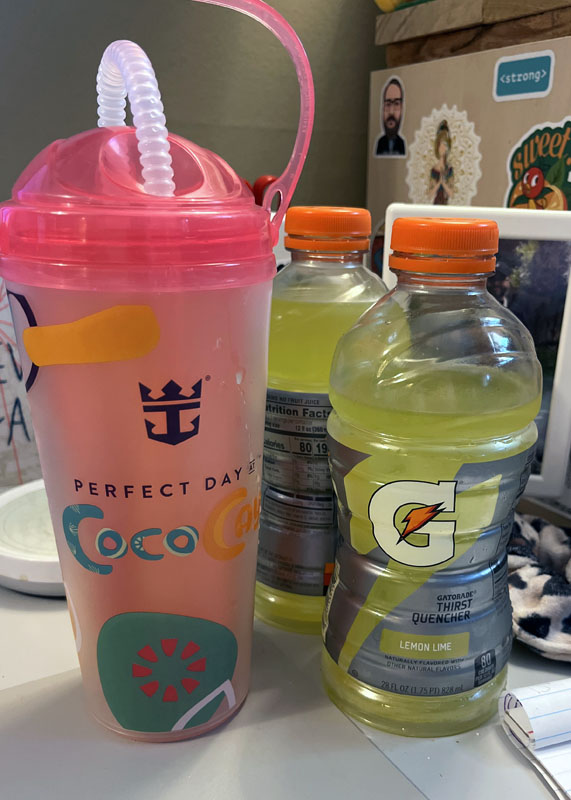 The Prep:
Everyone will tell you that the prep is the worst and they are 100% correct. The first part of my prep is here but the 4pm Gatorade/Miralax concoction was an evening-ruiner. I am a slow drinker. I can make my morning 12oz cup of coffee last an hour. Drinking 64oz in 2 hours (I had to be finished by 6pm) was a struggle. Not because of the taste — it's lemon-lime Gatorade and the Miralax is tasteless — but simply because of the volume.
Halfway through the prep my appetite was shot. I didn't even have my chicken broth & jello dinner. I never touched the Italian ices.
The evening "activity" started at 5:30pm and didn't let up until 11:15pm. I was in the bathroom every 15-20 minutes early on, and less frequently as the evening continued.
In my weakened state I admitted to WM that I never saw Disney's Atlantis. It's one of his favorites. He even has the Atlantean "A" / treasure map tattoo. So we spent the evening watching Atlantis, with much movie pausing. It was a good movie with a lot of casualties for a Disney animated movie.
By bedtime, I was very obviously empty.
The Procedure:
My appointment was at 9:15, but because Mom drove me we arrived to the surgical center at 9:00. I was taken back promptly at 9:15. I changed out of my clothes into a gown that tied in the back and a robe that went over top. Then it was to the bathroom for a pregnancy test (lol). Finally, I had my blood pressure taken and the IV inserted on the top of my hand, which pinched once but was no big deal. The patient before me took longer than expected, so the nurse brought back my phone. At 10:15 the doctor came by to introduce himself and to say they were getting ready for me.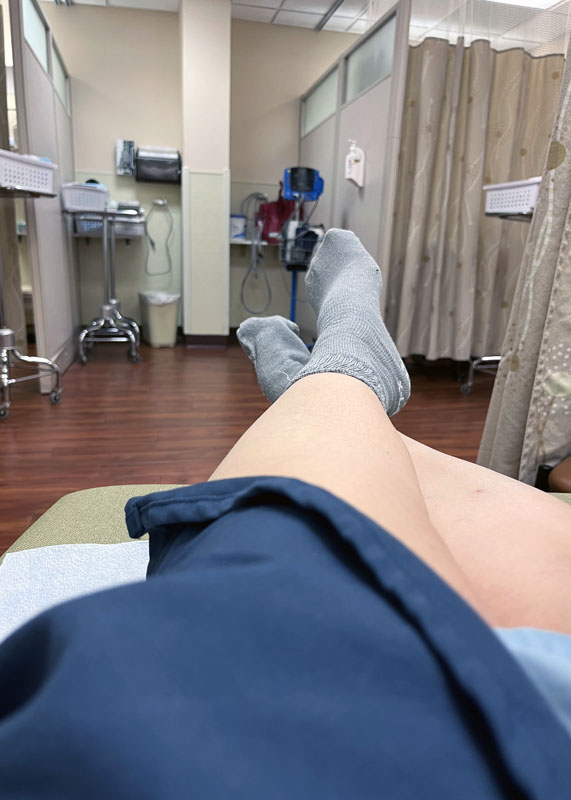 At 10:30 it was go time. The nurse escorted me into the (cold!) OR and helped me navigate taking the robe off around the IV bag. I climbed onto the operating table and they covered me with a warm blanket. Loved that for me. Everyone was friendly and chatty, and they were playing Coldplay radio. A few minutes later I was asked to turn to my left side facing the anesthesiologist and a large screen that was the monitor attached to the colonoscope. They dimmed the lights and the doctor and nurses started taking their places around the bed. I started to panic a little bit because I was still very much awake.
Me: Hey! Hi! I'm still awake. I'm still here. I'm still awake.
Anesthesiologist: You won't be for long. You'll be napping soon.
Me: Okay but I'm telling you I'm still really really awake and it looks like they're about to start.
Anesthesiologist: Take some deep breaths and don't worry. You know why?
Me: Why?
Anesthesiologist: Because I always win.
Me: (cracking up) Okay, I'll believe you. Wow. I feel warm. And. Sleepy. and..
Anesthesiologist: (whispers) I'm winning…

He was an absolute gem. The last time I remember seeing on the monitor was 10:47am.

I woke up in recovery, on my back and tucked in. The clock said 11:19am. There were tears streaming down my face for literally no reason because I had no pain. The nurse handed me a tissue and said she's seen that before when people wake up so I didn't worry about it. My doctor came back and said the scan was fine, they found no polyps, and I didn't need to come back for ten years! Hooray! Fifteen minutes later I was moved to a chair. Twenty minutes after that I was dressed and leaving. Mom and I stopped at Starbucks for some coffee and I was home before I knew it.
The Aftereffects:
I was tired for the rest of the day and most of Thursday too. I had no appetite until Thursday night. What also didn't help is that I got my period Friday afternoon. Sorry for the wasted pregnancy test Surgical Center, it's just what I do! My periods have been very intense for the last few years and reminiscent of what they were in my 20s. I went from one kind of cramping and fatigue right into the other. But I had no pain related to the colonoscopy.
On Thursday I received a notification that my test results were in my healthcare portal and like an idiot I clicked in. To my shock and abject horror there were photos of things I was never meant to see. I'm a fan of my guts and I want to take care of them so they can do their job but I never needed to get to know them in such an up-close and personal manner.
I'm happy I went because I want to try to stay on top of my health as I begin my slow decay. And other than the prep, which was disgusting but mostly time on the toilet, it was easy. You can trust me when I say that, because I am many things, but I am not brave.
But I never want to drink lemon-lime Gatorade again.
---
Good news! If you're a regular reader but forget to check in, you can subscribe to a once-a-week email with links to that week's posts! Click here to sign up!