On New Year's Eve I decided not to make resolutions, but instead to make some personal goals for the year. Nothing unattainable, just some goals that I can take smaller concrete steps toward each month.
Here are my goals for March, with the mental health ones redacted.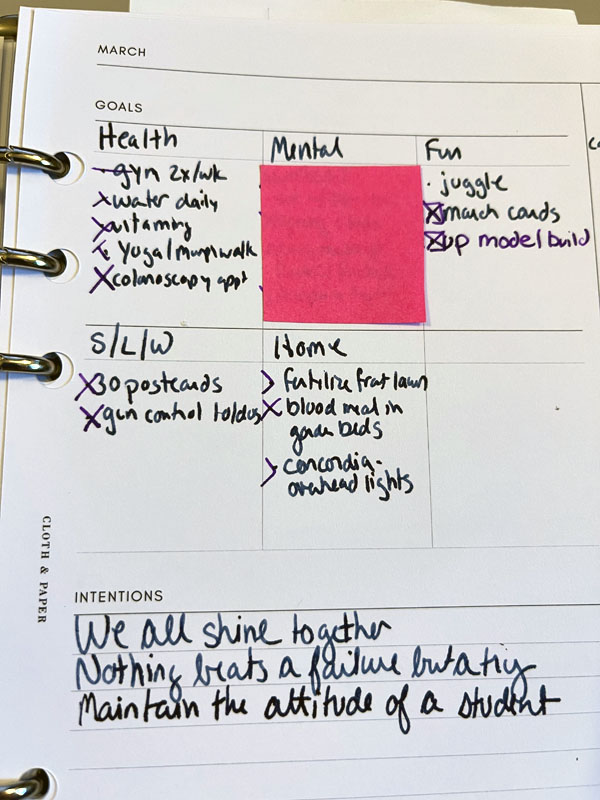 Health: I drank a good amount of water almost every day. And I even packed vitamins to take to Austin with me. I made a colonoscopy screening appointment, which is the first step toward the colonoscopy. The screening appointment is a telehealth call that will happen in a few weeks. I was back to the gym 2x/week by the end of the month. Yoga didn't happen.
Mental Health: Achieved 5 of 6. One of those goals was to sign up for a class to get my butt out of the house more often, and I start a watercolor class next week. Another one was to start caring for my appearance again. At the beginning of the month I started a face regimen that includes cleansing, toning, moisturizing, but most importantly Soolantra for my rosacea. I've been on it before but always quit during the two-month rough period. I'm a pimply mess but I'm sticking with it.
Fun: Did not try to learn to juggle yet. But I made and sent cards out for my card swap, and I assembled a wooden model of the house from Up! that WM received for Christmas but I sort of kind of stole for myself.
Safe, Loved, & Warm: These are goals that support my core values. I sent 30 Postcards to Voters and started back with the Americans of Conscience checklist. I've decided to focus on gun control as my issue of choice, and I started a monthly donation to Everytown.
Home: I fertilized the garden beds and started cleaning up the garage again, although that one was not on my list. I did not fertilize the front lawn because the front lawn is a disaster of onion grass and dead patches no matter what I do and I am disgusted and overwhelmed by it. I did everything Sunday.com told me to last year and it's still crap. I don't know what to do. And I didn't call the electrician because I didn't want them to come by while I was away. I'll call this week.
Intentions:
We all shine together!
Nothing beats a failure but a try. (my coworkers say this and I love it)
Maintain the attitude of a student (spoken by Nick Offerman on the On Being podcast)
Some wins, some losses, but this isn't bad at all. I'm proud of myself. Here's how I did in February.
---
Good news! If you're a regular reader but forget to check in, you can subscribe to a once-a-week email with links to that week's posts! Click here to sign up!