Today was my last summer Friday (keen, wail) and I spent it at the beach. This'll be my last trip there for the season, but I might try to get there in September. That all depends on work.
This is the new hotness for the beach: it's a square umbrella with 4 cloth columns. Fill the bottoms of the columns with sand and you have your own cabana. I can't lie: they're really impressive.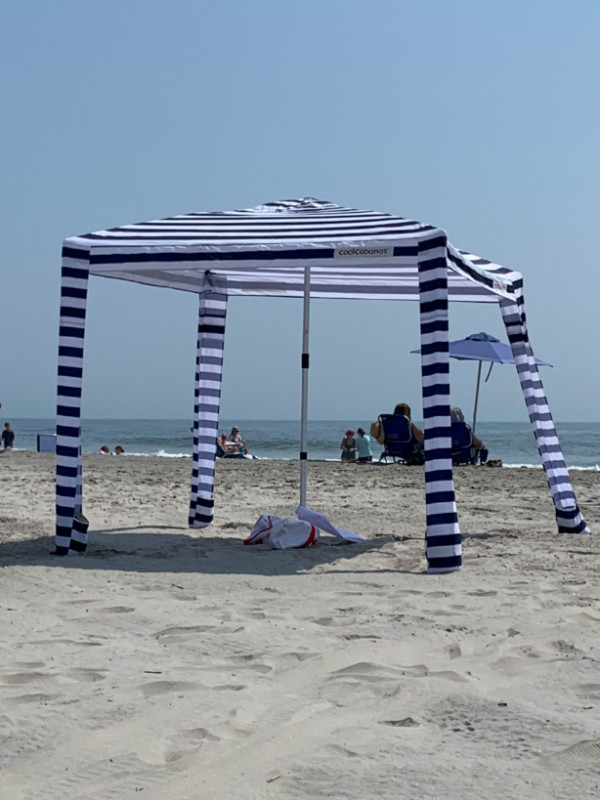 Filed under "tell me you're depressed without telling me you're depressed" I bought the Oculus Quest 2 VR headset for as an early birthday gift for myself. I had some Amazon gift cards and figured instead of spending them on bulk boxes of dog pill pockets or Scrub Daddy sponges or obscenely large packages of goldfish crackers, I'd buy something fun. So far I've played a bunch of Beat Saber, VR ziplined through a forest, and stood on the stage while Dave Matthews Band played "Ants Marching."
---
This week's Friday 5 theme is Itemized.
What item do you own more than one of, while most people own exactly one?
I have a refrigerator in the kitchen, and a mini refrigerator downstairs. We bought it to keep Max's insulin cold but now it's for drinks and Murphy's toothpaste.
What item do you own none of, while most people own exactly one?
A microwave. I probably wrote this before, but my previous microwaves came with the kitchens at the Dee-luxe Apartment in the Sky. The kitchen here at the house did not come with one, and we weren't willing to give up our scant counter space for a microwave. To answer the most popular questions: I heat up water in an electric kettle. I make popcorn in a popcorn popper. We reheat leftovers on a stove. And yes, if we forget to defrost meat in the morning our dinner plans are ruined.
Among stuff you own, what item is most likely to be borrowed by an acquaintance?
This one is tough, but I'm going to go with the pressure washer.
What item are you most likely to borrow from an acquaintance?
A microwave. Nah. I think it would be extra tables/seating for parties, back when we used to have them.
What did you most recently purchase and not use?
I'm embarrassed to say that I bought a Fitbit on Prime Day and it's basically unused.
---
---
Need some more email in your life? If you're a regular reader but forget to check in, you can subscribe to a once-a-week email with links to the week's posts! Click here to sign up!