Happy…Saturday? Yesterday WM flew to Michigan to get the ball rolling on his mom's impending move here. It's just Murphy and I holding down the fort at the House on Literary Lane. Murphy's still heavily medicated and limping around. I see no improvement but it takes time and I'm not being patient.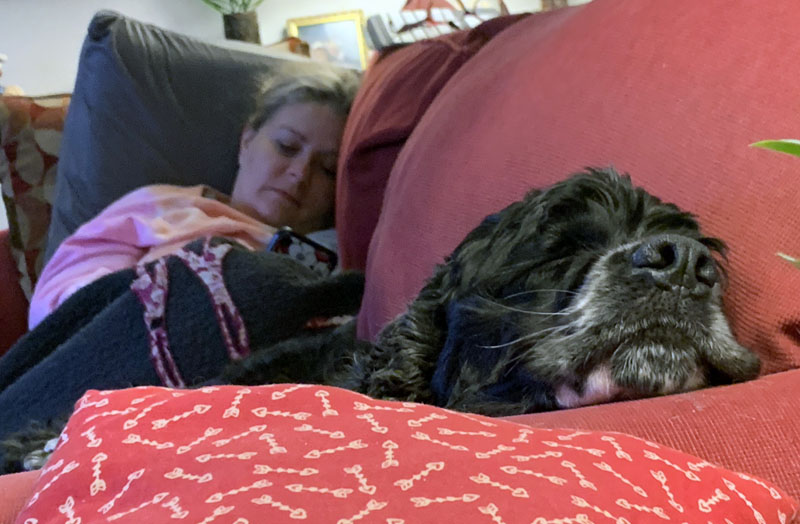 As I dropped WM at the airport I had such a surge of anger for yet another blown year. I really thought that having a vaccine would put us on the road back to normal. But thanks to those who refuse the vaccine, we're headed back into another uncertain school year AND my return-to-office date at TNP was pushed back to November 1. I have no more patience, and forgive me if I refuse to cheer for those who only got the vaccine once they were offered beer/money/gift cards/baseball tickets to do so.
So later yesterday when the gentleman behind Acme's deli counter asked me who was on my mask and I answered "Dr. Fauci" and he rolled his eyes at me while saying "ew, Doctor Fauci" I simply replied "don't F#8K with me today." Not my most shining moment, but he certainly cut the attitude and went back to slicing my cheese. You can hand me my Karen nametag any day now.
Although I think there needs to be a line drawn where you're only a Karen if try to cause trouble for people who aren't doing anything wrong. Calling a woman a Karen for responding to bad behavior or dispelling disinformation isn't right. I'm 48 years old and brook bullying no more.
After my supermarket rage, I kept the evening low-key. I made cacio e pepe for dinner and it turned out pretty good. I downloaded Subnautica which is a very calm, exploratory survival game when you're not being attacked by fish. I've been in the market for a new solo-play game and this scratches that itch. Last night's movie was The Muppet Movie. I listened to Rainbow Connection earlier in the day to test my emotional level and I was sobbing by the 2nd line so for my friends' sakes I skipped movie night.
Here's the Friday 5, which is another installment of Scattergories. My random letter is L.
What's something that recently exceeded your expectations?
Lasso, Ted. It's as warm and wholesome as you've read, but it isn't as slapsticky as you may think it is. There are definitely tender moments and sad situations embedded next to the funny parts. The entire cast is great but for me, it's Keeley and Roy for life.



What snack from your childhood would you love to have right now?
Lime Flavor-Ice (or Otter Pop). Just one. I don't want to buy the entire box because I only want lime.

What ailment do you suffer from?
I got a bad case of Loving You. Actual ailments beginning with L are pretty serious, so we'll go with a jokey one.

Which musical artist would be fun to hang out with?
Lizzo. Her new song came out yesterday and the video is so well made and deliciously raunchy.

What's something you're looking forward to this weekend?
Loading pasta dough into my pasta maker tomorrow and making cacio e pepe again with my own homemade pasta. I've never made pasta before, and I don't have the 'correct' flour but I'm going to do it anyway. Tonight is shrimp night.
Today I'll finish the Saturday chores, including washing sheets, vaacccuuumming (I never spell that correctly and have stopped trying), and trying to remediate this year's mosquito breeding ground, which is the puddle behind the central air unit. And then it's snuggling on the sofa with Murphy.
Previous Scattergories posts: O, Y
---
Good news! If you're a regular reader but forget to check in, you can subscribe to a once-a-week email with links to that week's posts! Click here to sign up!