It's Friday! Whoop whoop! The weather here has been absolutely decadent, with highs in the high 70s/low 80s and scant humidity. I had a blog post set up for Wednesday but never took it out of draft mode. Murphy's vet appointment went well – he has a slight heart murmur but the vet's not concerned. I helped Mom put together a glider for her patio. It didn't even collapse when we sat in it!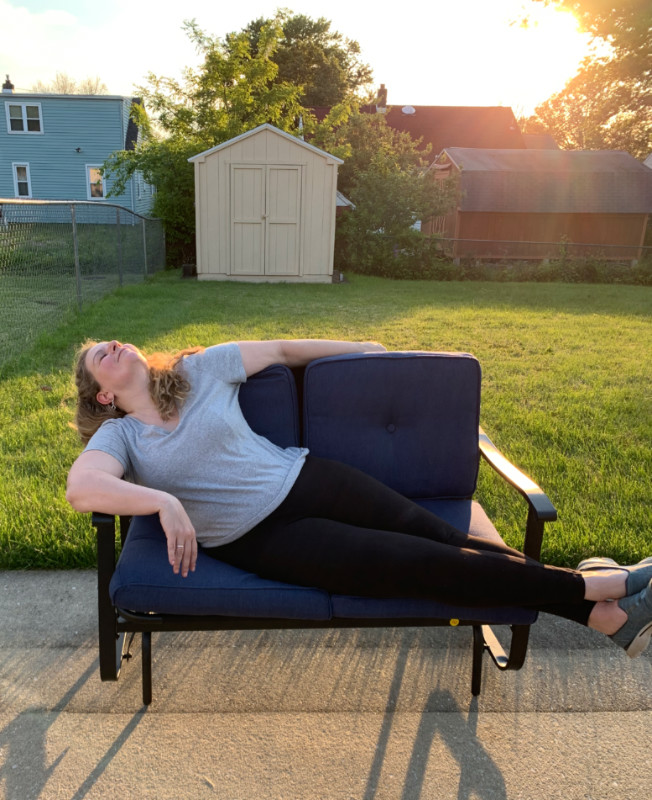 And we ate out on Wednesday night. We went to Otts, a restaurant/bar near us. Not a gastropub, not a dive bar. I had a chicken parm sandwich, fries, and beer from the tap. Never again will I take fresh, hot french fries that aren't in a soggy takeout box for granted. It was so good. I am so grateful for all of the scientists who worked tirelessly and all of the study volunteers that stuck out their arms to get us back out there. The pandemic isn't over yet by far, but it's so lovely watching NJ's graphs flatten.
---
Time for the Friday 5! This week's theme is Watch Your Phraseology.
With whom did you most recently exchange words?
Fighting words? I can't really remember. I'm not a very confrontational person. I occasionally squabble with people on Twitter (I'm meaner there) but never really escalate.

Which of your weekend activities will feel like your sentence for a crime?
This weekend I need to go through my clothes, AGAIN, and cull things that don't fit or that I won't wear anymore. I HAAATTTTE doing that.

What have you loved or hated upon reading its first paragraph?
Little Women: "Christmas won't be Christmas without any presents," grumbled Jo, lying on the rug. Right from that sentence you know that this family is poor (poorish, really, they still have a housekeeper and a grand house and social engagements), that they're not always saintly about it, and that Jo is casually moody, like any teen girl.

In the story of your life, what will be the title of the chapter beginning tomorrow?
The Season Begins…
The Social Season, that is. Tomorrow WM and I are invited out to eat with some friends. The week after is Memorial Day. The week after that we are going to a wedding. The week after that we are going to a memorial service & luncheon. The week after that I have a networking happy hour. The week after that we have a baptism & party. There is no soft re-entry.

What are the best and worst books you were assigned to read in school?
I feel that I was far too young and sheltered to appreciate or understand most of the books we had to read in school. I don't remember which grade it was but we read The Razor's Edge which was twisty and soapy and bizarre. I remember enjoying it very much. There's probably a 12-book tie for worst, but I'll just say Moby Dick, which I read the first few chapters of, and the last few chapters of. With the help of Cliffs notes, I received a B+ on the unit. Runners-up for worst include My Antonia and One Day in the Life of Ivan Denisovich, which I had to read twice for two different classes. To this day, I do not participate in book reading challenges (read a book beginning with "A", read a book by an author in Iowa, etc) because I hated assigned books so much.
Good news! If you're a regular reader but forget to check in, you can subscribe to a once-a-week email with links to that week's posts! Click here to sign up!
---