Guess what I did today?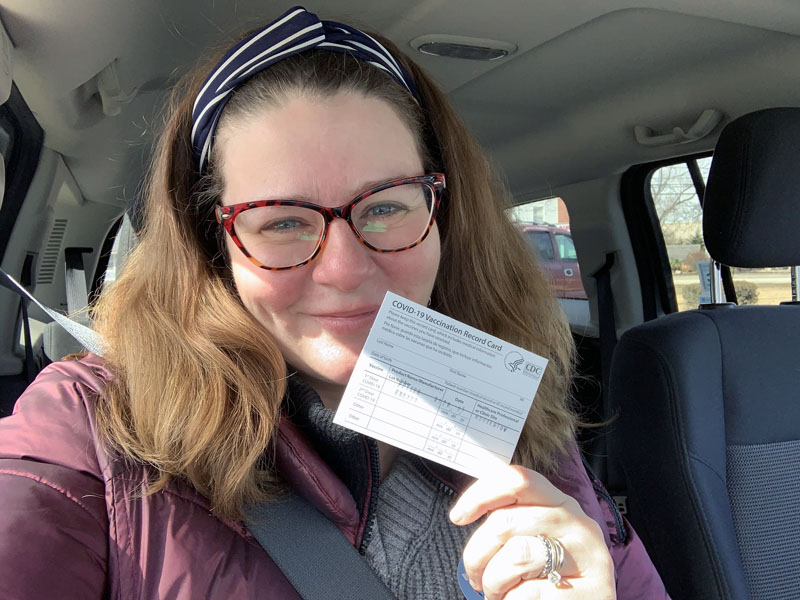 I was supposed to receive the first jab last week but the winter storm postponed my appointment until today. Even though I did not jump the line (I have moderate asthma and of course the study comes out 2 days ago saying asthmatics have less chance of getting it, probably because we are all hiding at home with Doritos) I feel remarkably guilty about receiving it when so many who need to get it before me, can't. But I can't force those who don't want it to get it, and I don't run the health departments and I didn't build the websites. But I can be another brick in the immunity wall so here I am. I'm a brick.
The entire process was seamless and efficient. The National Guard was there (mmmhmm, totally a hoax yup) making sure things ran smoothly. So far I just feel tired, but that could be for a myriad of non-vaccine reasons. It's another Pandemic Friday, after all.
Reasons why I cried today:
1) Relief
2) Guilt
3) Overwhelm at being in a building with hundreds of strangers
4) Sorrow for the 2.5 million worldwide who died, and for their families
5) Anger at the careless fuckery in the US that pumped up that death number like a bad lip filler
6) The vaccine center was in a former Lord & Taylor department store and I miss dorking around in malls
7) I watched an older woman with a walker pose triumphantly for a photo at the selfie station (oh, 2021) with her vaccination card
8) I am still VERY menstrual, which amplifies points 1-7, and is also why I'm draining Dr. Pepper out of cans like Bunnicula
Despite all of the snot and tears I promise I am very, very happy and will mount an incredible defense against this mRNA intruder and all subsequent spike-virus intruders.
---
Today's Friday 5 theme is A Clubhouse Ain't Nothing but a Sandwich and refers to the new Clubhouse app which basically sounds like a party line from the 80s/90s. To make up for the "list of why I cry" above, here's a selfie of me with what was my favorite mobile phone ever, my Samsung flip phone. Taken at my dee-luxe apartment in the sky in January, 2007.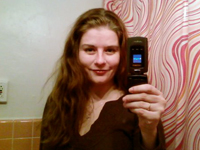 What is the longest you ever spent on the phone on one call?
When you were a teen, how important was the phone in your daily life?
I feel a little weird about combining 2 questions into one answer, but they're related. When I was a teenager, it was not uncommon for me to be on the phone for 5-6 hours at a shot on Friday and Saturday nights after the family went to bed. Even though I saw my friends every day at school, we only had 5 minutes in between classes to socialize. The phone calls were a way to debrief on the week's events and to daydream about the future.

How much do you use the actual telephone function of your phone today?
As a proud representative of GenX, I still use the phone to make medical appointments, grooming appointments for the dogs, and order pizza from the local place that is awful with web orders. But I'd say actual phone calls are less than 5% of what I use my mobile phone to do. And I haven't had a landline in years.

How well do you handle phone calls at work?
Very well. When somebody calls our main number, my phone is fourth in line for receiving calls. Those calls rarely make it to my line, but if they do I can answer questions and transfer people to colleagues who can answer them better.

What are some good telephone-themed songs?
I'm going to go with Mr. Telephone Man by New Edition. I'm going to choose this video from American Bandstand, because the wavy VCR recording lines are very nostalgic.


---
Zero plans for the weekend, but I think I want to try to make this Chocolate Puddle Cake from Smitten Kitchen.