One of the highlights of my week is watching movies with my friends on Fridays. I'm thankful that technology has made that all possible. This the third movie night post. Here are the first two: Part I | Part II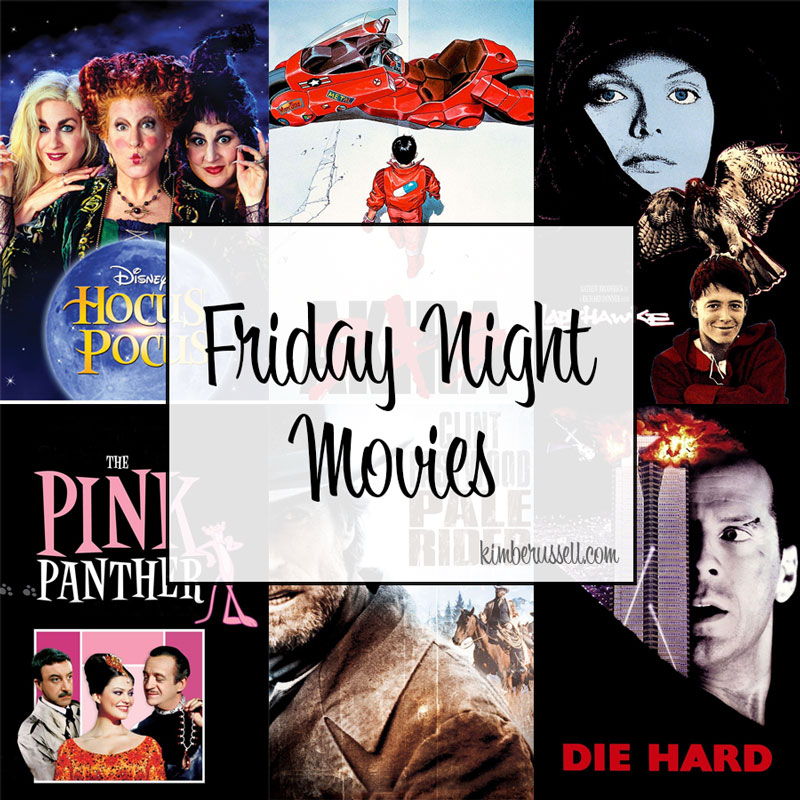 LadyHawke – A couple is cursed by an incel bishop to never spend a minute together. He is a wolf from sunset to sunrise. She is a hawk from sunrise to sunset. About a half hour too long but I got to see Rutger Hauer and Michelle Pfeiffer canoodle and it was straight fire. Enough to inspire this verse from me:
There you see her
Chirping there across the way
She's eating worms and mice all day
But there's something about her
And you don't know why
But you're dying to try
You wanna kiss the bird
Hocus Pocus – This was our Halloween weekend watch and I was very excited because had never seen it before. And if you're going into this movie without ever having seen it before, popular opinion would make you think that the Sanderson sisters were the heroes. I was shocked to see they were villains. Even though they were childkillers, I was on their side for most of the movie. Team Ancient Hags! Sarah Jessica Parker was amazing in her role and I loved the entire film.
Akira – I went into this believing I'd hate the hell out of it but it was very entertaining. Dystopian grimness with a touch of humor and a lot of religious allegory to figure out. It was a ride.
The Princess Bride – Of course I saw this one before, I'm not a total rube. As sweet as I remembered. I miss my grandparents and Andre the Giant. Shout-out to anyone who remembers Robin Wright as Kelly Capwell in Santa Barbara, one of the most batshit crazy soap operas there ever was.
Flight of the Navigator – 1978 was a whole different universe, wasn't it? I was glad we got our happy ending, despite the shitty parenting choices. Oh, sure, let your befuddled minor child decide on his own to go with Dr. Johnny Fever, NASA creeper. Another cute role by Sarah Jessica Parker, by the way.
The Pink Panther (original Peter Sellers version, 1963) – I was struck by the sexy costume party, because the pearl clutchers would have you think that sexy Halloween costumes are a tumor on society created by our depraved current times. Turns out our parents/grandparents were sexy mermaiding all along. I appreciated the physical comedy, but I have not been this pissed off at a movie ending since Message in a Bottle. Everyone is awful. Poor Clouseau!
Pale Rider –
Me: "If this dog is shot, I'm not watching the rest of this movie."
Friends: *nervous laughter*
Western nogoodnik: *pow*
Me: *shuts laptop*
I begrudgingly rejoined a few minutes later. The little girl, Megan, was played by the actress that played Meggie in The Thorn Birds. Clint Eastwood plays a preacher who happens to be the best gunfighter in the world. Megan has the HOTS for the preacher and nobody in this group had even seen The Thorn Birds but me, so there was nobody to freak out about this with. Like, did Clint Eastwood say, "hey gimme that little girl actress who wanted to get with that priest?" This movie was a giant love letter from Clint Eastwood to himself.
Die Hard – I loved it and wrote more about it here.
Toyko Gore Police – This wasn't an official movie night watch, but I'll give it some space here. I am not even remotely a fan of torture porn movies, but since I didn't dislike Guns Akimbo I thought I'd be okay. I alt-tabbed away from the screen about 20 minutes before the end when I reached my limit. The gore wasn't realistic at all, but there was a lot of it. I'd rank this movie down there with Cool World, the only movie I walked out of.
The Adventures of Baron Munchausen – Terry Gilliam means it's Monty Python adjacent so I wasn't too sure how I'd enjoy it. All in all It was a lovely funny confection of a movie. And probably an example of one where I need to separate the art from the creator. Because after being a little taken back at the things the non-CGI horse and the non-CGI child were doing I googled that movie and ooof. Gilliam is a turd.

The group also watched The Adventures of Natty Gann but I went to bed early that night. Sometimes I can't commit to staying up until 12:30am. We're the only east coast people in the group, so I'm already thankful that the movies start 7pm PST. But all in all I've watched almost 35 movies so far, with at least 30 being completely new to me. I'm practically a film critic! (not a critic)
Good news! If you're a regular reader but forget to check in, you can subscribe to a once-a-week email with links to that week's posts! Click here to sign up!