I have always loved sourdough bread. And while I'm a decent baker, making my own sourdough was never within reach. Sourdough differs from regular bread because it doesn't use conventional yeast. Instead, you grow your own yeast within your own bread starter. Water + flour + warmth = a yeasty concoction that helps (your bread) hang on. You dump a little flour/water in there to feed it and boom…starter. Easy, right?

Not for me. I tried four times in the past to grow my own starter and never made it past day 5. I even resolved in 2018 to conquer sourdough. I have a banneton (bread proofing basket) and a bread lame (for scoring the dough to try and control where it splits) but never could get the dough going to use my sweet tools.
Finally, magic struck for me a few weeks ago. This is my starter!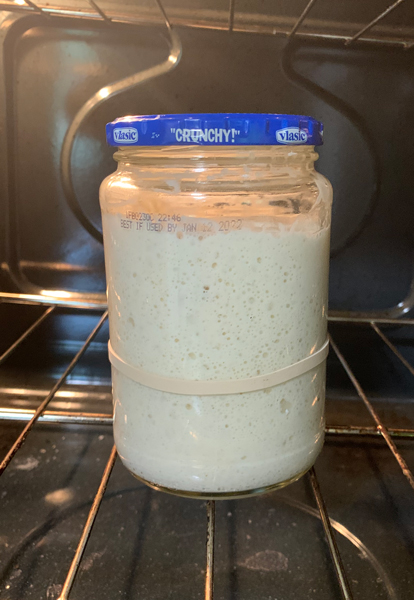 She lives in a pickle jar in my (turned off) oven when I'm actively feeding her, and in my refrigerator when I'm not. I didn't follow a recipe to make her, mostly because most starter recipe online call for cups of flour at a time and that's pretty wasteful to me. I started with 25g of wheat flour and 25g of water. Put it in a jar, put the lid on but don't tighten it, put a rubber band around the jar to mark the height, and leave it alone in a warm spot. The next day, dump out half, add 25g flour (I switched to white) and 25g water, repeat. Repeat the next day. It should be rising to twice its height and then sinking back down before the next feeding. Three or four days into it, start feeding it 12 hours apart. Ish. I switched to 50g each of flour and water in the days before I was planning on baking a recipe that required 100g of starter. I wing it, which I think is why it worked.
The bread recipe I use is from Homestead and Chill, a favorite gardening blog of mine. It makes only one loaf, which is great because there are only 2 of us.
LOOK AT THIS BEAUTY!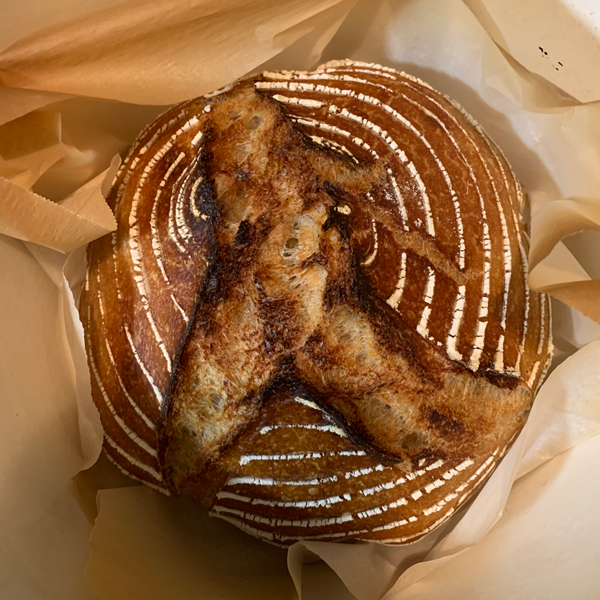 And because I thought I couldn't repeat it, LOOK AT THE SECOND ONE!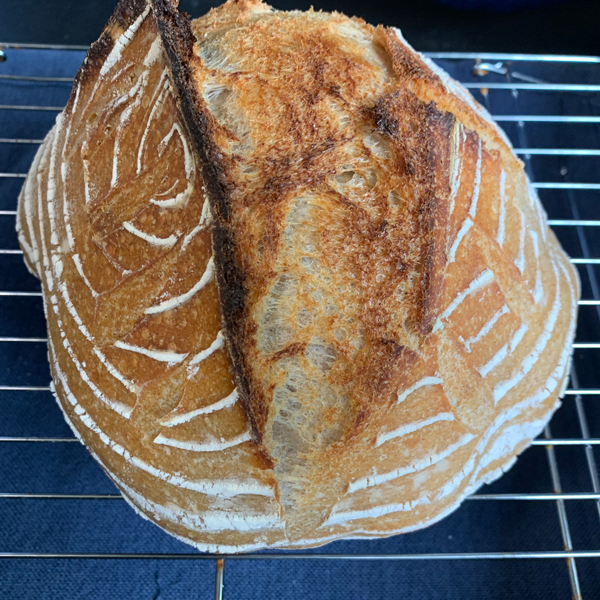 It tastes amazing. Not San Francisco worthy, but definitely Kim's Kitchen worthy.
When you're done with the starter, put her in the fridge and feed her once a week. A few days before you plan on baking again, take her out, get her to room temp, and feed her at least twice before baking. Don't ever use your full amount to bake, or else you'll have to start over.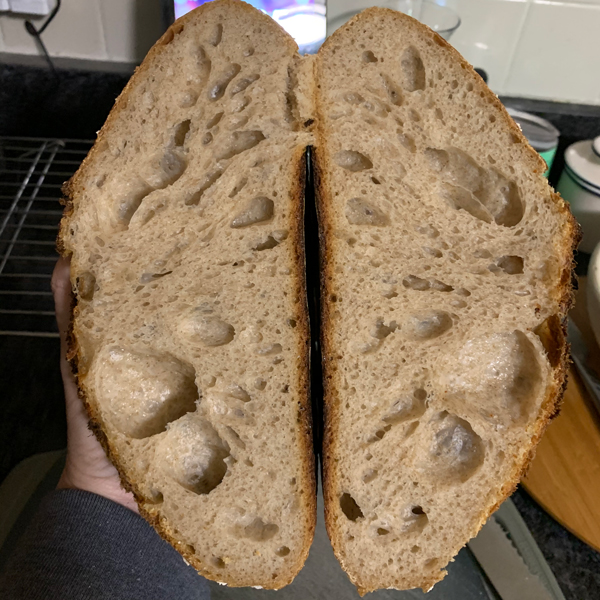 It's the Friday of Memorial Day weekend. NJ beaches are open but I'm going to stay home for a while, thank you very much. I'm going to let everyone else test the waters first and see if our New Jersey COVID cases pop in 2 weeks. It's also pouring rain which is why I'm inside blogging about sourdough victories instead of sitting outside. Tomorrow we should be attending Collingswood Mayfair, which has tentatively been rescheduled to September 26.
But I have a cozy home and good health and a full belly so I won't complain. TNP closed at 1pm today for the long weekend and we had takeout for lunch from Iron Hill Brewery. I added a growler of their De La Sol beer to try this weekend. My favorite Instagram Dance Party will be coming live at 5pm. And tonight is online movie night with our friends.
MOST importantly, today marks the 13th anniversary (ish) of when WM drove out from Michigan to live in our Dee-luxe Apartment in the Sky. It was also the Friday before Memorial Day. He took a hell of a chance on this broken lady and I am ever thankful.
Look at where we are, look at where we started…