Happy New Year!
I don't want to jinx it, but I think 2018's going to be a good one. Or at least better than [period of time that started in November, 2015], which is not a high hurdle to clear.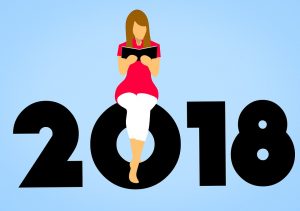 Things I'm going to do this year:

Eat better, move more

Learn to juggle

Make/maintain a sourdough starter (not sure how that will help with the first bullet point)

Learn to sew cushions/pillows for the house because by God even if I was made of money I would not spend $50 for a seasonal pillow cover! That doesn't even include the freaking pillow insert. Criminal.

Places I'm going to visit this year:

RetiredGuyLand, FL to visit Dad in earlyish March

Austin, TX for work training in April

Seattle, WA in July

Margate, NJ for summer Friday day-trips

And FINALLY the Russells are going BACK to Walt Disney World in the fall! (Don't even start. It'll be 2 years by the time we get back. Sacrilege.)

Home improvements on tap this year:

Finish the Adventureland bathroom. You guys. We are channeling "Trading Spaces" with this one.

Continue to try and grow grass in the front yard. It's harder than we thought.

Paint the door, garage door, and shutters.

Paint the downstairs living room.

Replace some of the 80s-era brass-and-glass light fixtures.

Deal with the ivy bed in the back yard. We were supposed to do this last year, but we didn't want to leave it a muddy mess all winter for a young pup to track in the house.

Upcoming Milestones:

Murphy turns 1 on January 15, and we'll have him for a year in April.

I'll be at TNP for SIX years at the end of January.

I'm getting a new nephew in mid/late March!

Sixth wedding anniversary in July.

Ollie turns 11 (oof) in June. I turn 46 (whoa!) in September.

Welcome, 2018! May you be gentle on us all.