Our Halloween decorations include a plastic skeleton head and hands that we jam into the overgrown ivy in our front yard. The trick-or-treaters love it. WM loves it too and this year asked if we could leave it out and he'd put a Santa hat on it for Christmas. With the fall being as it's been, I really don't care about the small things so I said sure. This is what I found this morning.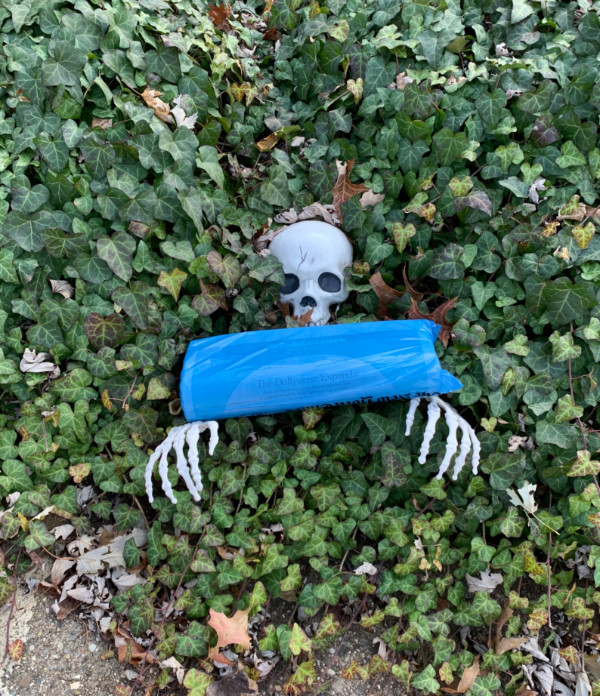 The newspaper is usually left at the end of the driveway, meaning either the delivery person made a trip up the walk to place it there (unlikely, dark in the mornings) or a neighbor/walker decided to be funny. And given that Gatehouse Media purchased my former employer Gannett this week, it could also be a statement on the future of newspapers itself.
I had my hair done today and it's gorgeous and blonde and bouncy. It's fun having light hair again, and it's more forgiving when the roots grow in, too. Here's my contribution to the 2009-2019 photo challenge, featuring today's shiny hair:
I don't smile much with my teeth anymore, and I stopped super-plucking my eyebrows. I'm a little more wrinkly in the forehead but overall I can't complain about the difference between 37 and 47.
This afternoon I finished A God in Ruins and it really ended with a whomp. A perplexing whomp, but a satisfying one. Next up is Uncommon Type by Tom Hanks. That Tom Hanks. I checked it out of the CH Library strictly because of Mindy Kaling's blurb.