Today after dropping Molly the Jeep off at the shop (check engine light, probably a million dollars to fix) we went out to breakfast, hit up JoAnn fabric for quilt batting for Christmas Village snow, and then Walmart for groceries. I used to grocery shop at Target, but my local store is having all sorts of issues keeping groceries in stock. Acme is expensive, Wegmans is too crowded, and ShopRite depresses me for reasons I can't pinpoint (too 80s-beige? aging clientele?) so Walmart it is for now. It's cheaper than Target and has a much larger selection.

WM set to work building out the little ledge in the family room so he could set up the village. For super-long time readers, this is the same Christmas in the City set from way back when. Formerly called the Tiny Town of T-ville. Now it's Angry Man Village. And now we buy the houses off of eBay for a fraction of what they are new. If you've always wanted to start a village but balk (rightfully) at the $100+ price tag PER HOUSE, go to eBay and profit off of other people's purchases of regret. New-in-box houses are $25-30 and used ones are less than that.
I succeeded in my mission of completely emptying the pantry and reorganizing it, while taking inventory of what I need to buy for Christmas cookies (flour and butter for certain). Now, my kitchen is IN ORDER, my dining room table is clear, the upstairs living room is de-Halloweened and hopefully this clean, organized feeling will flow through the household!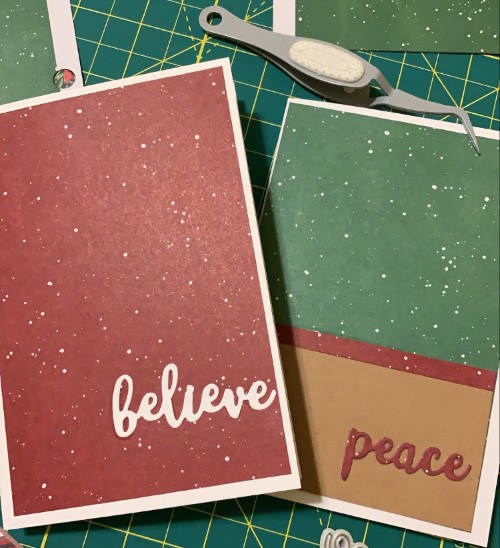 It looks like my new hobby is card making. I've been interested in it for a while, but was reluctant to get into it because I feel like I never really stick with anything for more than a few years. But really, a few years is a pretty good run. And I don't have to be a master at any of them. Turns out it's not a bad thing to be passable at a bunch of different skills. I've given permission to enjoy this until I don't.
Tomorrow I work from home, fingers and toes crossed that Molly can be fixed tomorrow AND for cheaply.